Members from St Luke's joined with our Drake APO friends, and with neighbors to serve a delicious meal of goulash with all the fixings at Central Iowa Shelter and Services on Tuesday, April 23rd.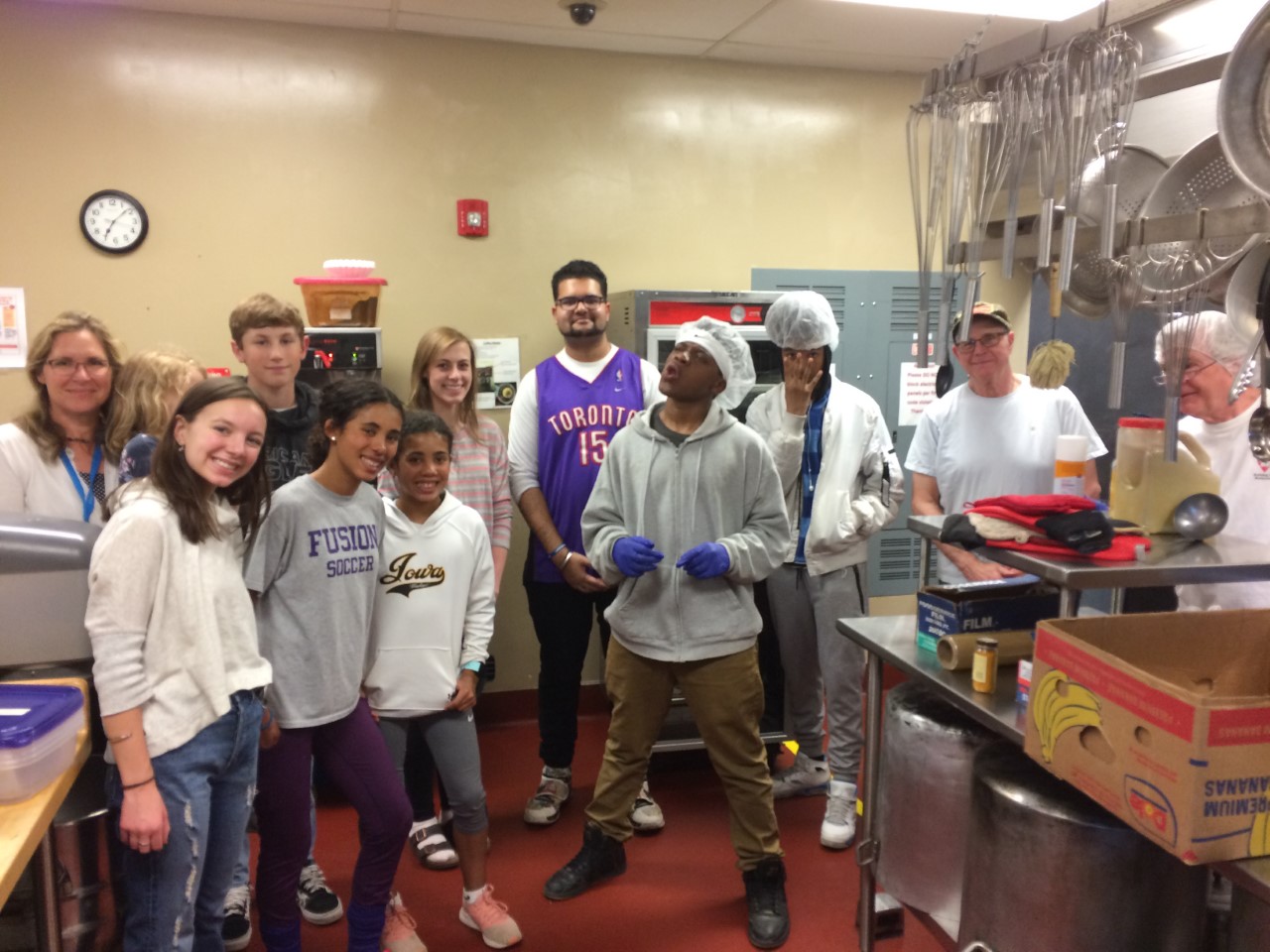 On January 13, Pastor Martha spoke to a large group of St Luke's parishioners about her experiences in Uganda and Kenya last year.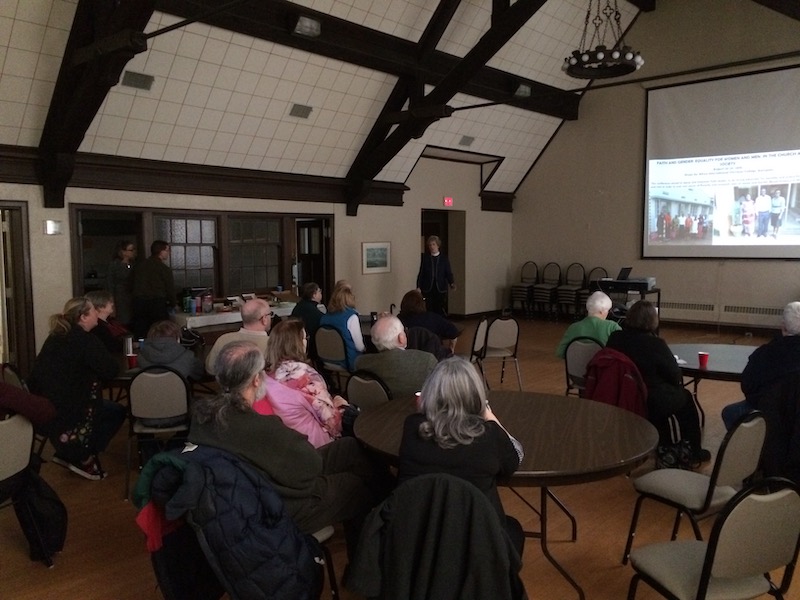 Members of the Iowa Scottish Pipes and Drums played on Sunday November 25th in recognition of St Andrews at St Luke's. Thanks to Sue Frambach for getting her fellow pipers to play!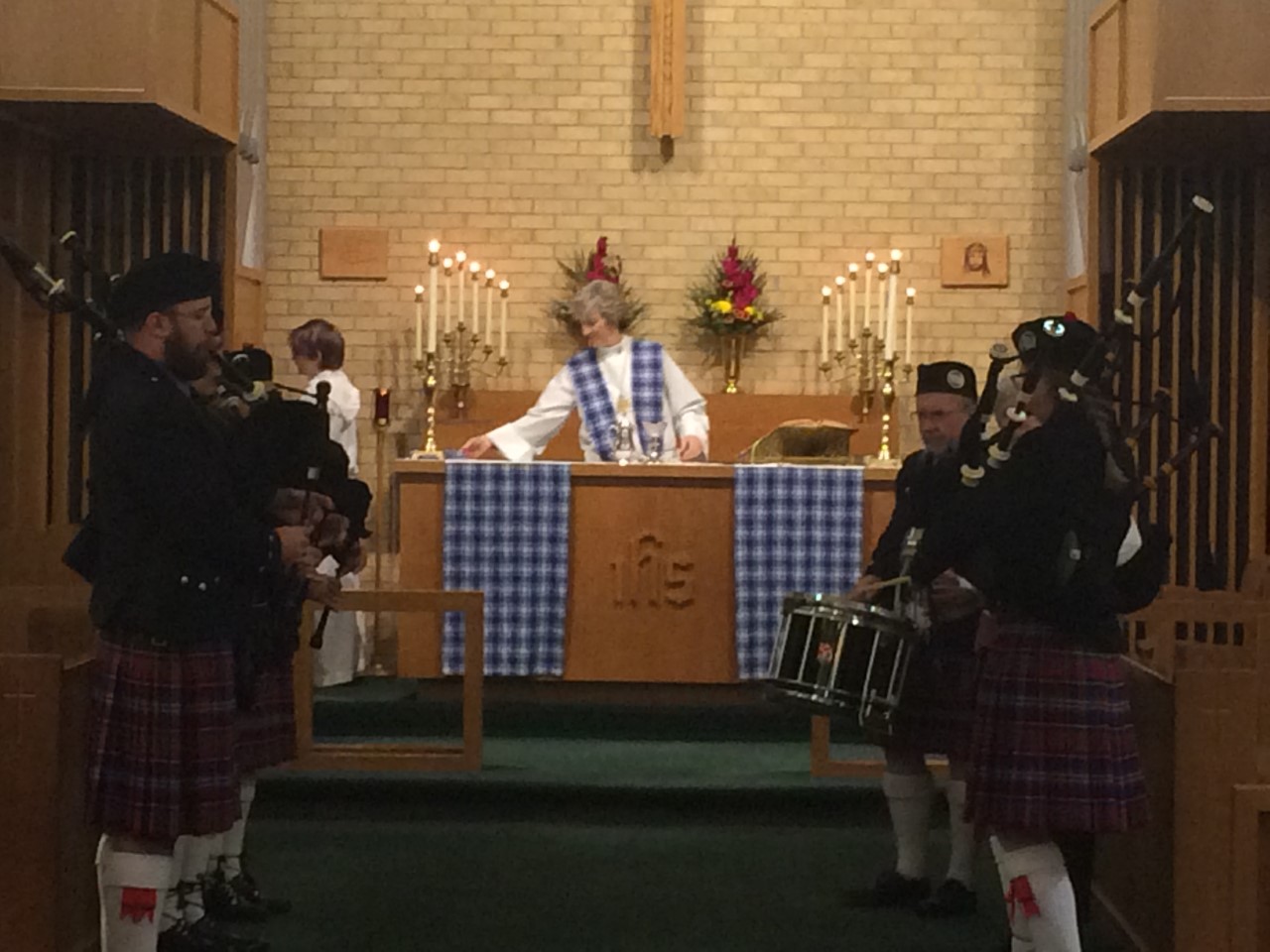 Thanks to all who came on a chilled Saturday morning to attack the leaves after a rain out last Sunday. We especially want to thank our APO friends who really got us going!!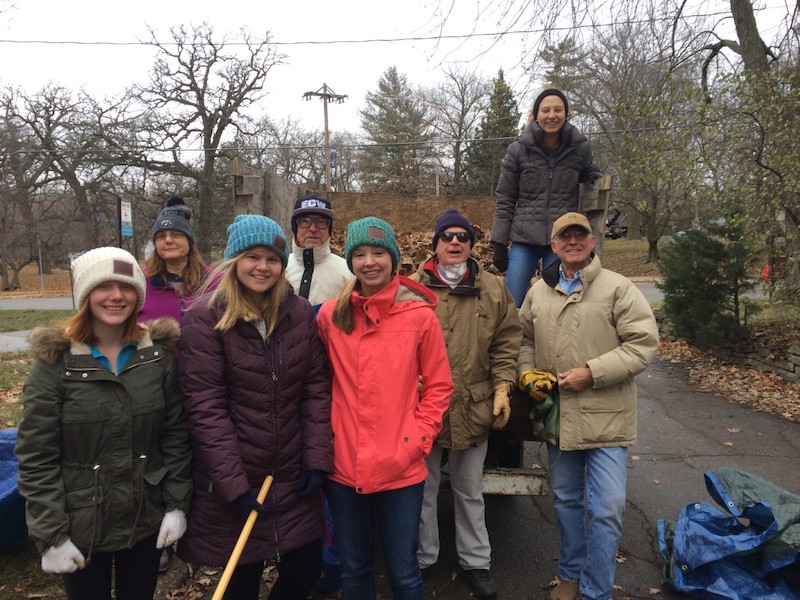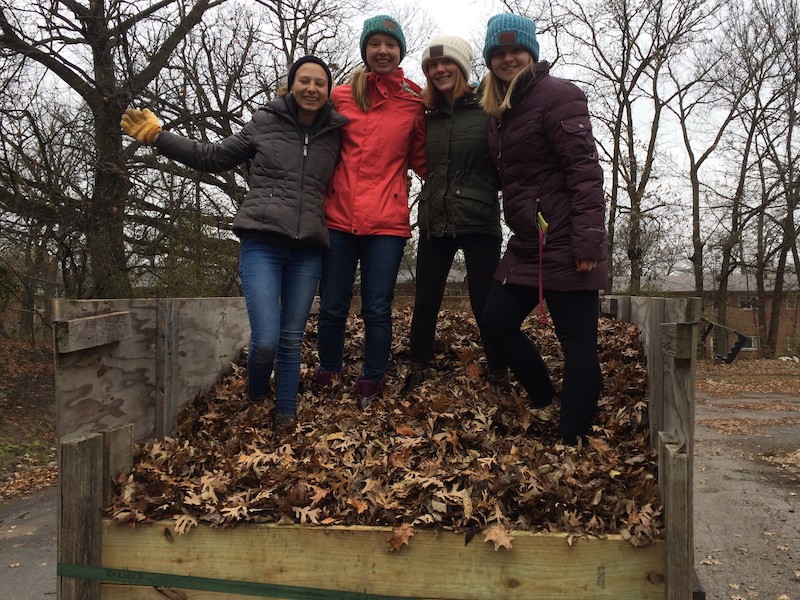 We came, we aimed, we attempted to shoot.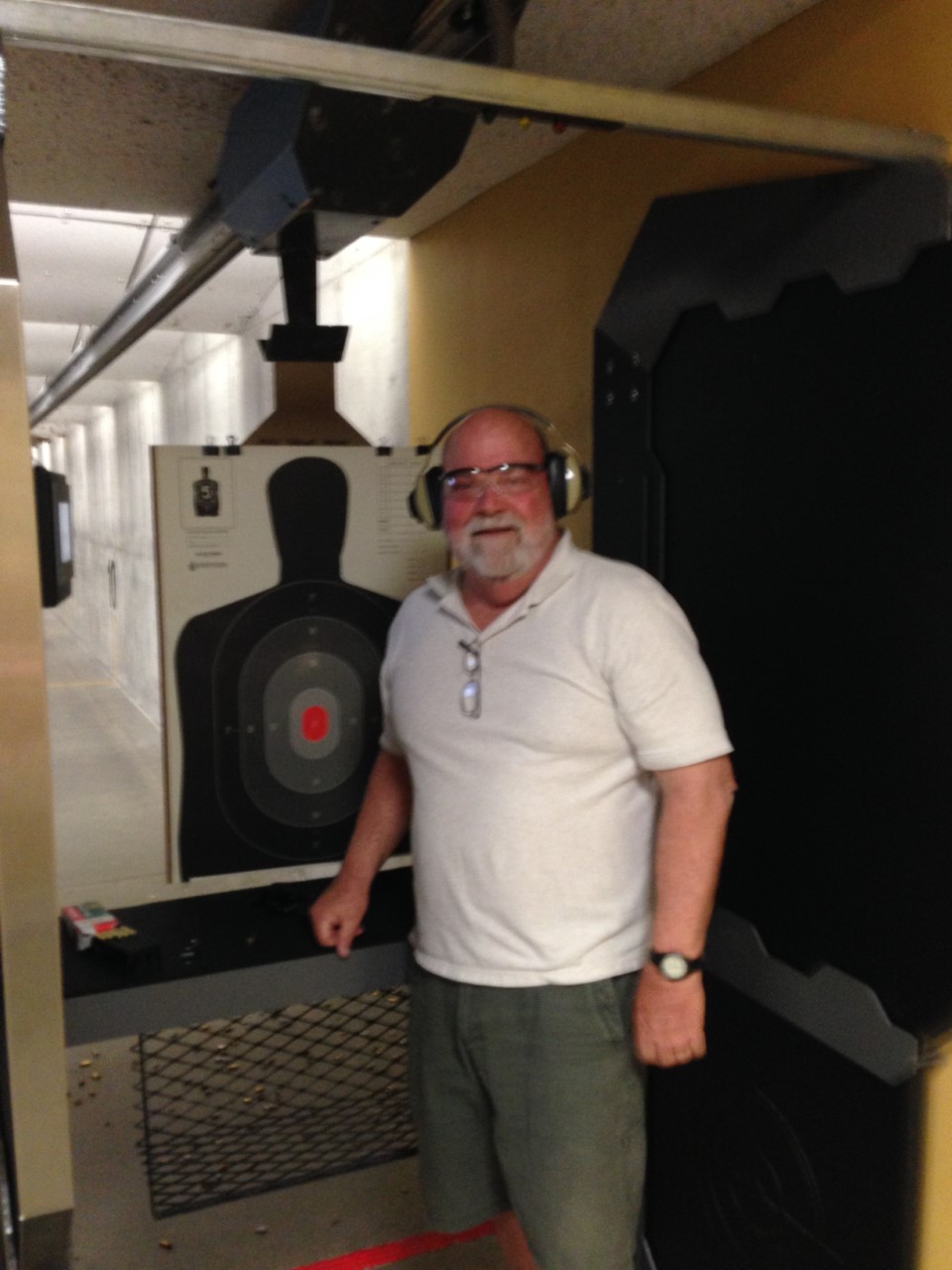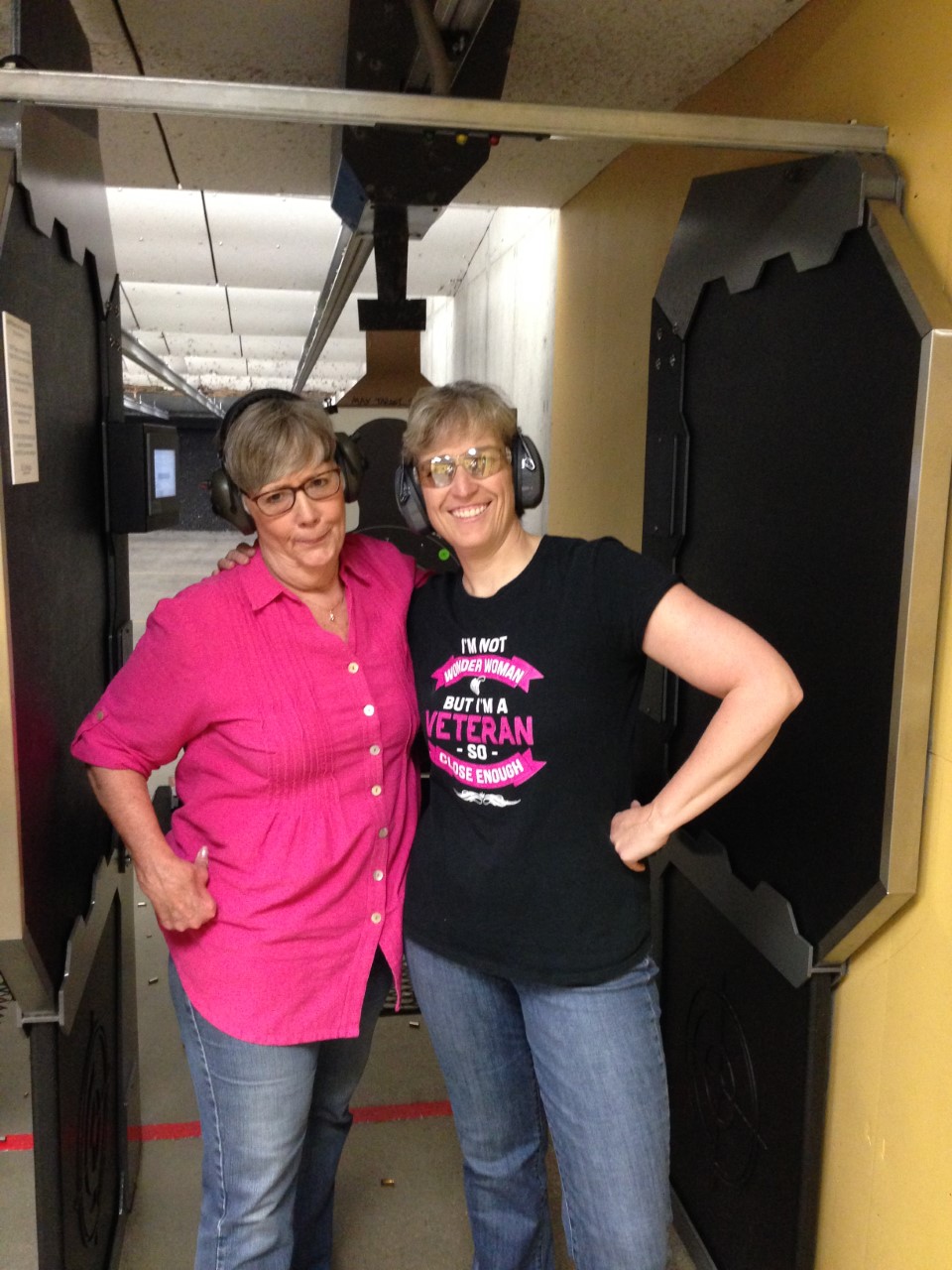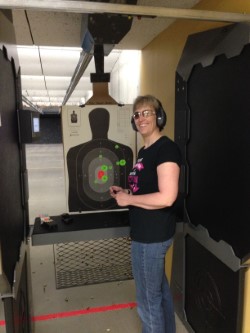 Carly, Molly, Natalie and Logan filled over 400 sacks during Drake's Service day on April 21st. Thank you to them and APO for all your help this year!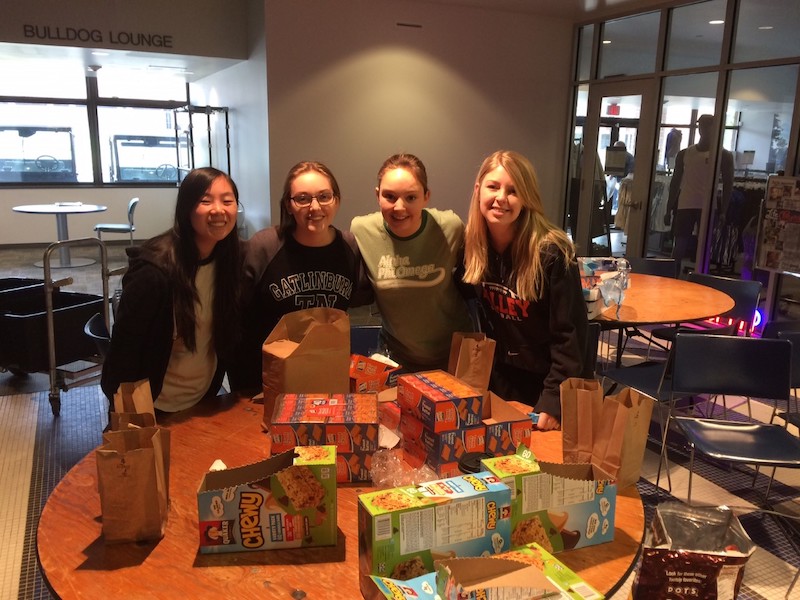 Members of Drake's Alpha Phi Omega Service Fraternity teamed up with St Luke's folks to serve a meal at Central Iowa and Services on April 12th. George Wilson invited all to join him at The Walnut afterwards, where his son is a chef.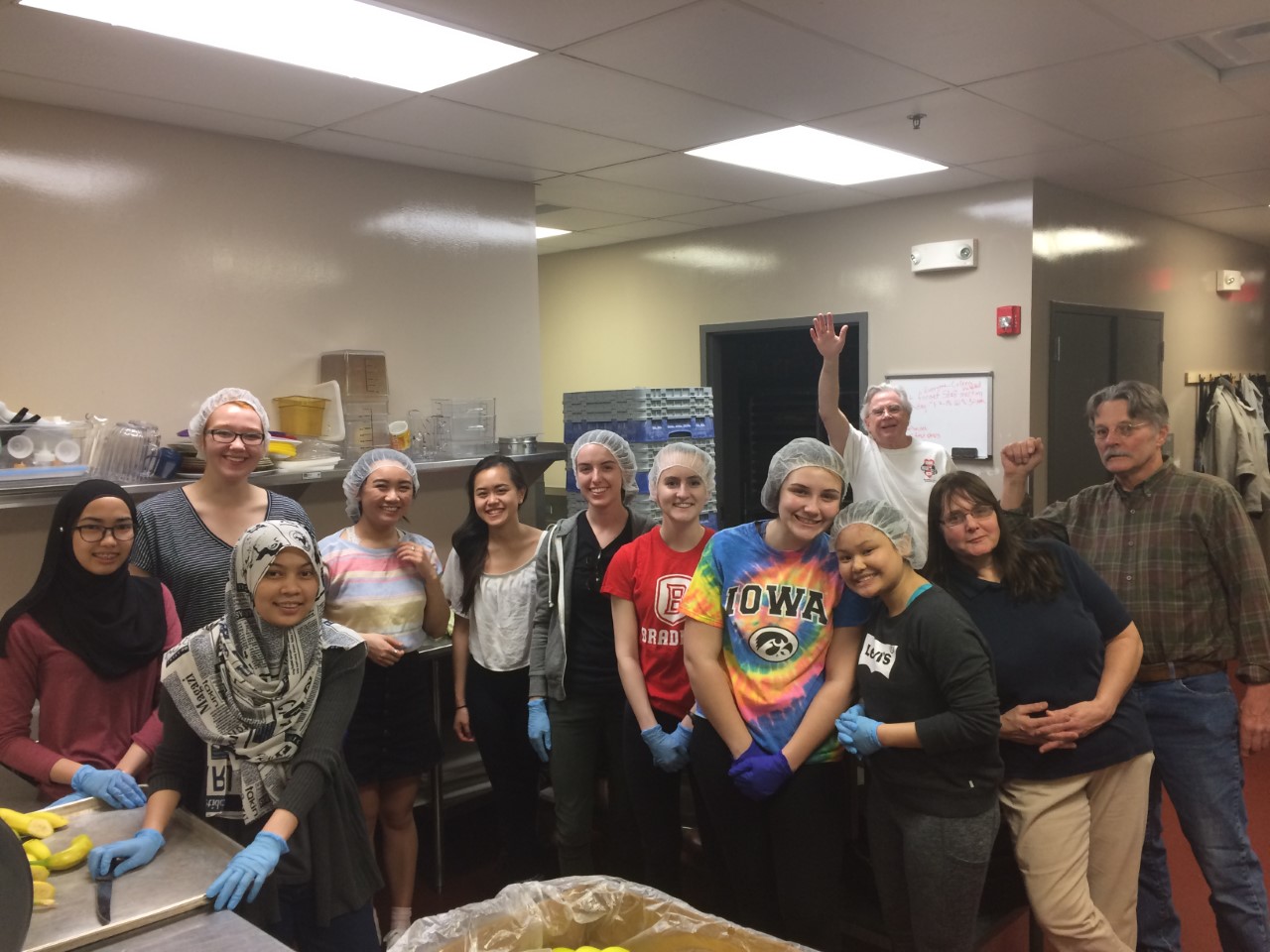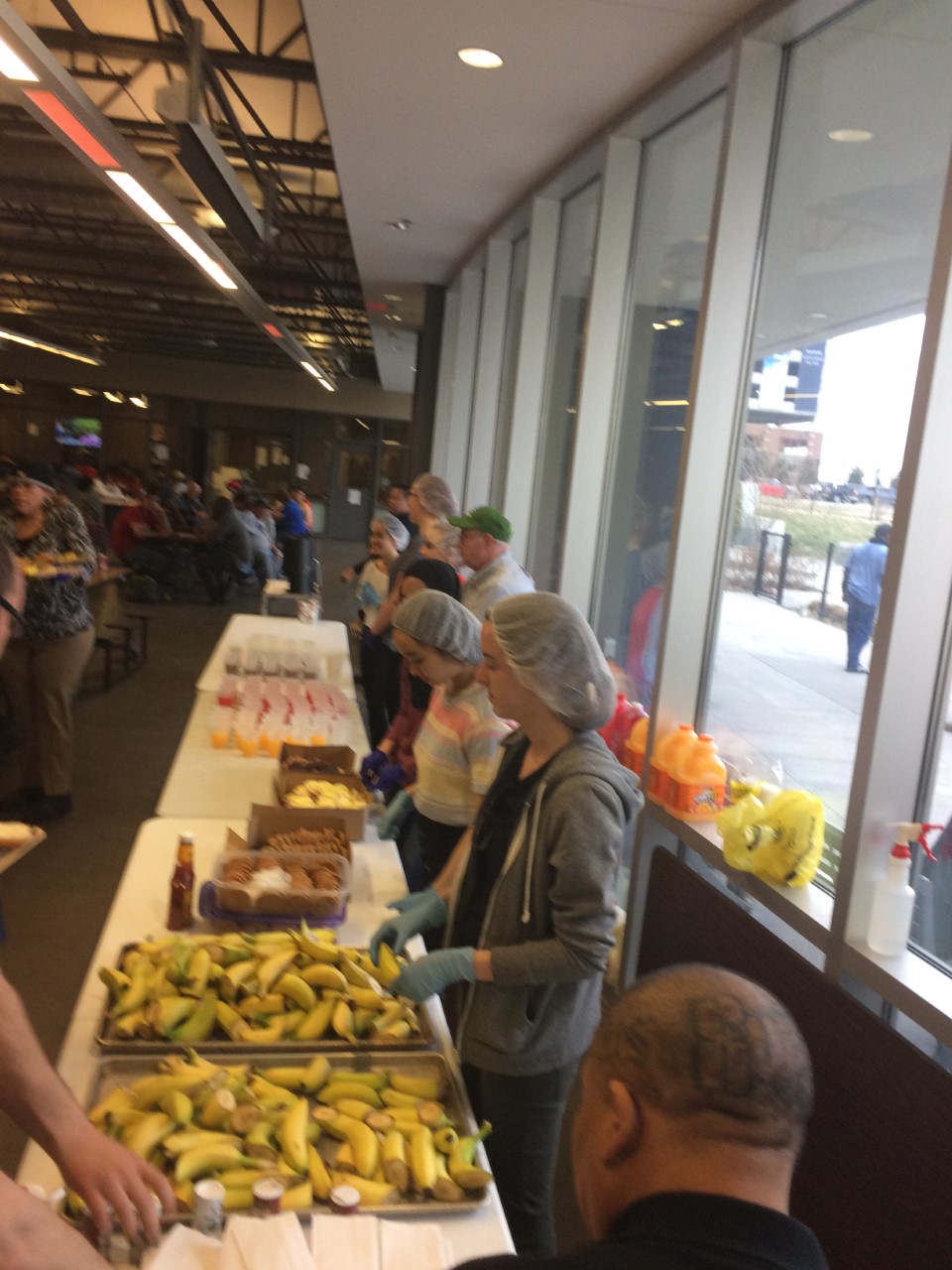 A fun and filling Shrove Tuesday Pancake Dinner to support Sack Pack Lunches for the CISS (homeless shelter) in Des Moines! Many thanks to APO volunteers and as always the tireless volunteers from St. Luke's!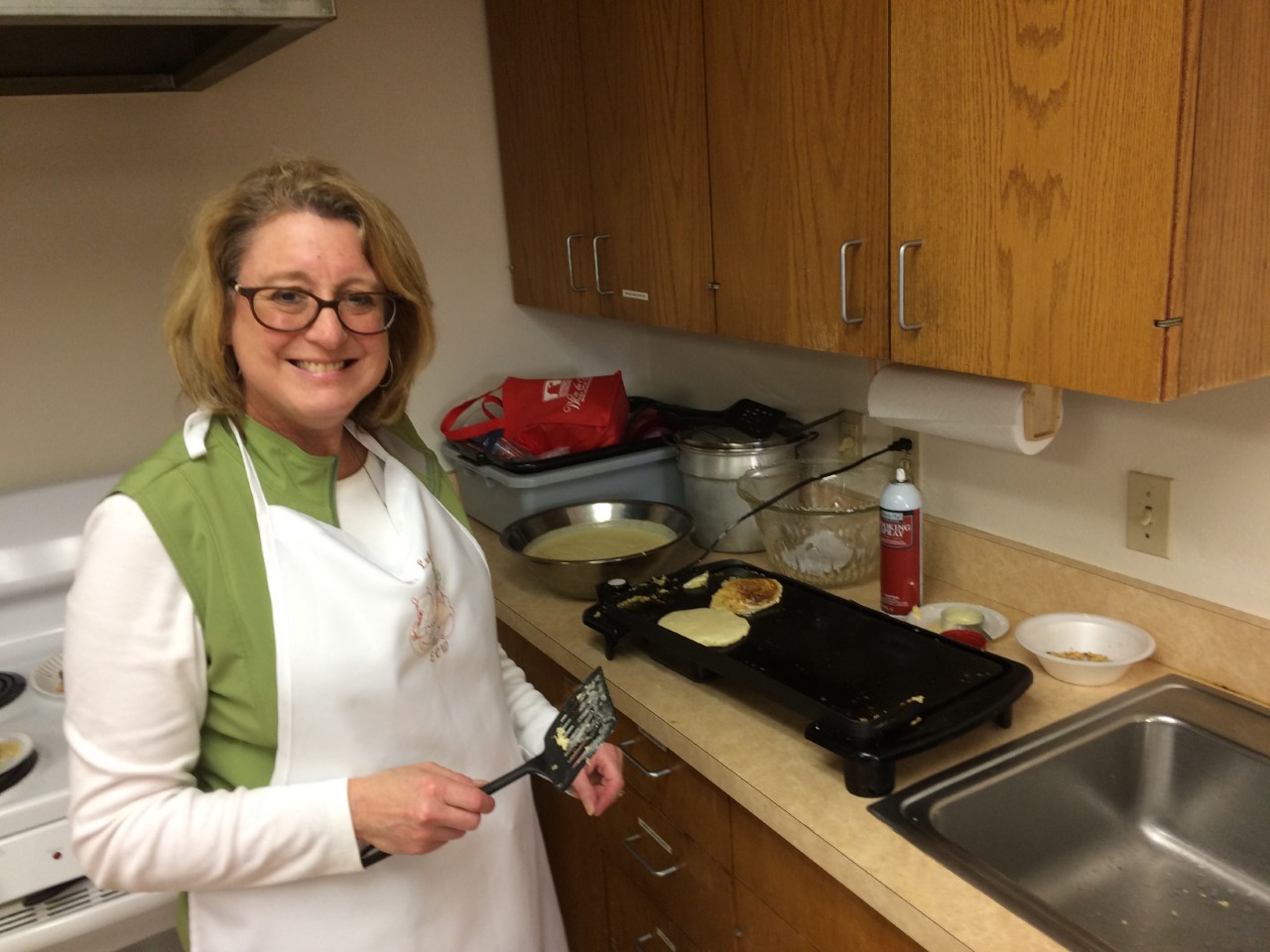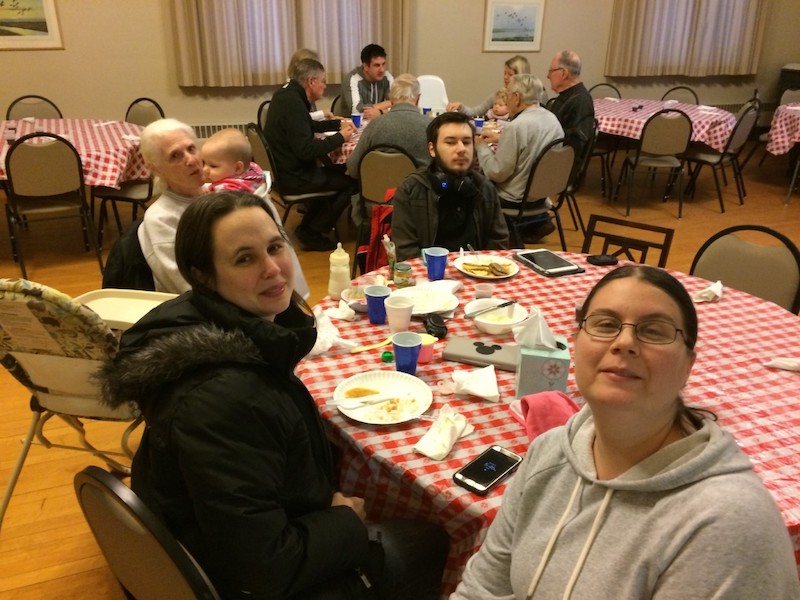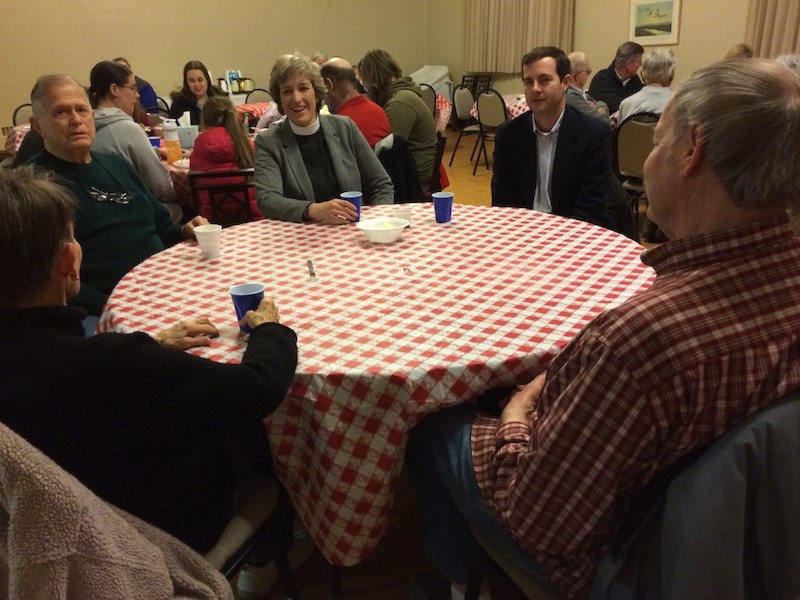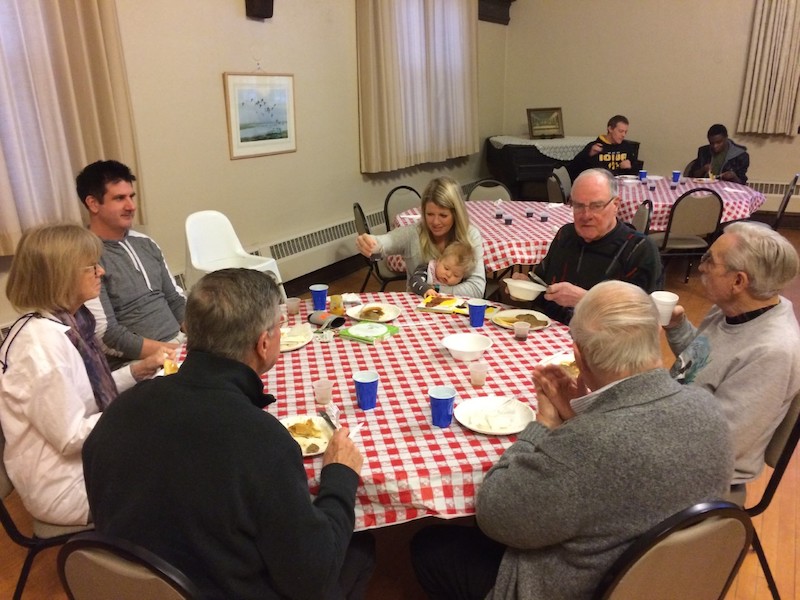 It was a true international effort on November 5th as St Luke's parishioners joined forces with volunteers from Alpha Phi Omega Service Fraternity and men from the Collo congregation to wrangle leaves that fall every year. It was a time of work and fellowship! The Collo guys even came back on Monday to finish the job!!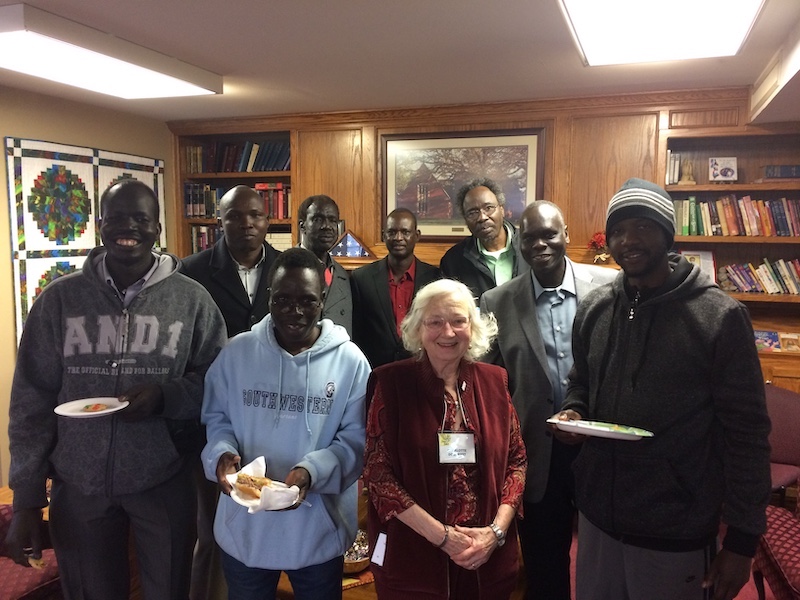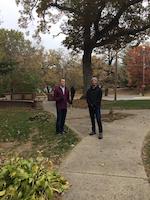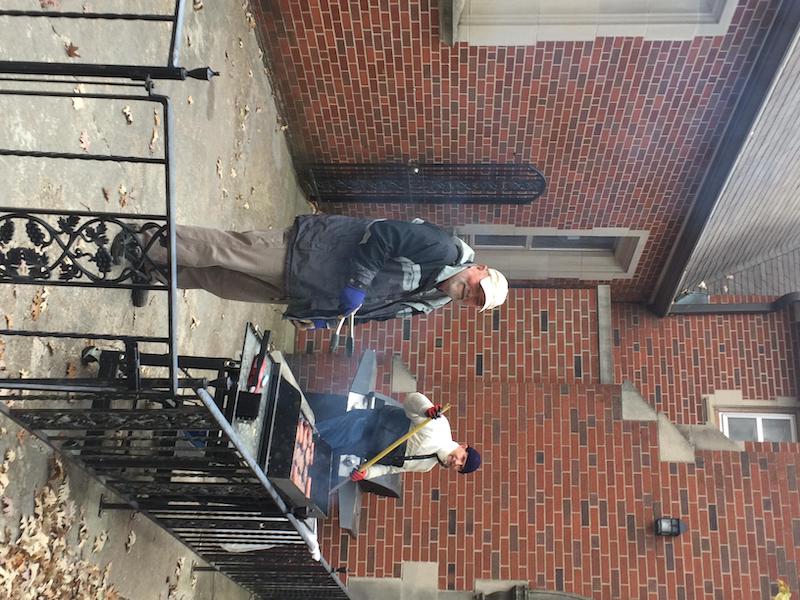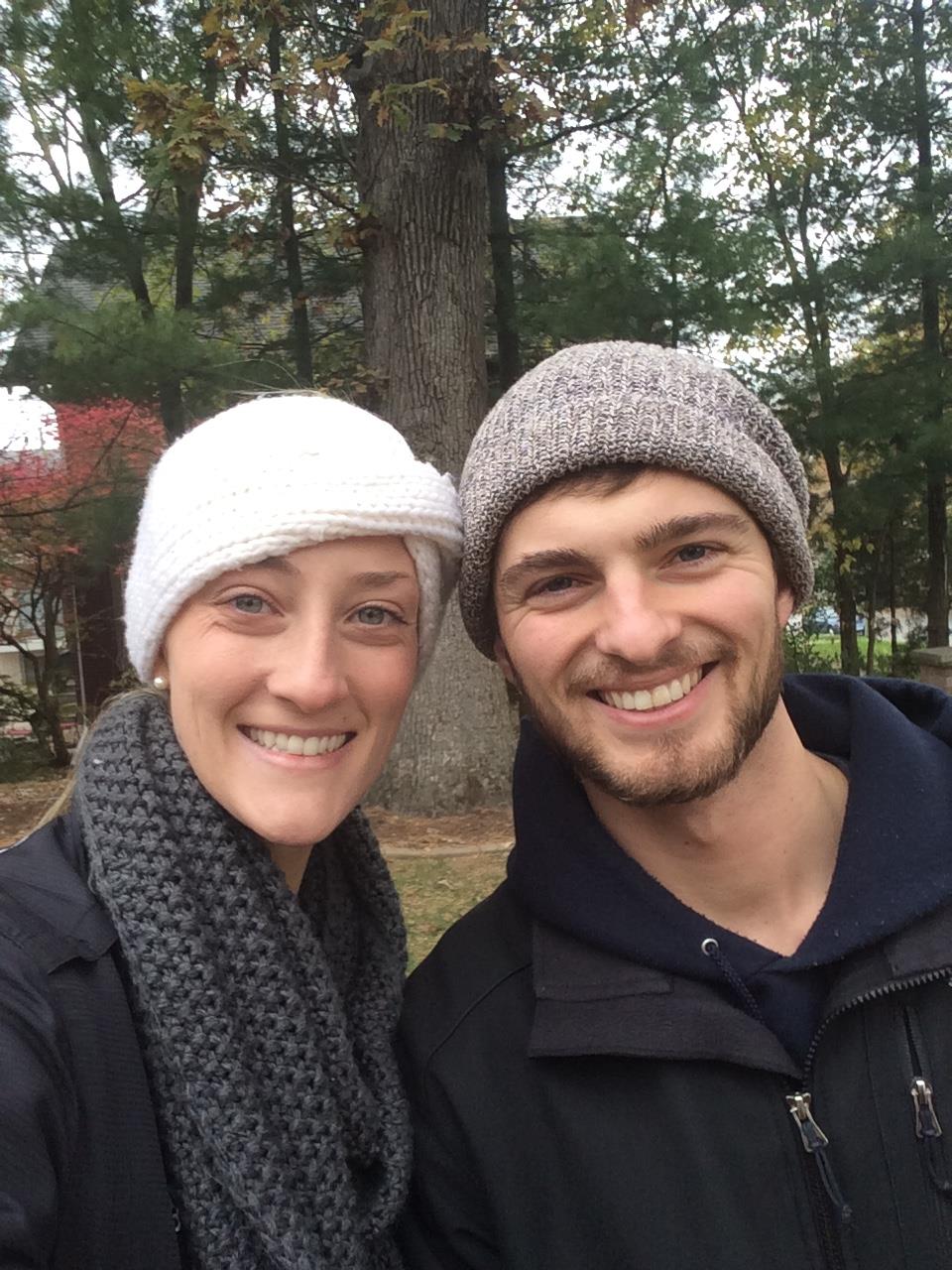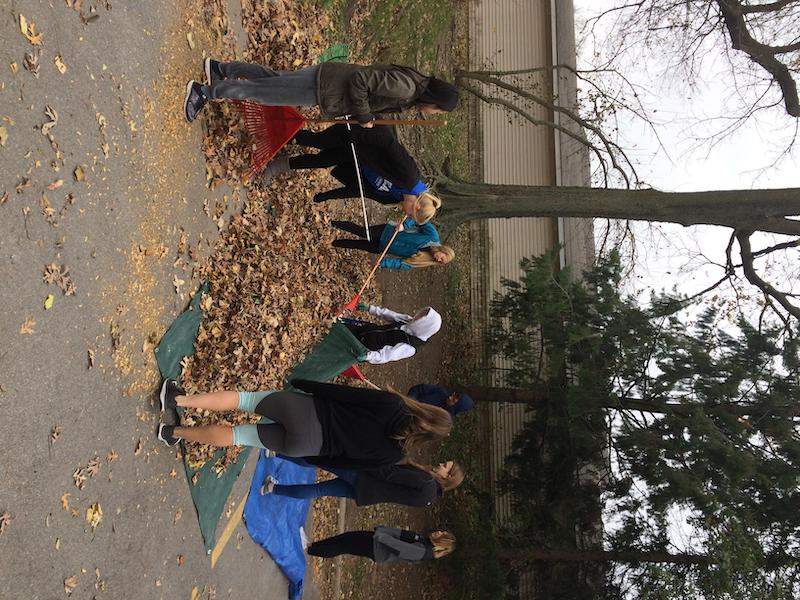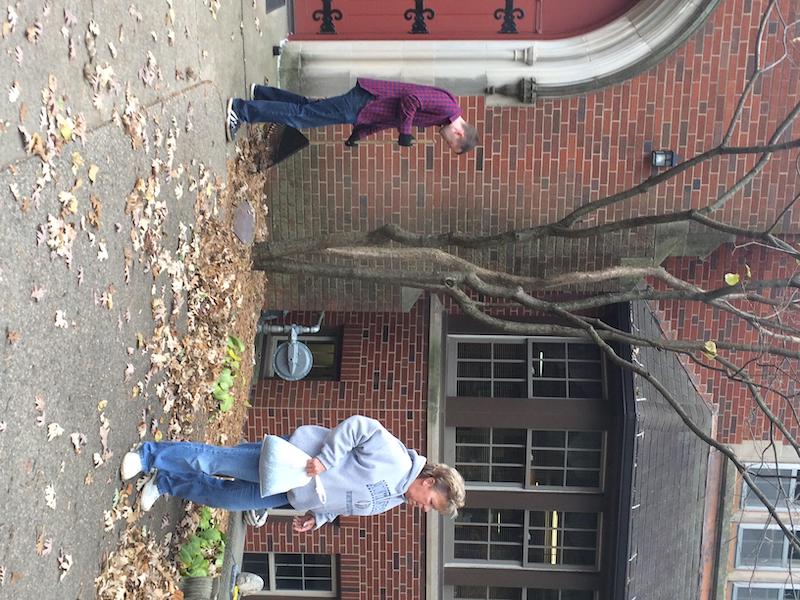 Episcopal middle school group filling sack lunches for the Central Iowa Shelter and Services at St Paul's.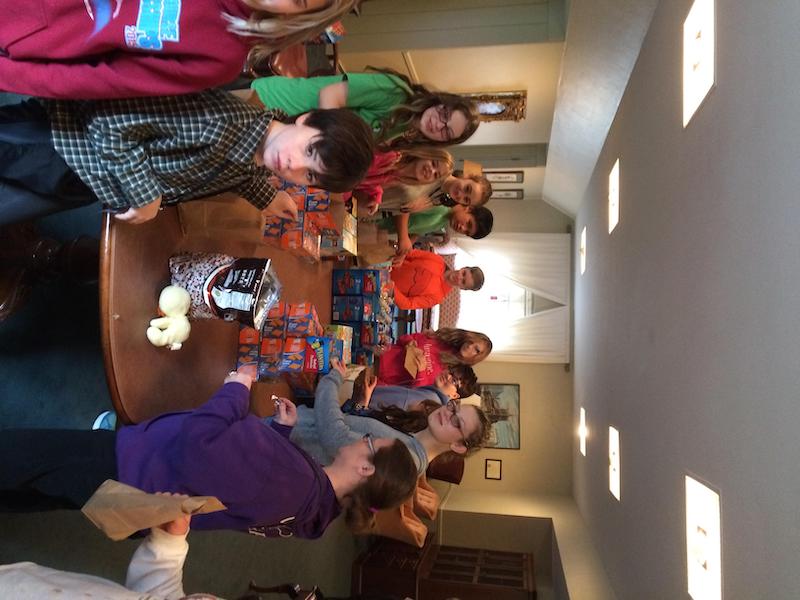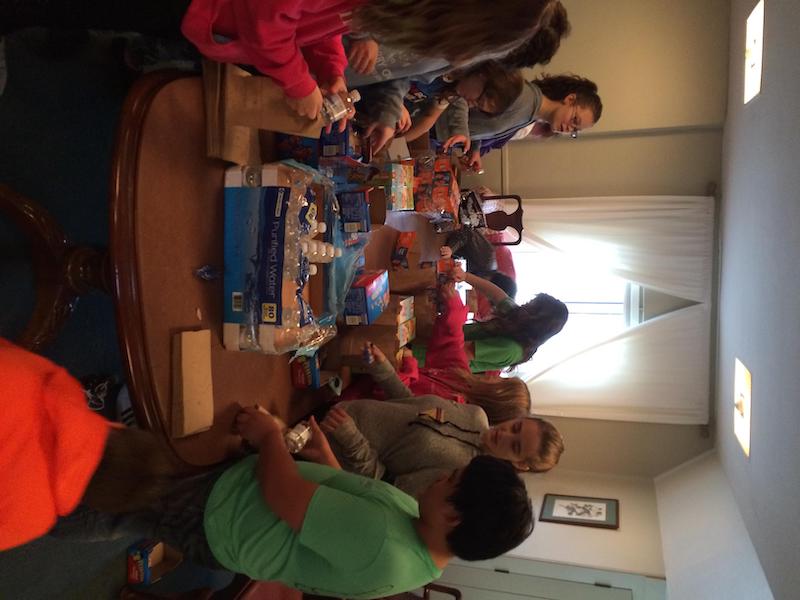 These two are always looking out for St Luke's. They are fixing up a portable carrier for the bells! They found it on Craig's List! Thanks you two!!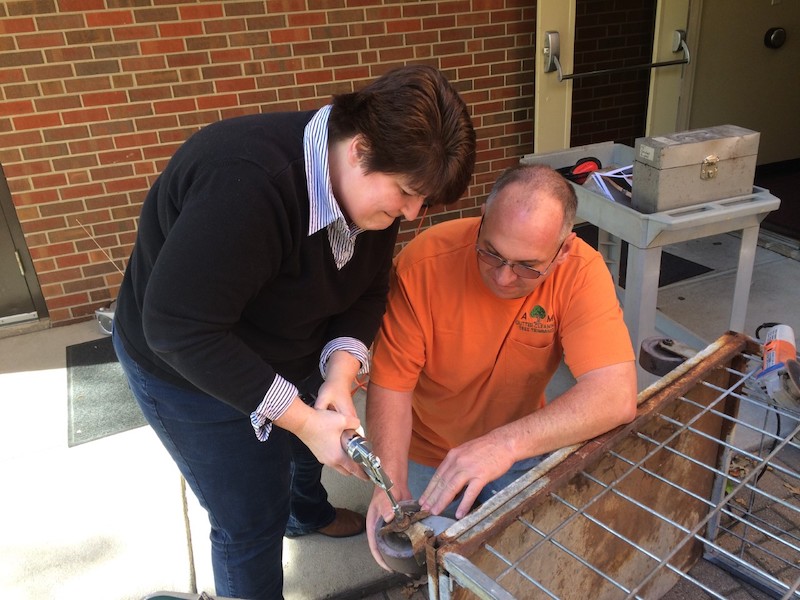 APO volunteers made the EFOGE spaghetti dinner fund raising evening go very smoothly!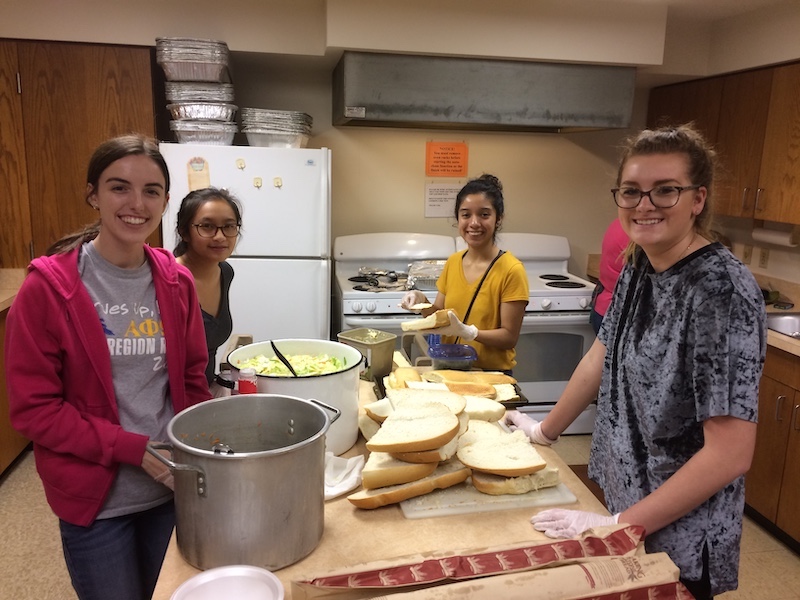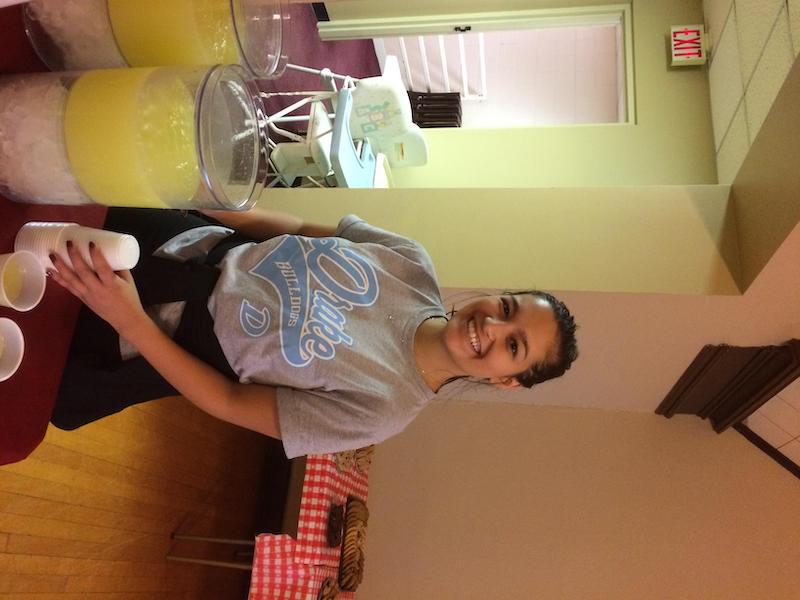 Spaghetti bliss! And Lilly explaining things to George.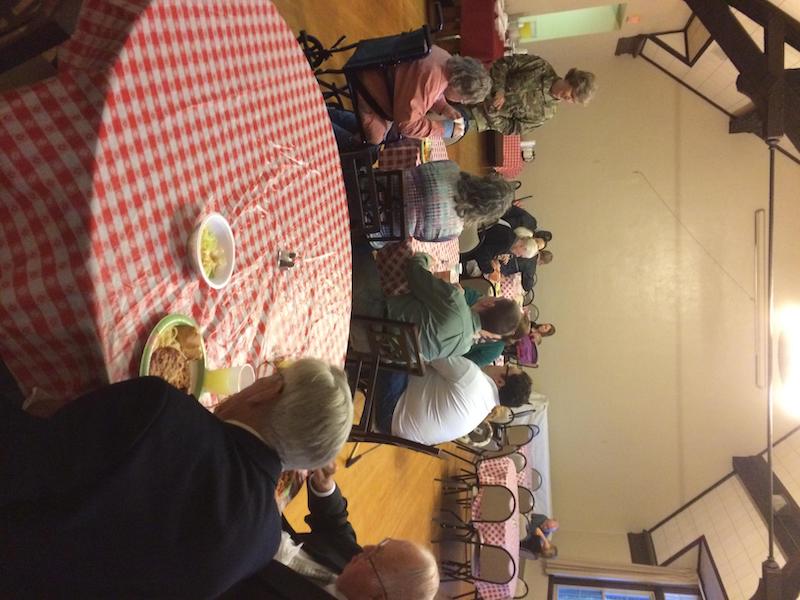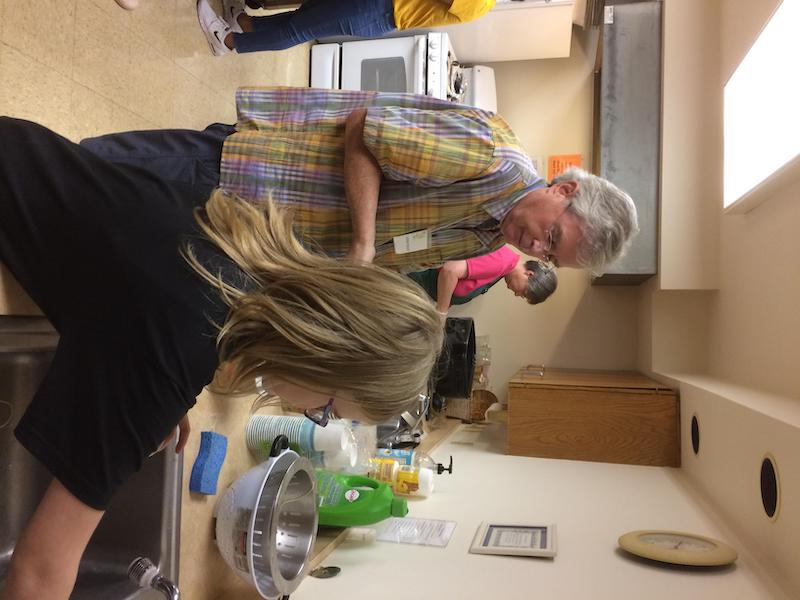 Members of the Drake Sigma Chi Fraternity stuck around to help with cleanup!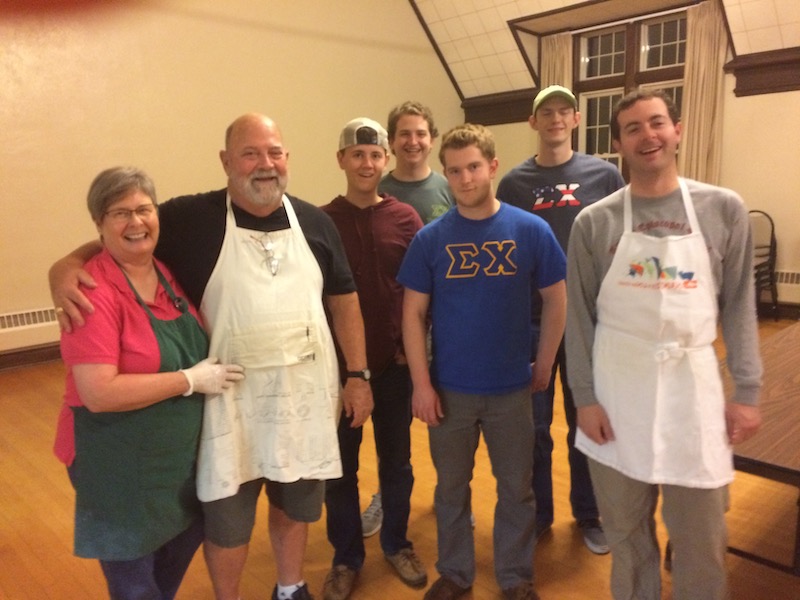 St. Luke's Deadeyes at the Olofson trap and rifle range on October 8th. Much fun!!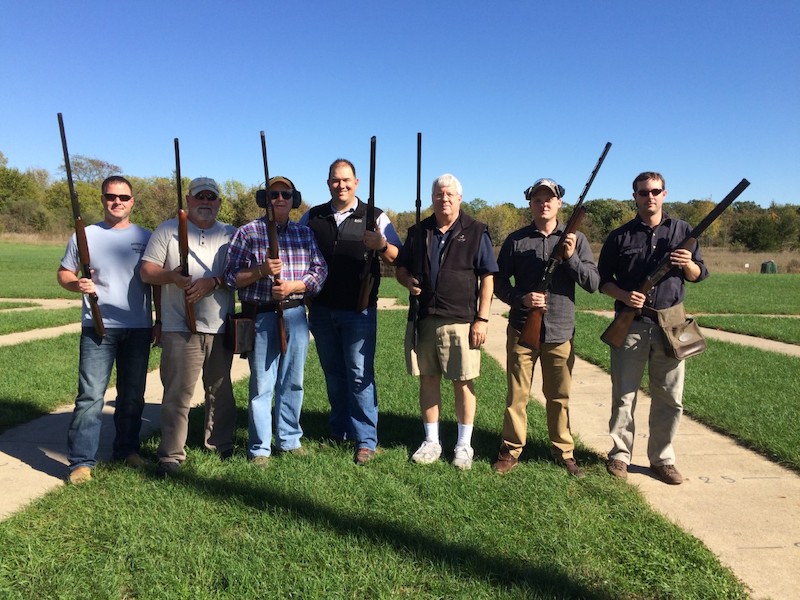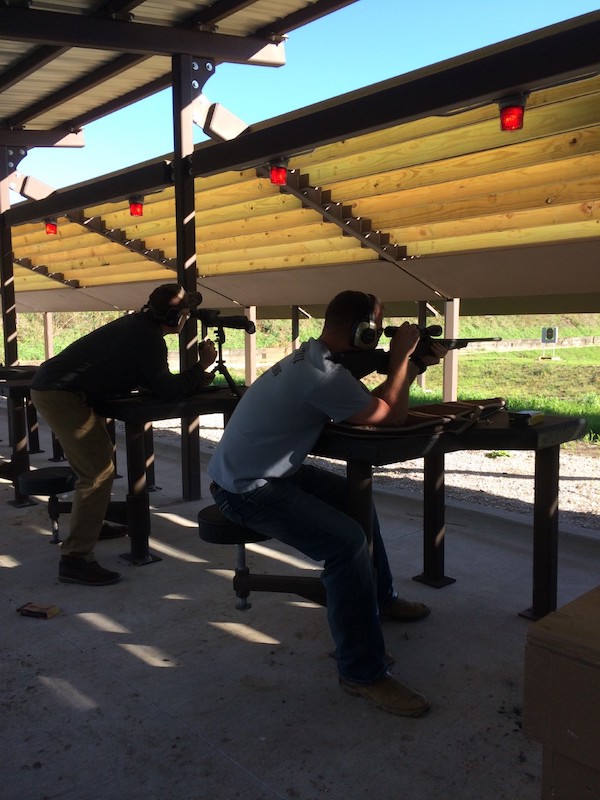 Our thanks to the Alpha Phi Omega Service Fraternity volunteers for their big time help in filling sack lunches for Central Iowa Shelter and Services!! They made quick work of the job on September 24th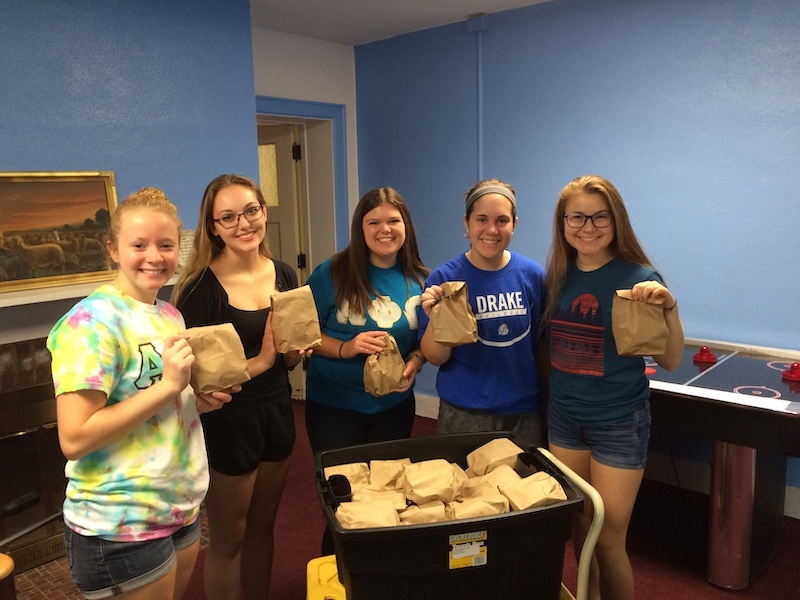 !!
On September 24th St. Luke's recognized our acolyte corps!! Many thanks to all!!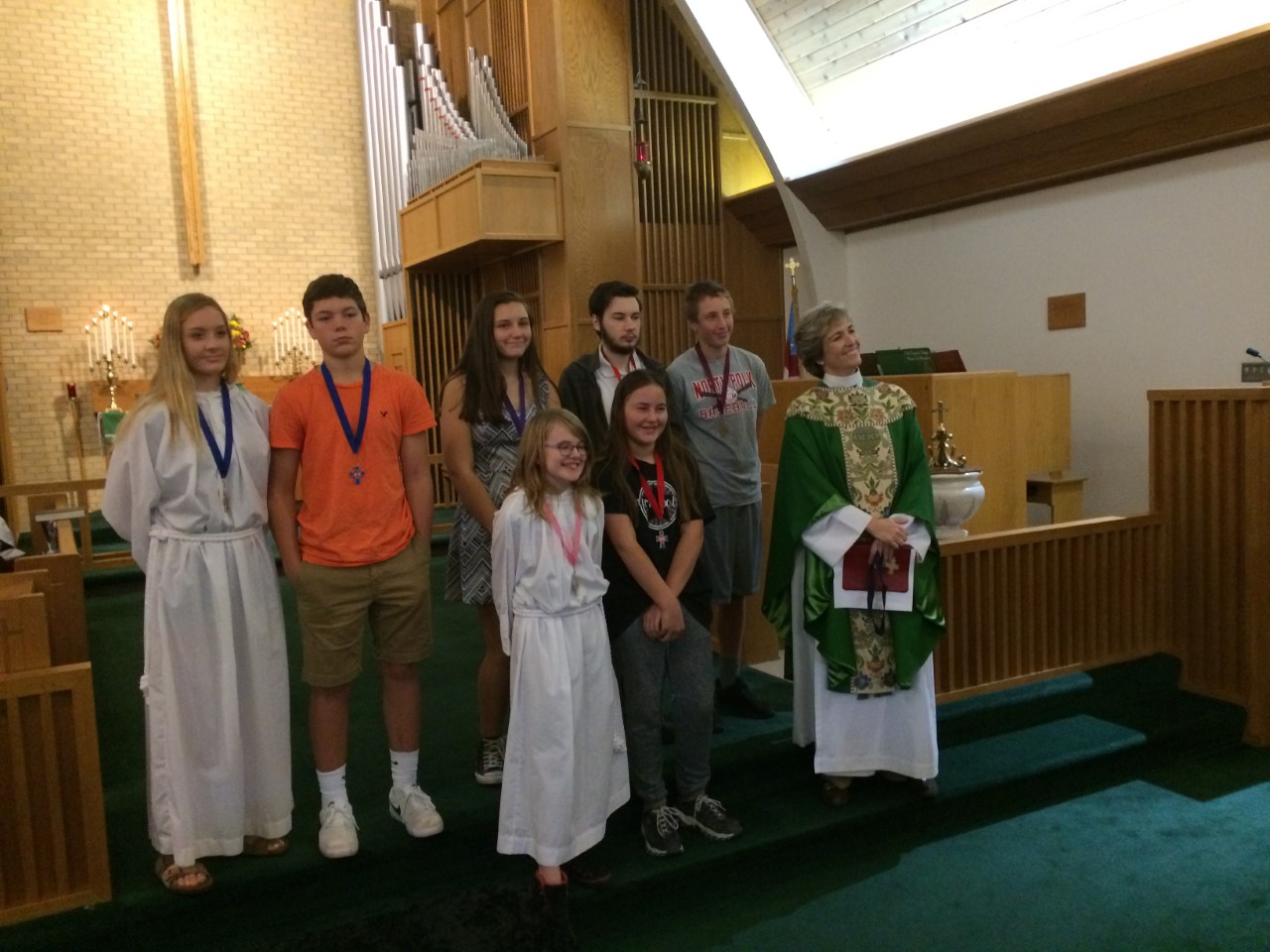 A big crowd from St Luke's met at Maxie's for plain ole fellowship! Great time was had by all!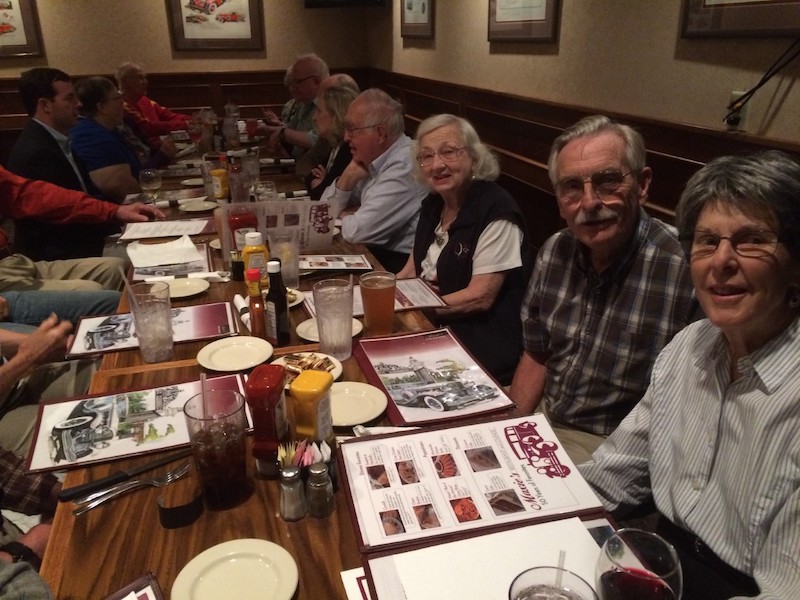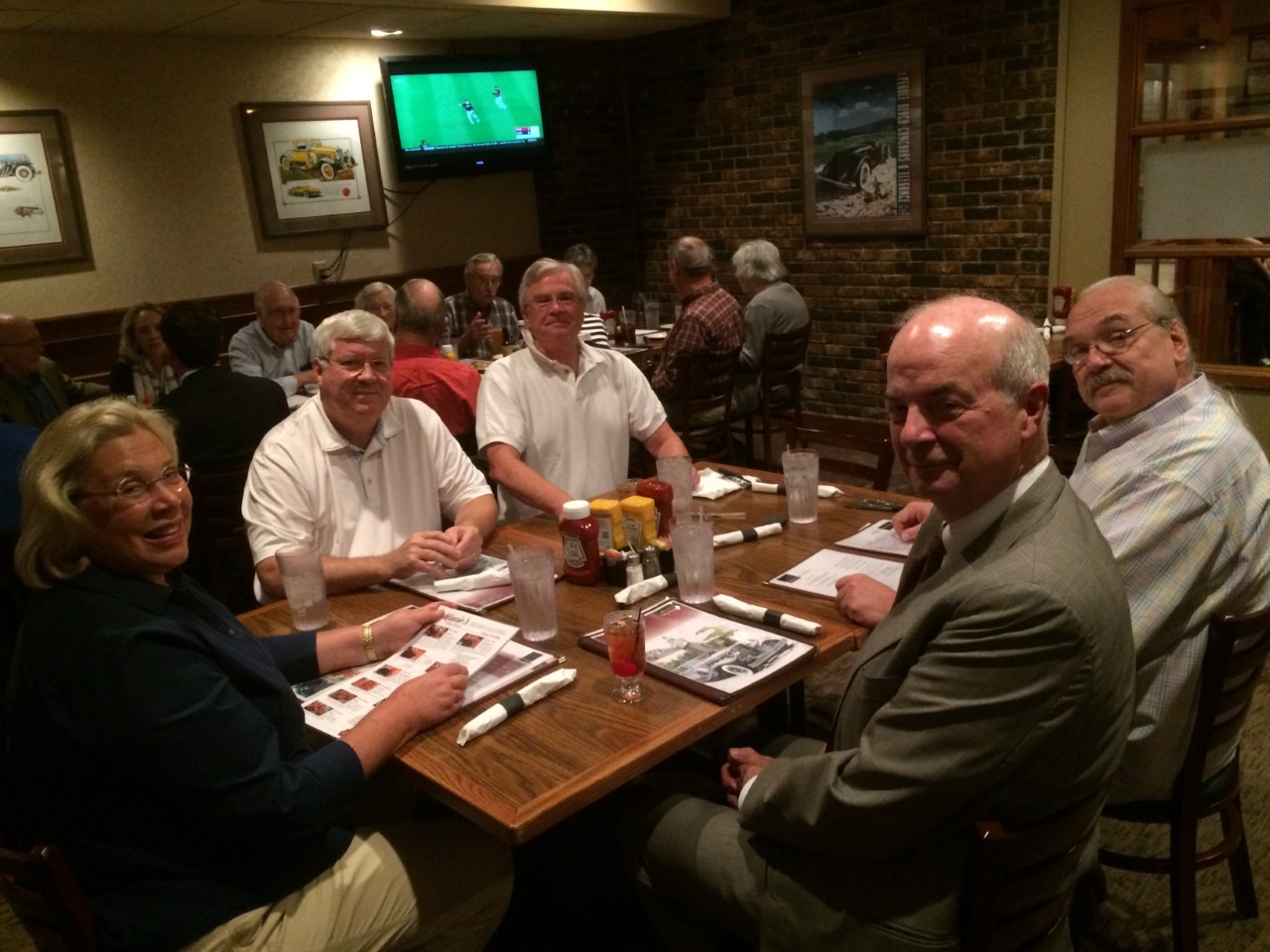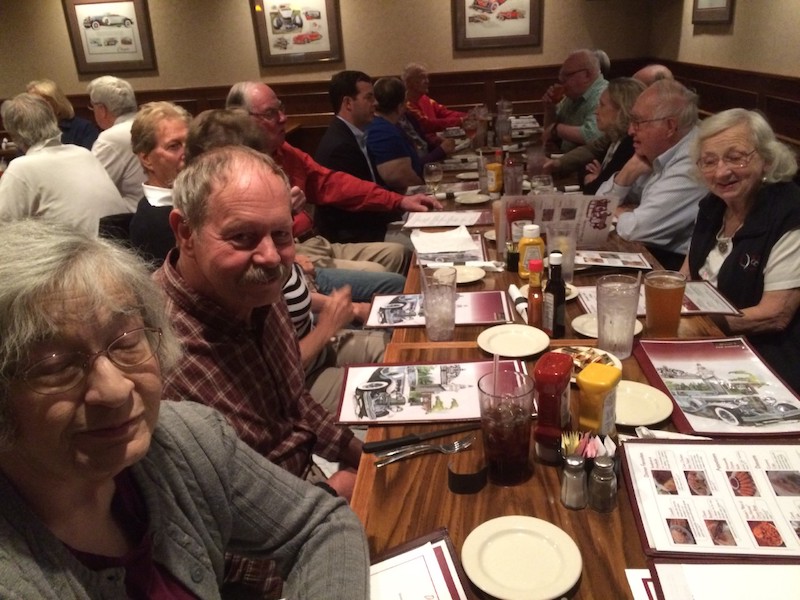 Members of St. Luke's and the Sudanese Collo congregations in Des Moines shared a night of powerful renewal and prayer on Friday, August 18. Strong bonds of fellowship were created that night between the two!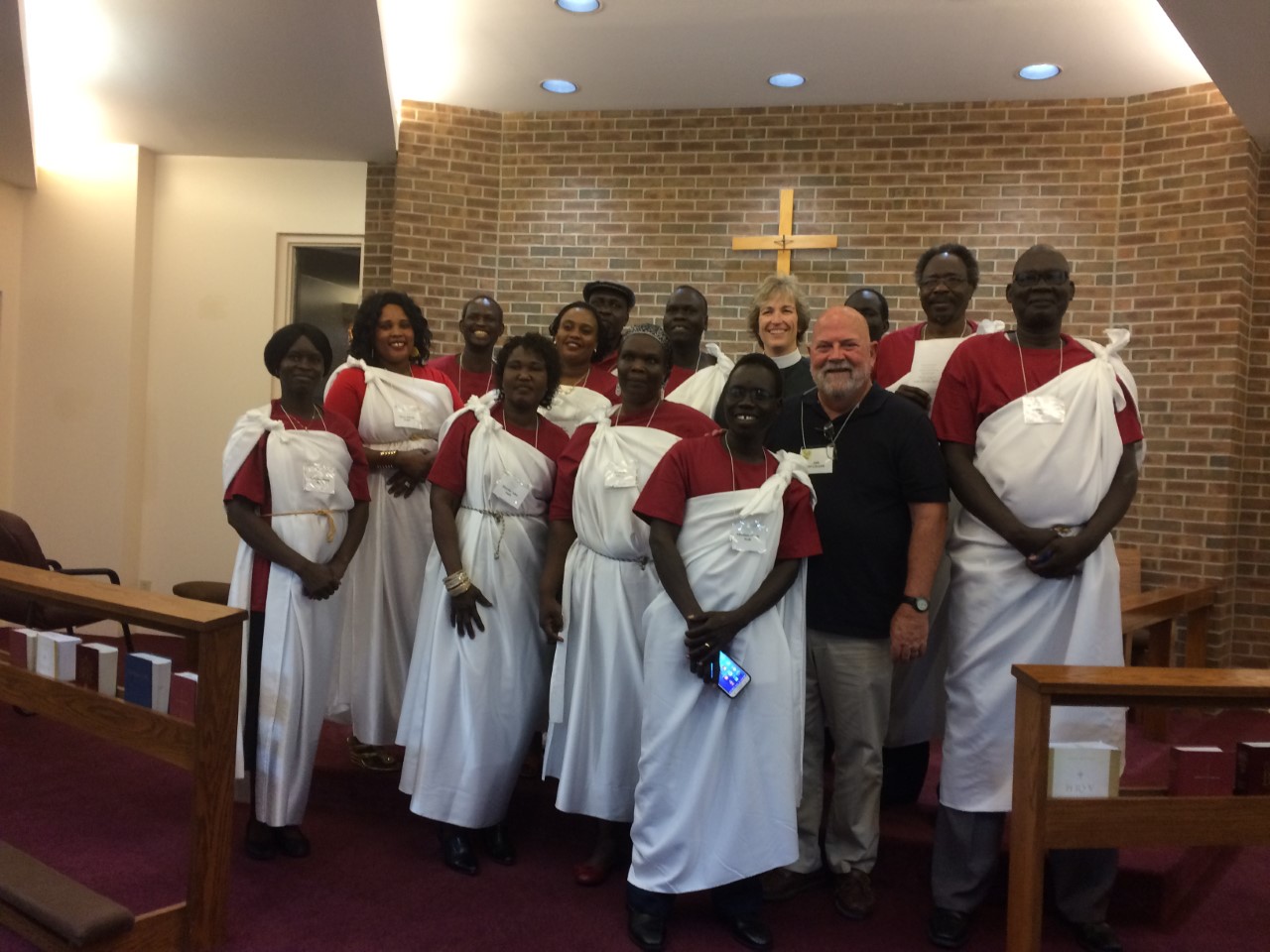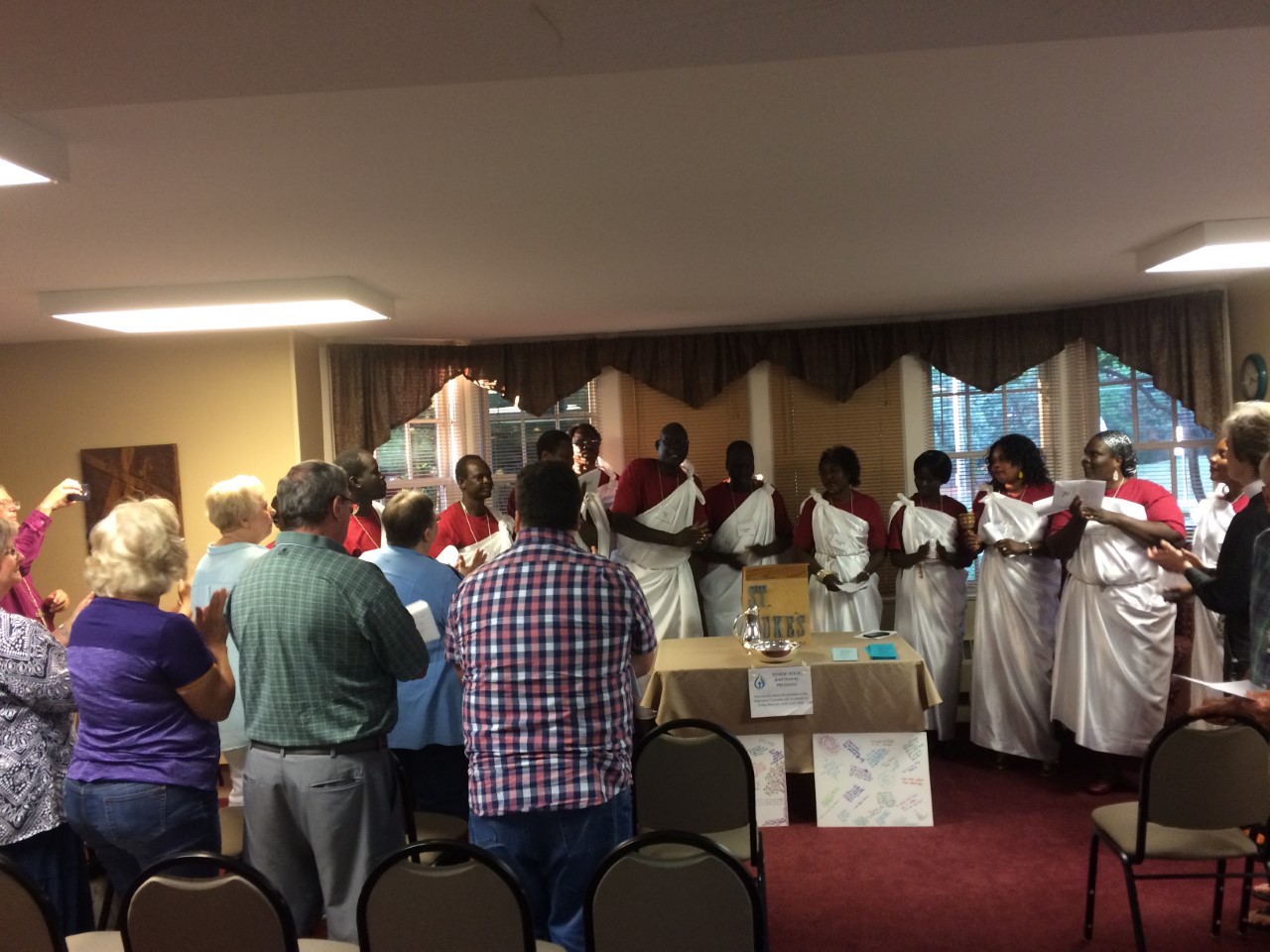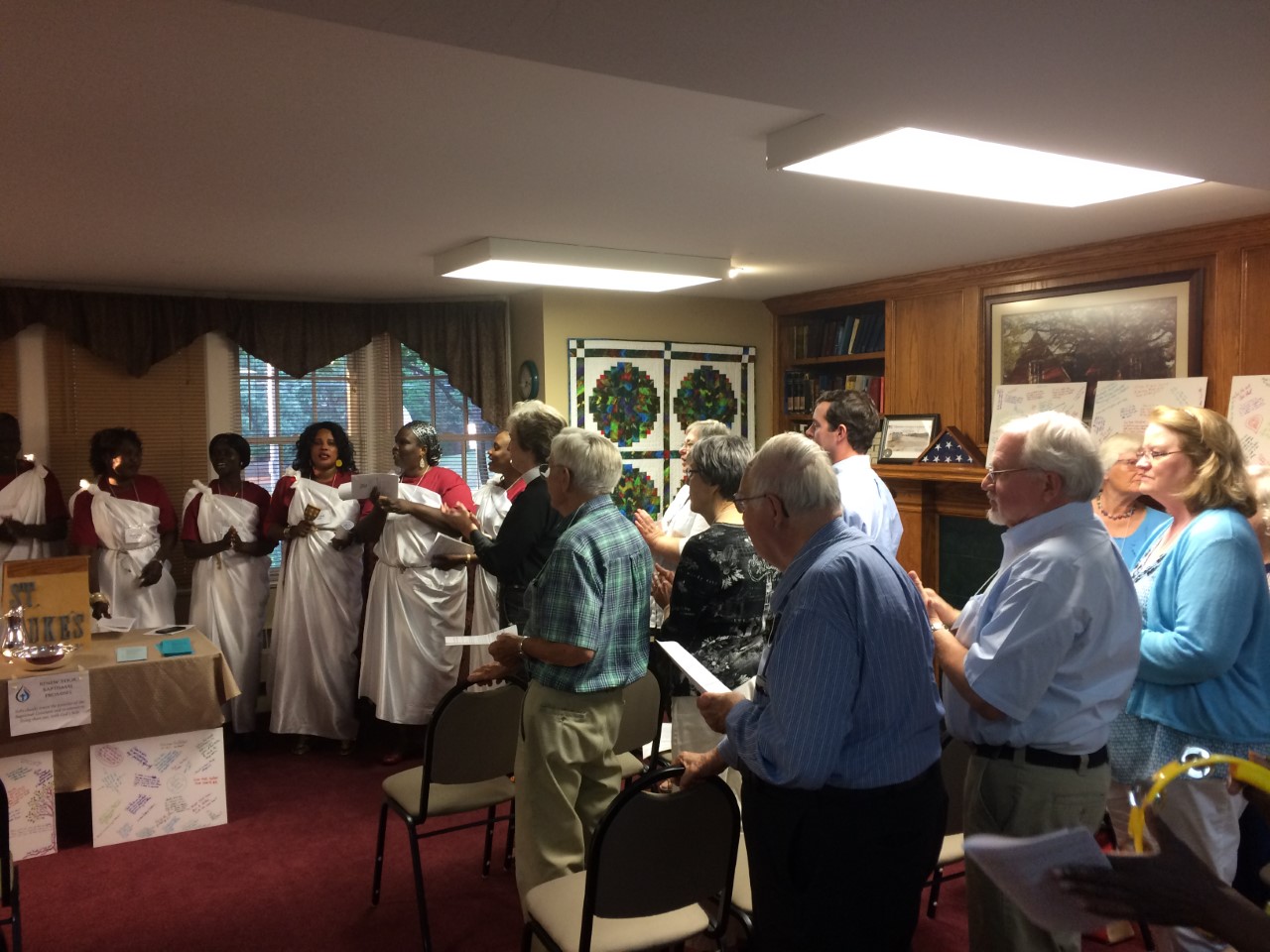 27 people attended the 8:00 am service at the Camp Dodge Chapel on July 9th, as St Luke's joined with military personnel to hear the Word.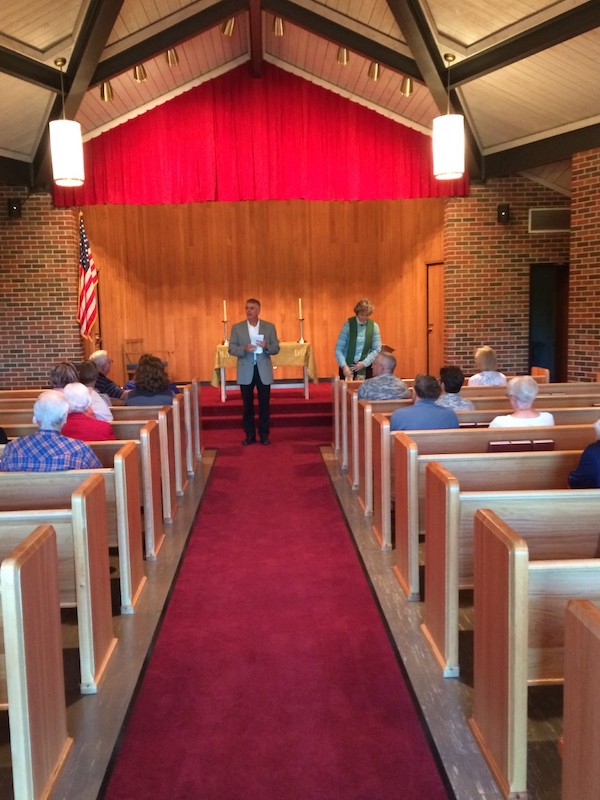 An efficient group packed a LOT of lunches for the shelter to use next month. Thanks to all for helping in a good cause!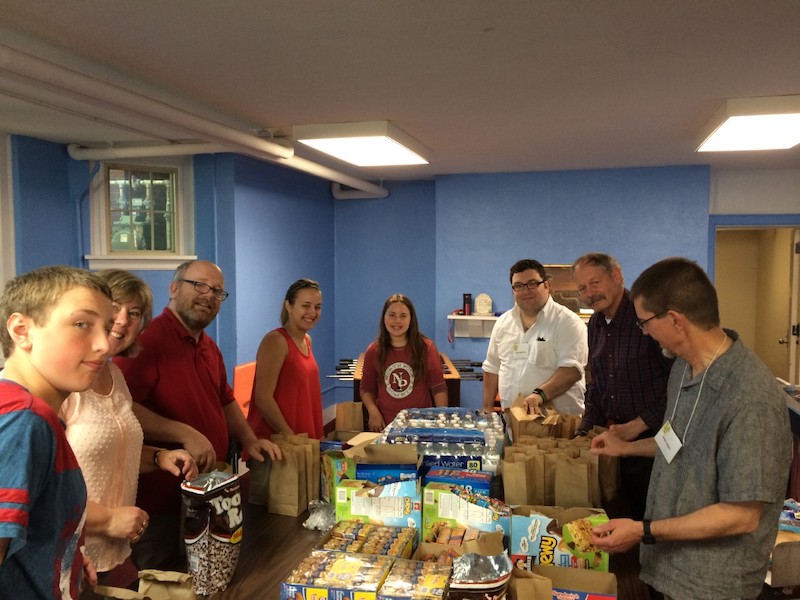 Phi Mu Alpha, Drake's professional music fraternity, held their annual Swing Dance Festival at St Luke's Episcopal Church on Saturday, April 30th. Proceeds to support the arts at Moulton Elementary. A great time for a great cause!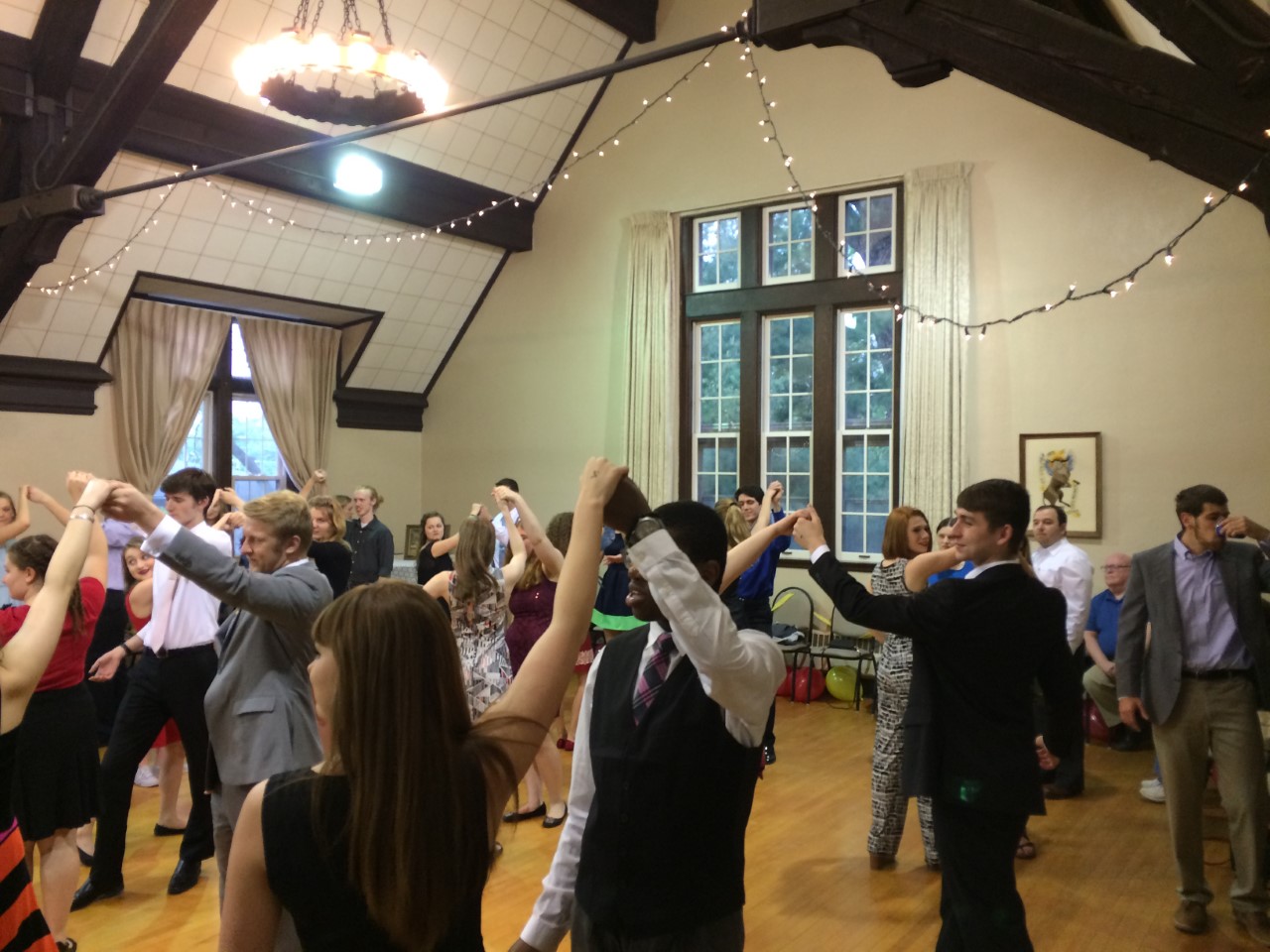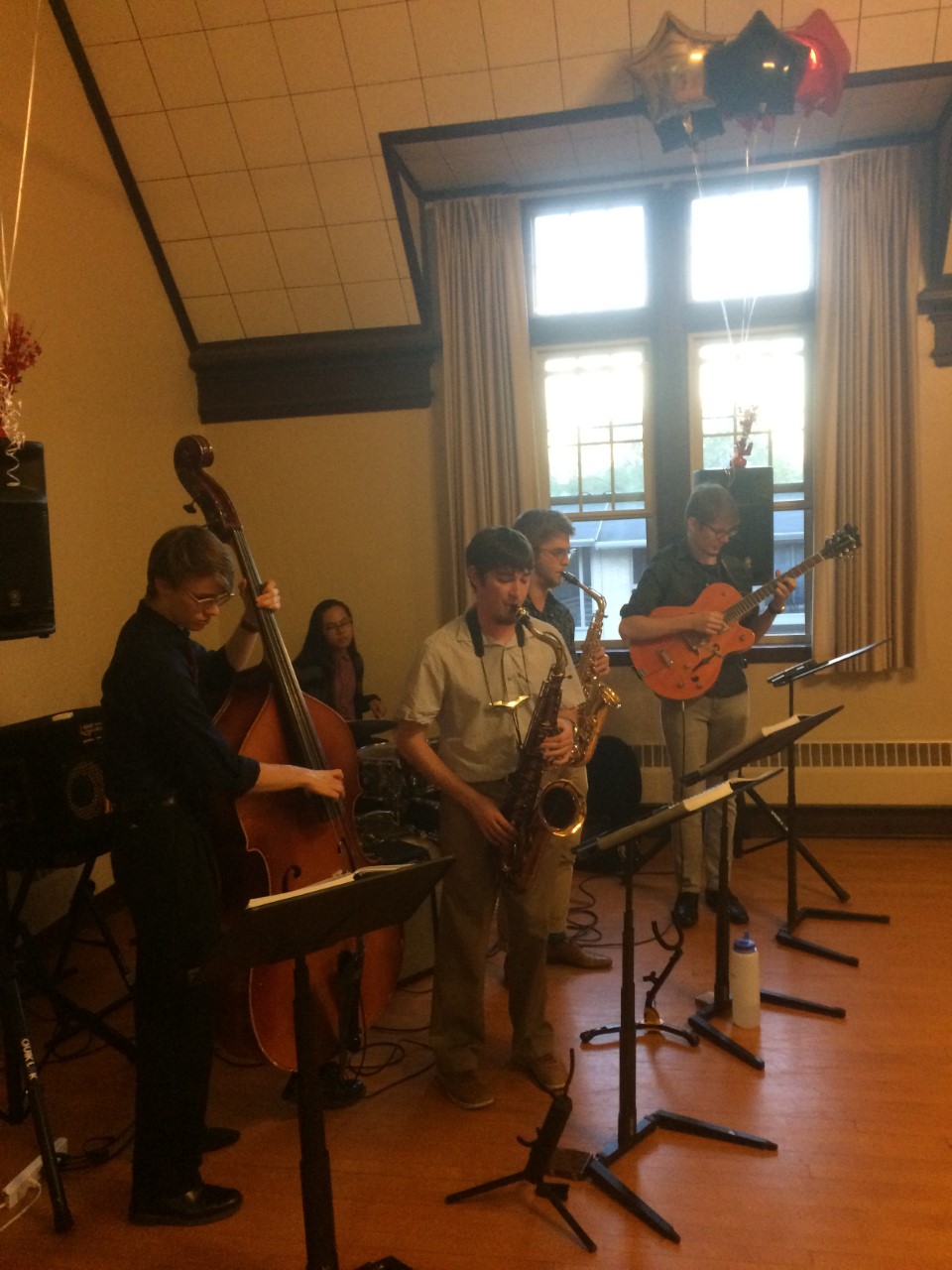 Volunteers from St Luke's Episcopal Church prepared and served an evening meal at the Central Iowa Shelter and Services building on Tuesday, April 25th. We counted our blessings twice after serving.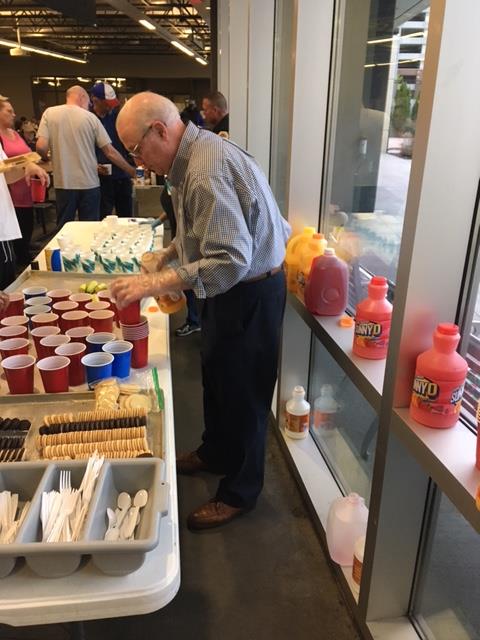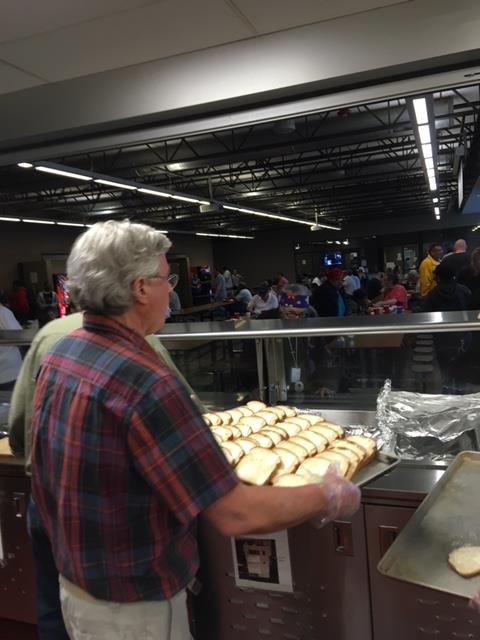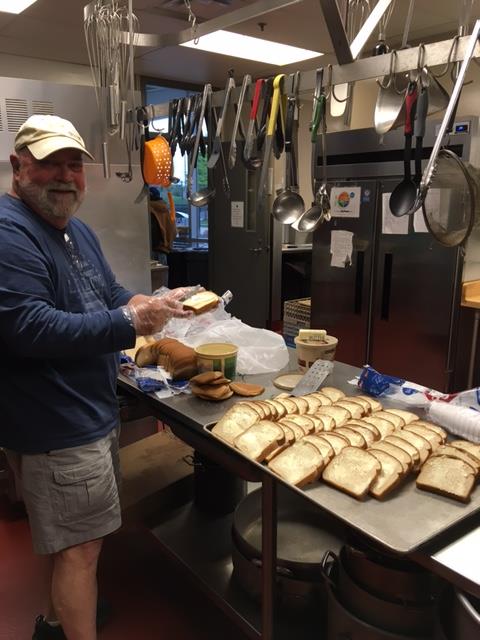 Members of Drake's Alpha Phi Omega service fraternity along with St Luke's Episcopal Church folks filled four large bins for delivery to CISS, on Sunday, April 23rd. Many hands made light work!! Thank you APO for your help!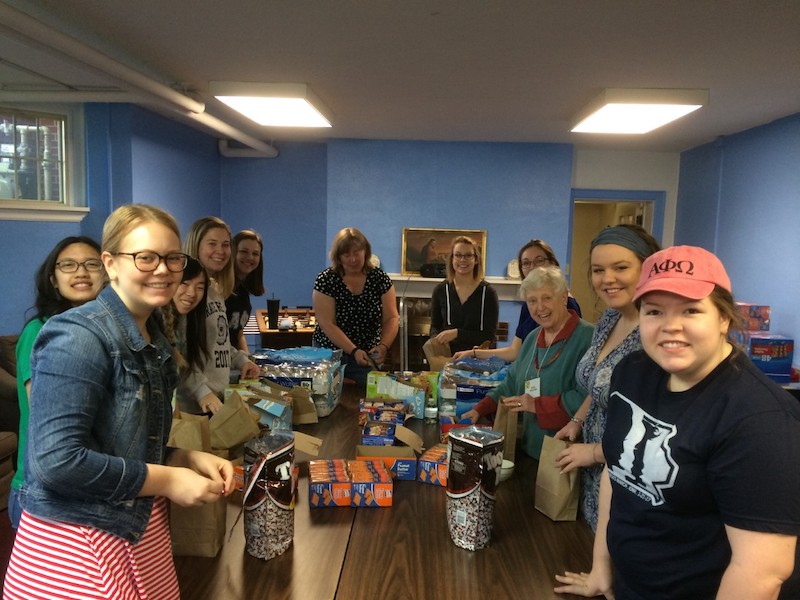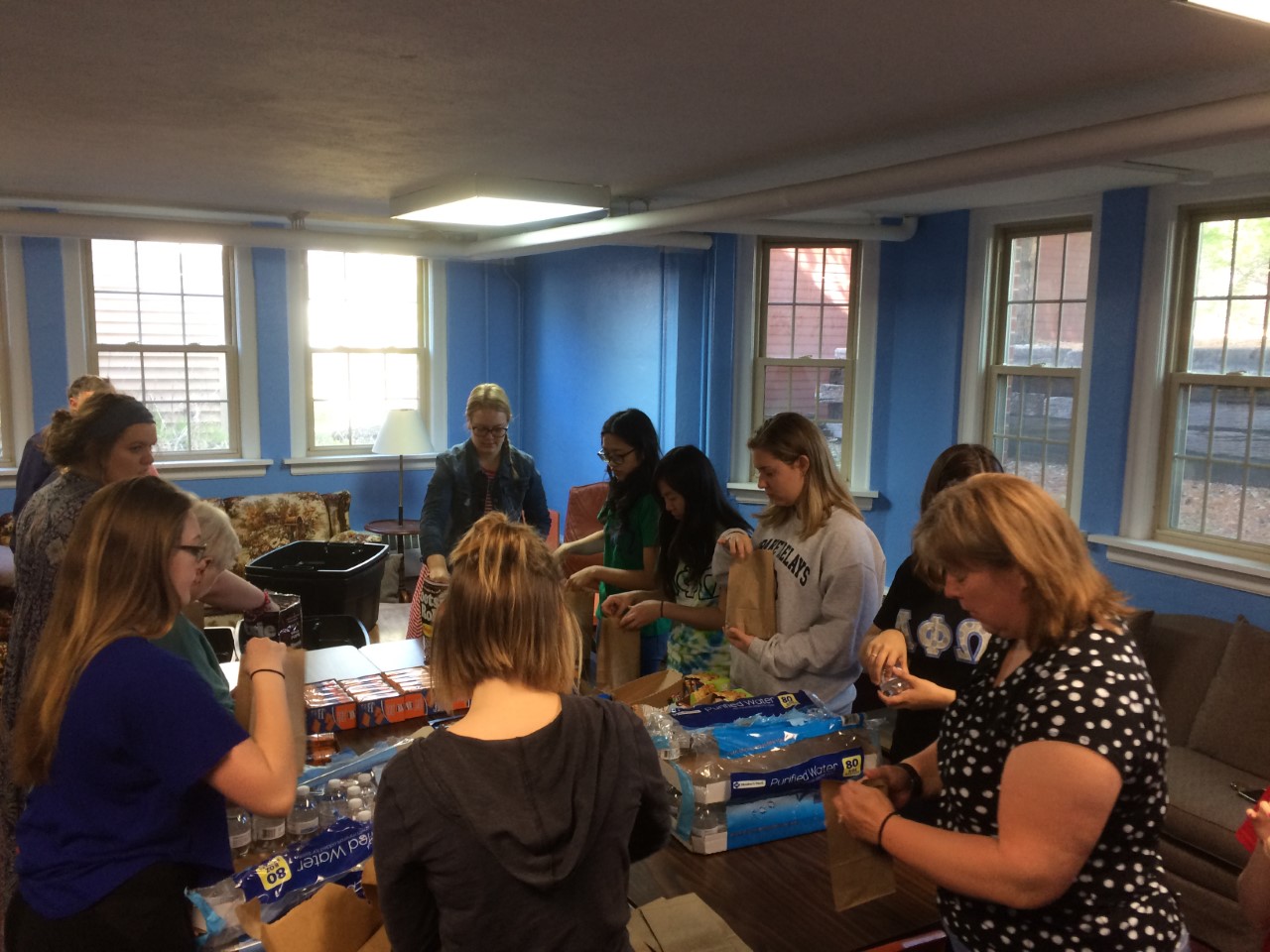 A group of about 25 soldiers and St Luke's parishioners gathered at the Camp Dodge Chapel for an 8:00 a.m. communion service on April 2nd. Great fellowship among the worshippers followed in the lower section of the chapel.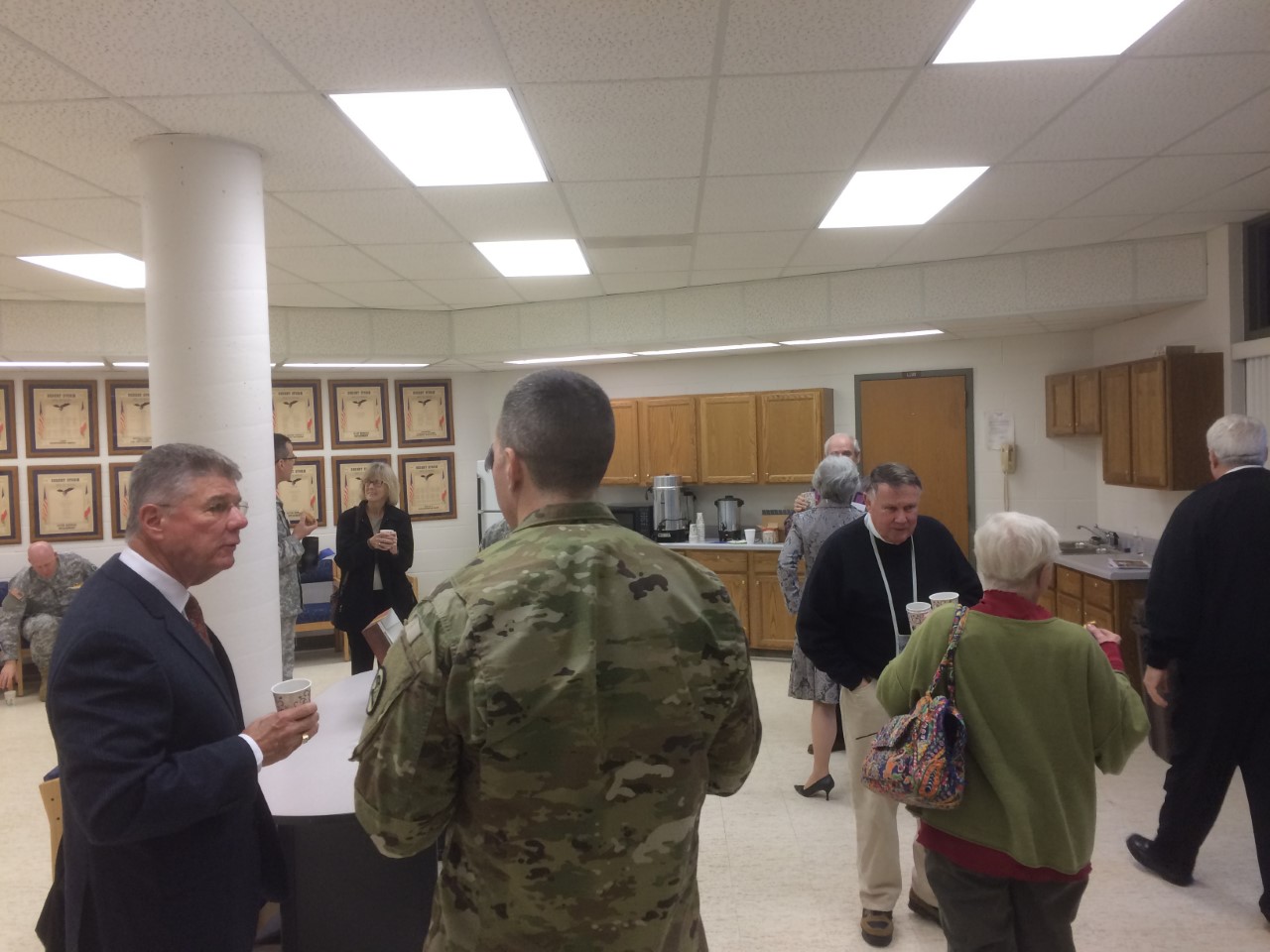 Lily and John Baker and Dorothea Gamel were joined by members of the Alpha Phi Omega service fraternity and the Sigma Chi Fraternity from Drake in filling lunch sacks on March 26th after the 10:00 service. The sack lunches are provided to the Central Iowa Shelter and Services for their clients' use. Thanks to all for making short work of filling 300 lunches!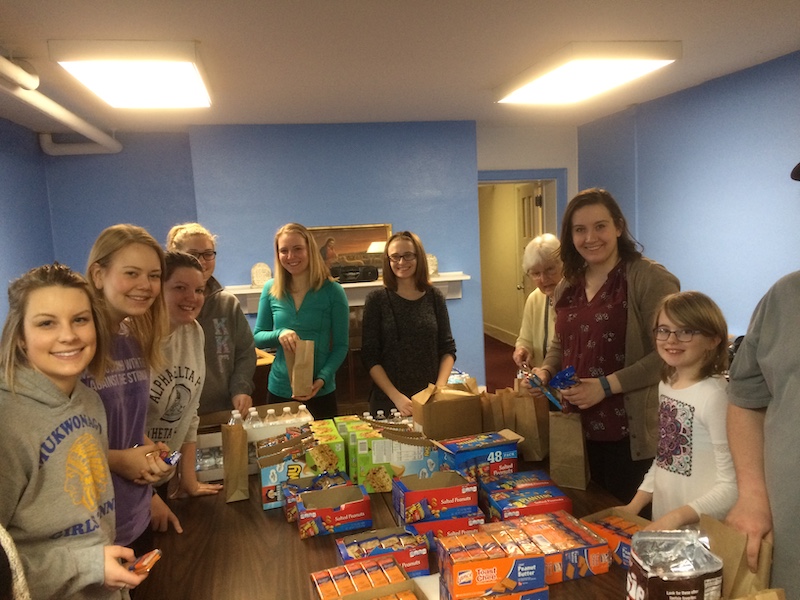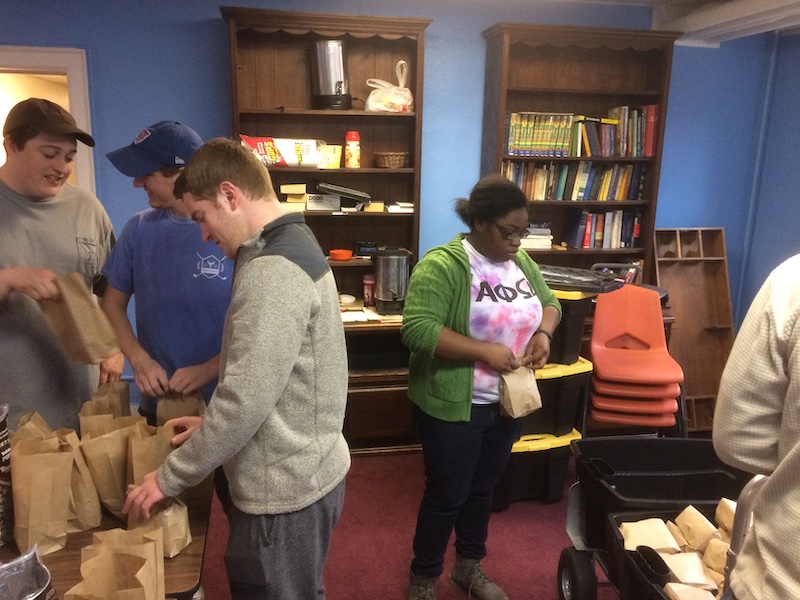 Pastor Martha Kester, George Wilson, Val Smith and Jim McLallen took to the trap range on the 18th of March to test their skills. The clay pigeons were not too impressed!!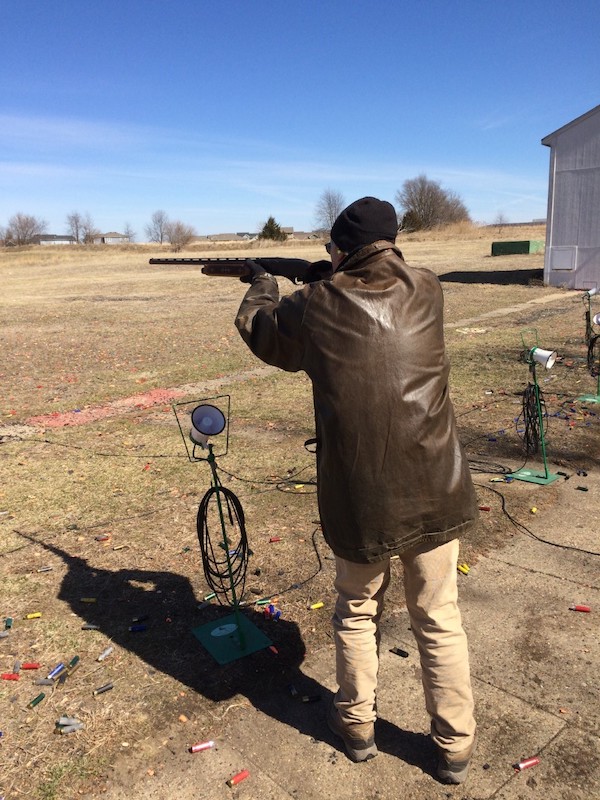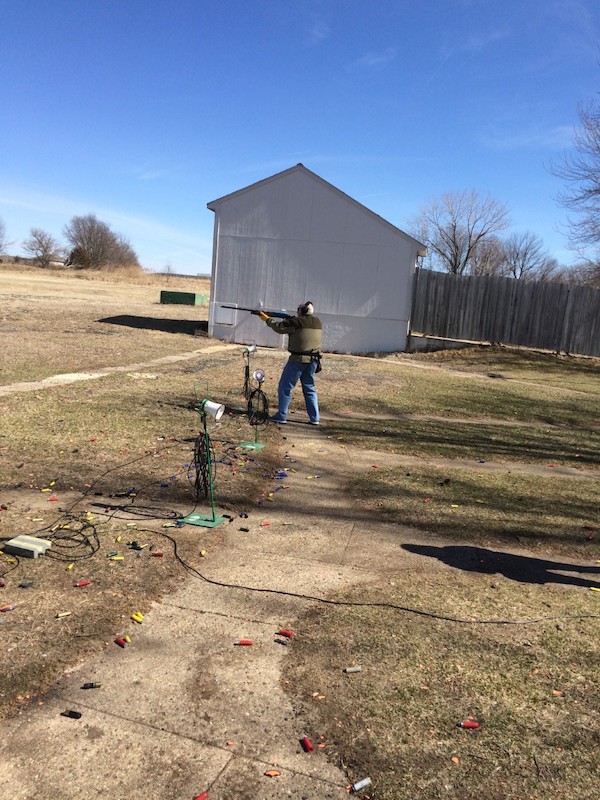 A large crowd attended St. Luke's Shrove Tuesday pancake supper! Many thanks to our St. Luke;s volunteers: Elizabeth, Ben and Suzanne Elfvin; Ethan and Bella Baker; Sylvia Hill and husband; George Wilson, Dorothea Gamel; Denise and Bill Stowman; Al Milligan; and Kris and Kaitlin Crisman. We had wonderful support from the Alpha Phi Omega Service Fraternity at Drake, with volunteers Travis Kerr, Cori Meyers, Sydney Walther, Olivia Young, Emily Anderson, and Maddie Young making the night a success! Thank you to all! We were able to raise over $586 to support the Sack Lunch Project for the homeless shelter downtown. A great night for a good cause!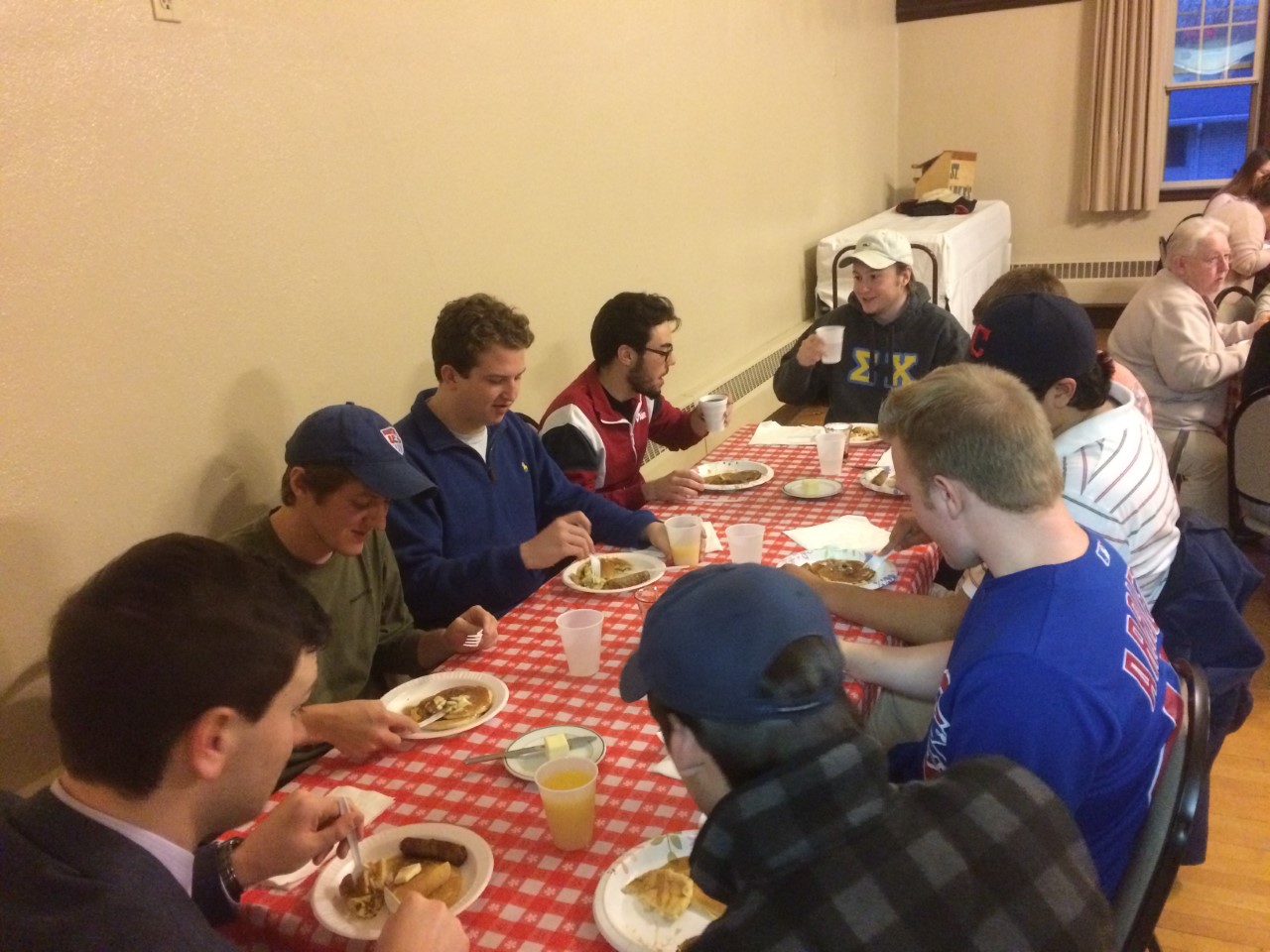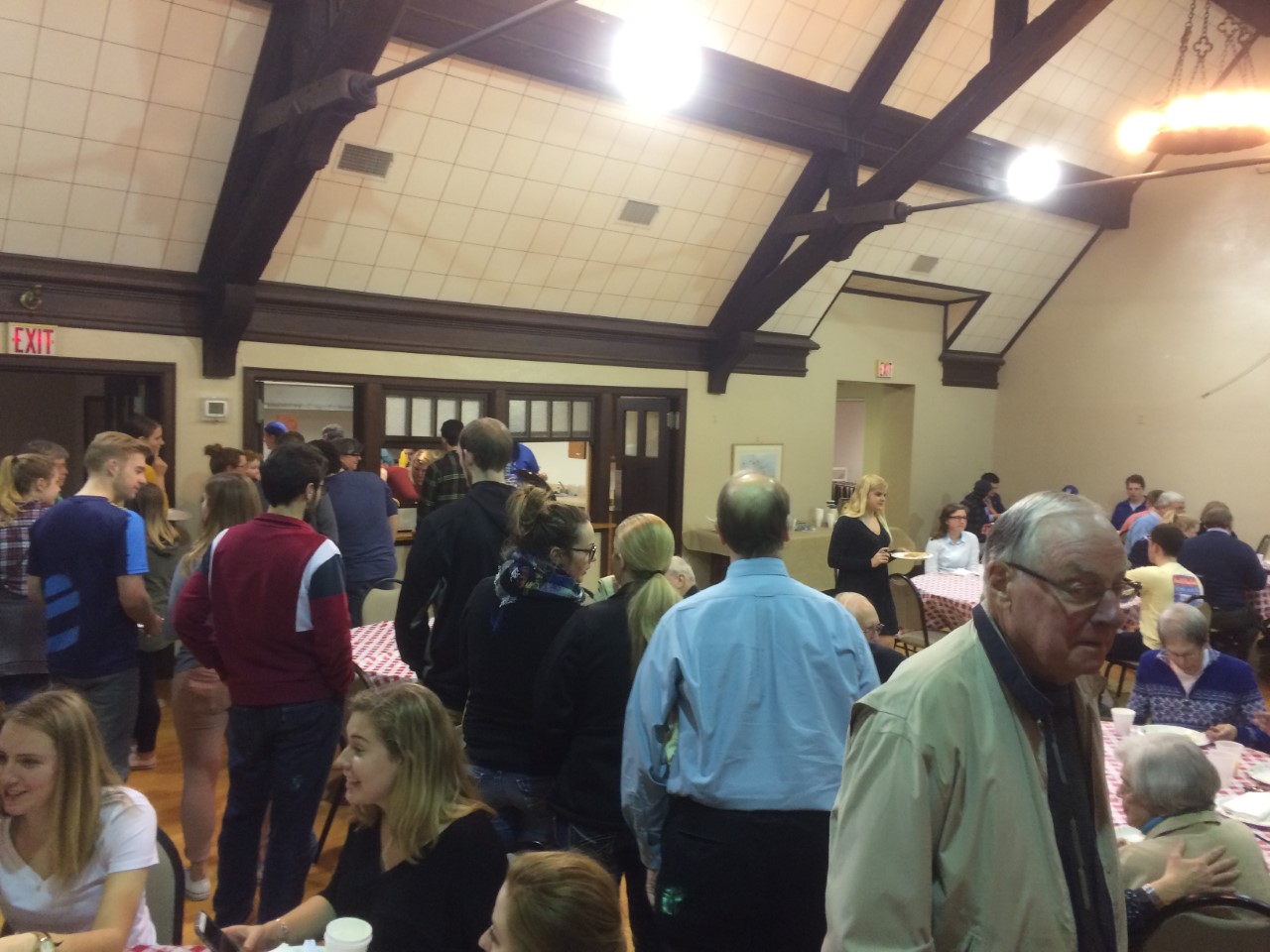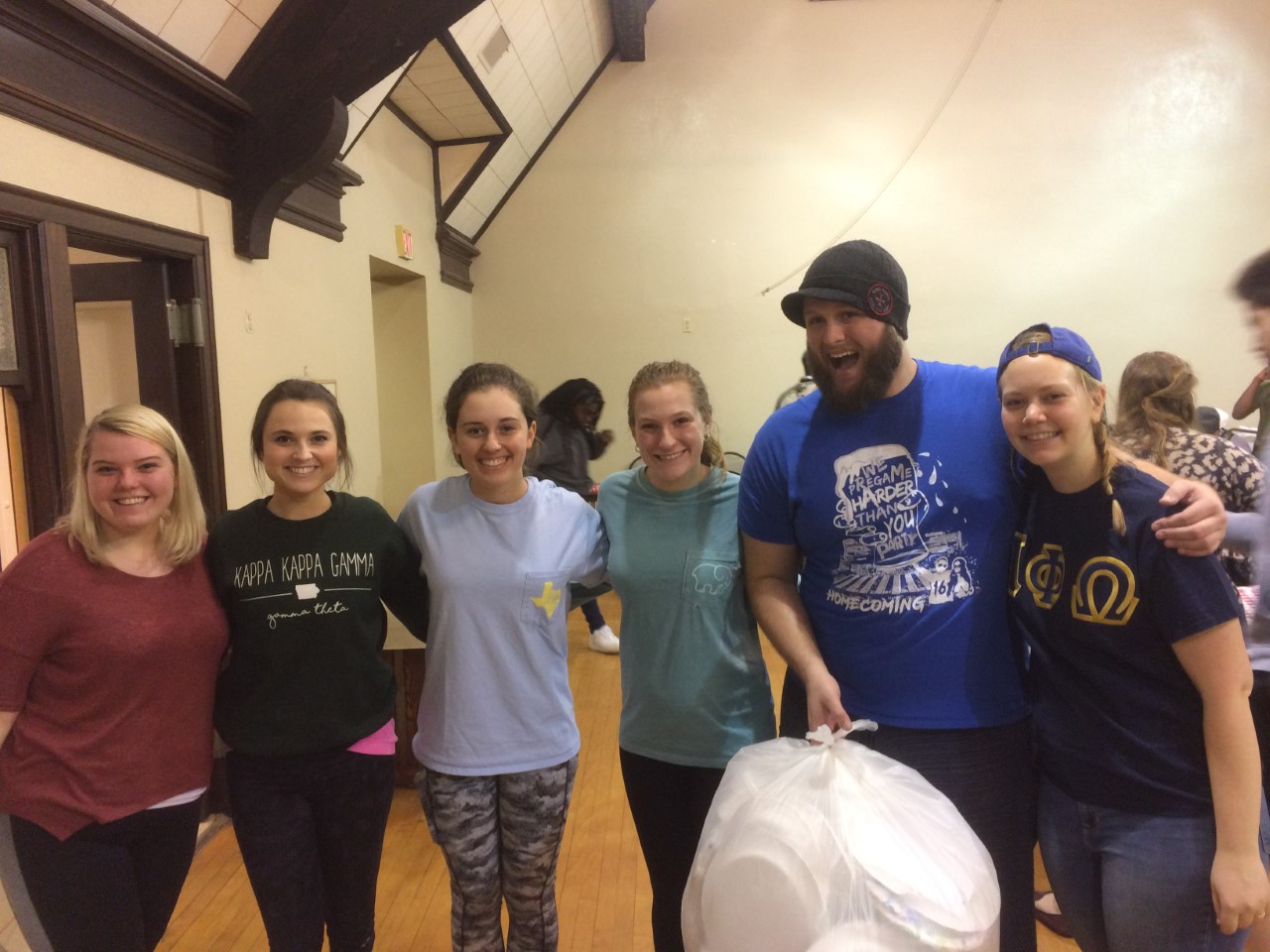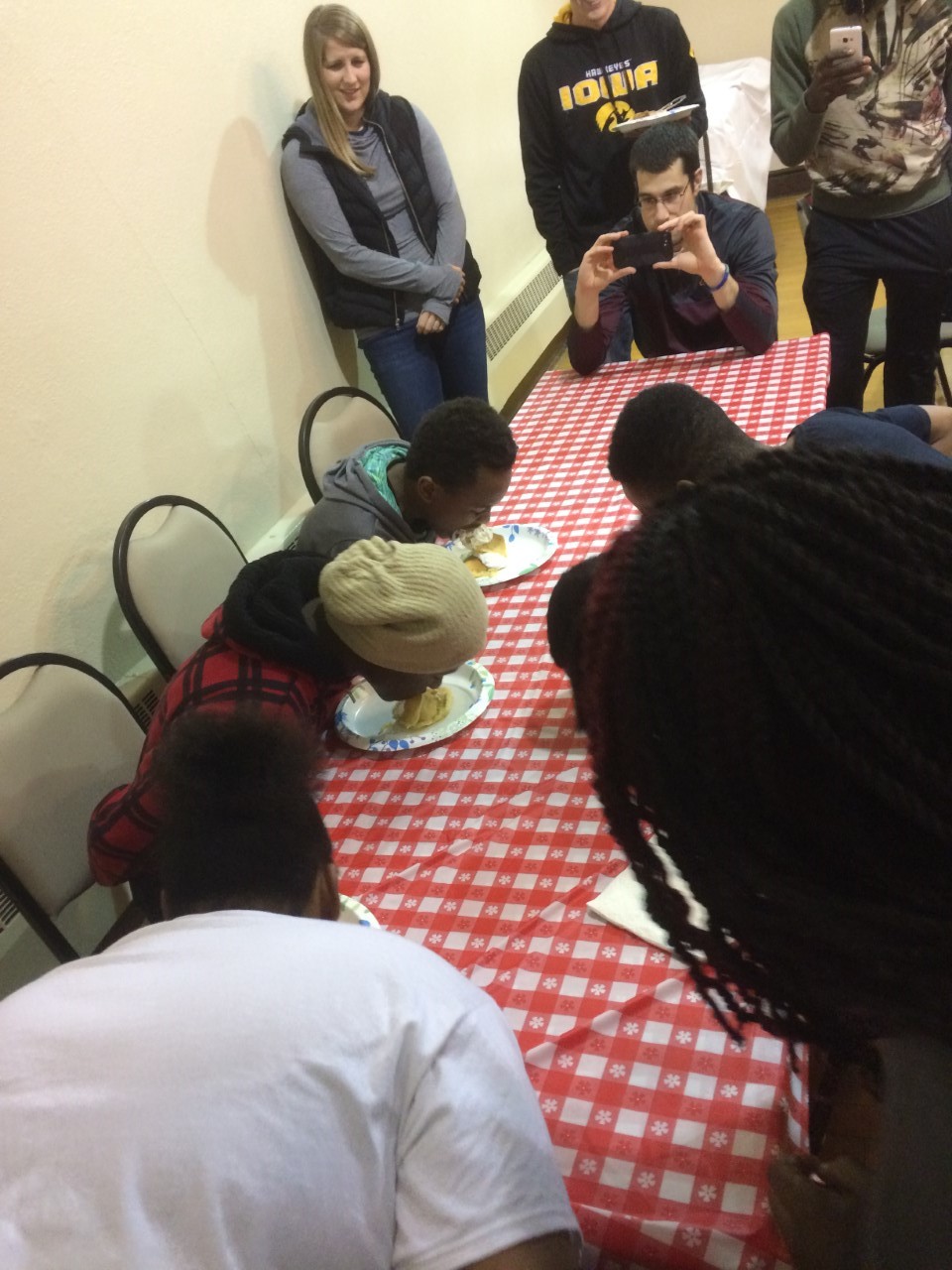 Members of St. Luke's have help from the Drake Sigma Chi Fraternity as they packed lunches for Central Iowa Shelter and Services.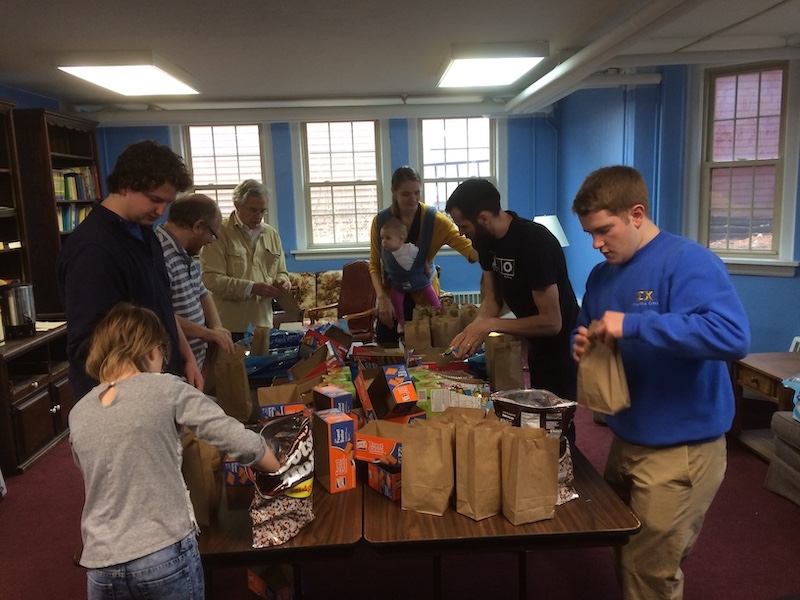 St Luke's quarterly service was held at the chapel on January 8th. Good attendance by soldiers and parishioners!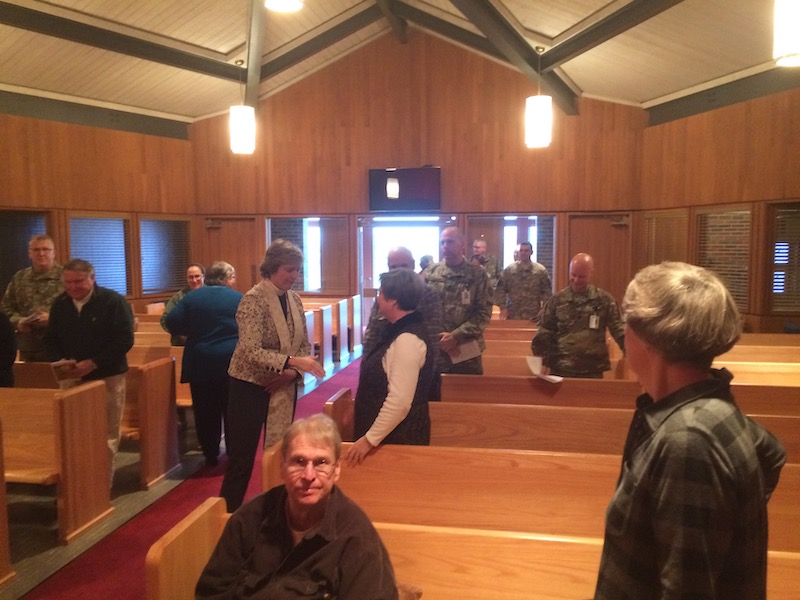 Three generations of Wise Men perform in St. Luke's Christmas Pageant.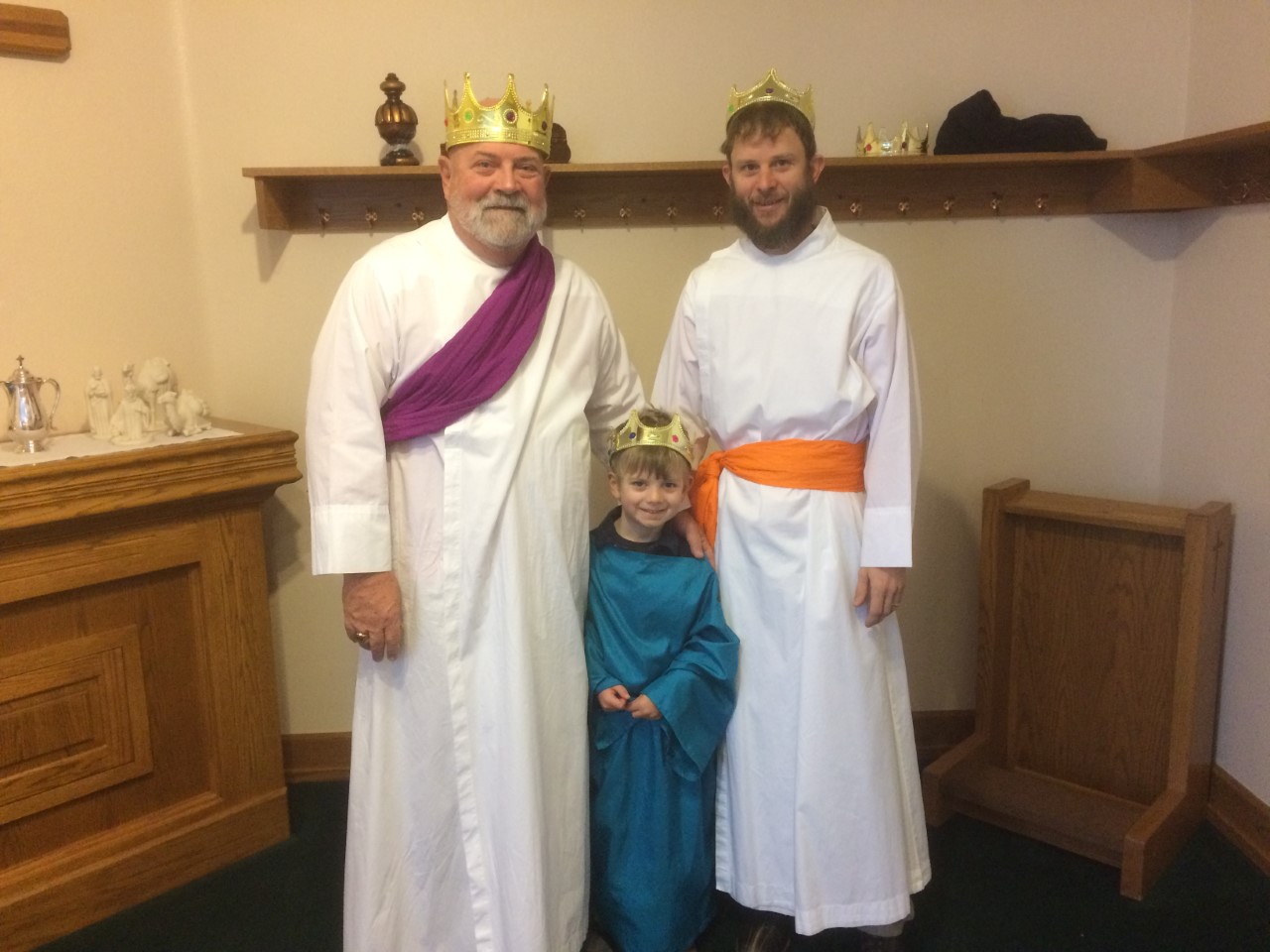 The second Sunday for Christmas Stories took place on the 11th of December in the cozy Guild room.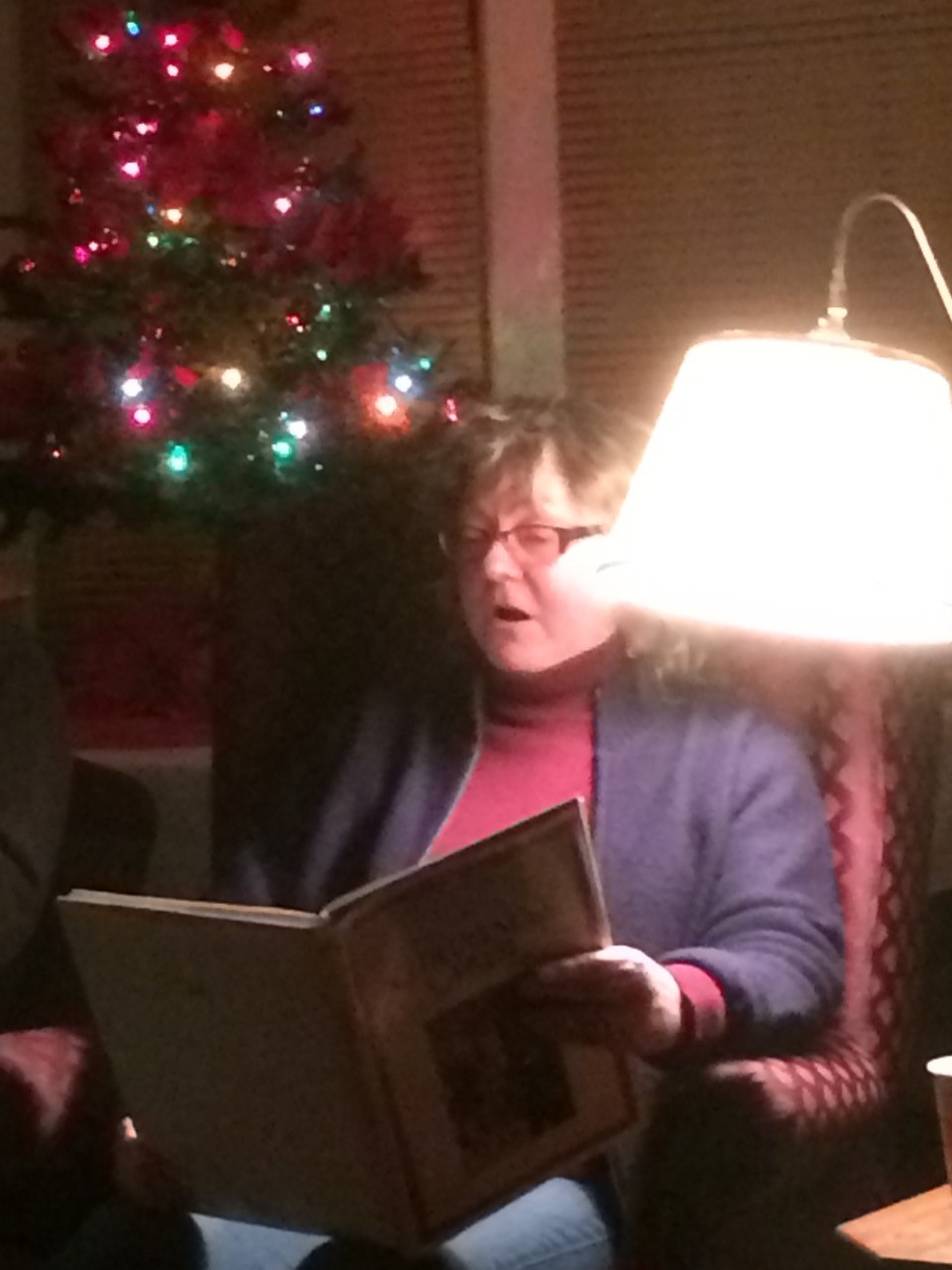 The St. Lukes Deadeyes enjoyed participating in the Shoot for the Stars tournament fundraiser for Special Olympics Iowa.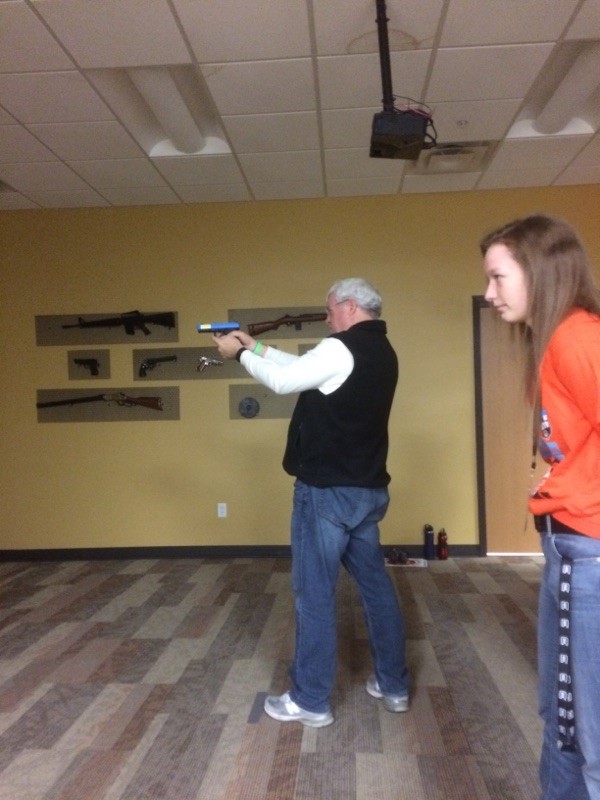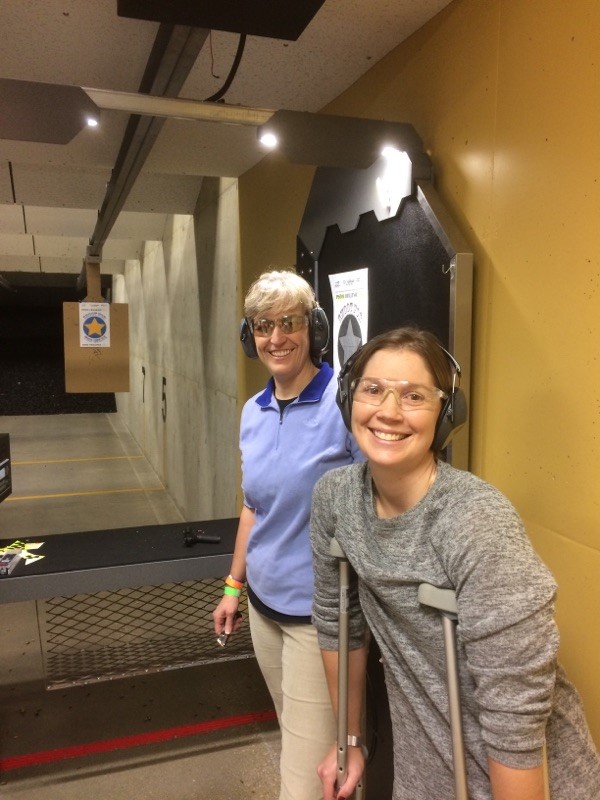 The Iowa Scottish Pipes and Drums played at St Luke's on St Andrews Day followed by parishioners filling sack lunches for Central Iowa Shelter and Services. A great day of music and service!!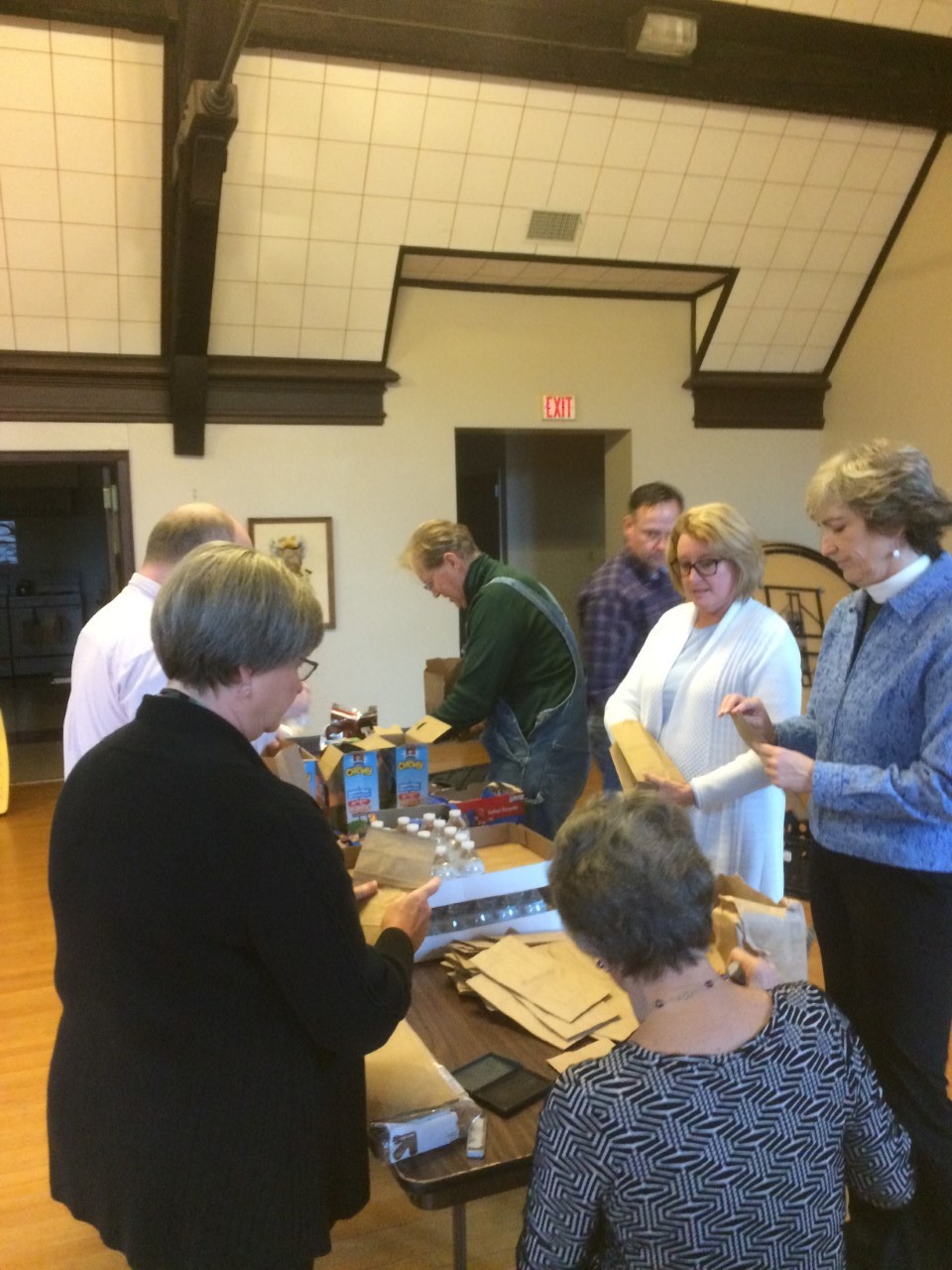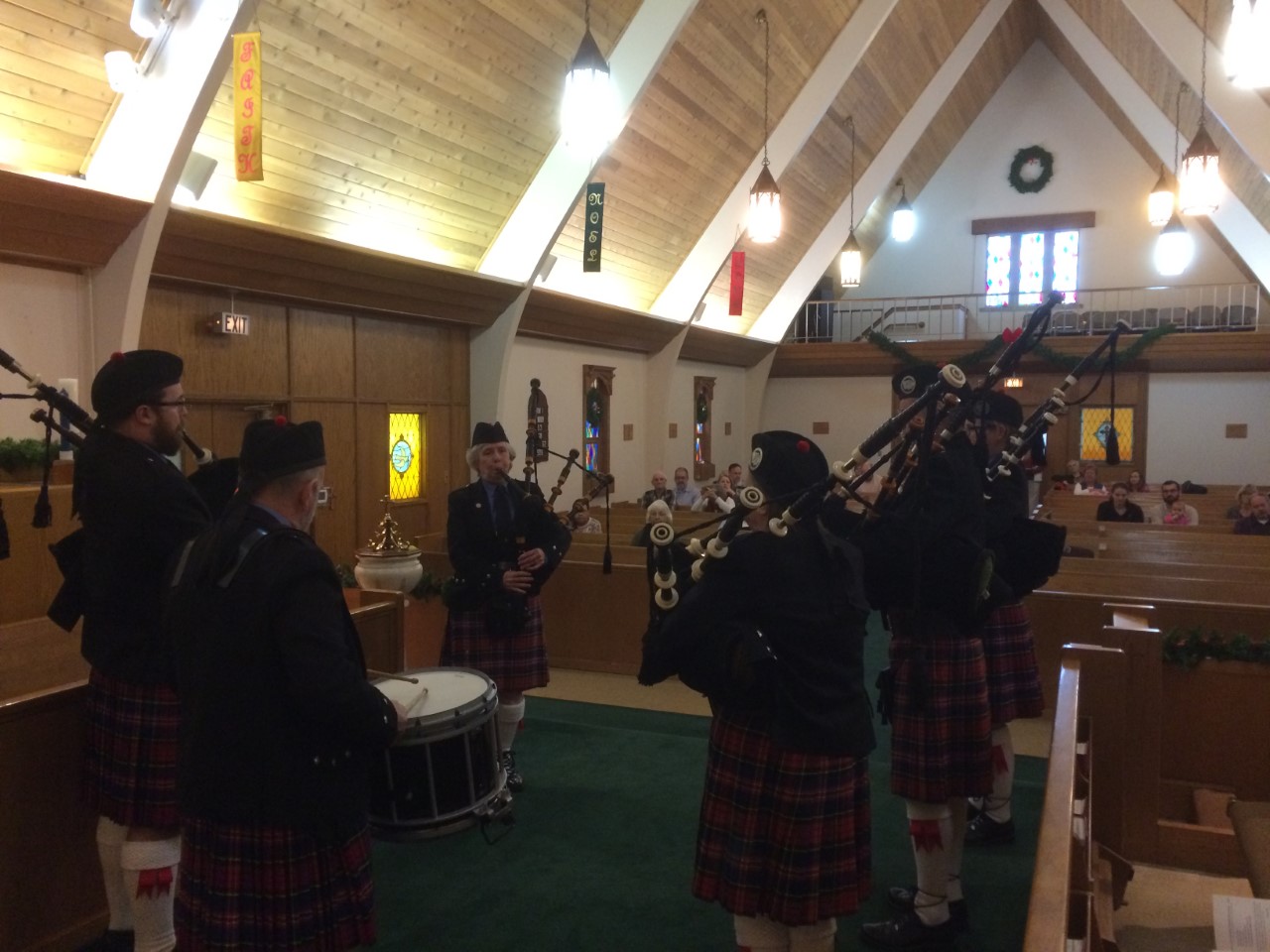 Bailey and Alex are doing a wonderful ministry leading St Luke's youth as they explore how to be a Christian in our modern society. Thank you!!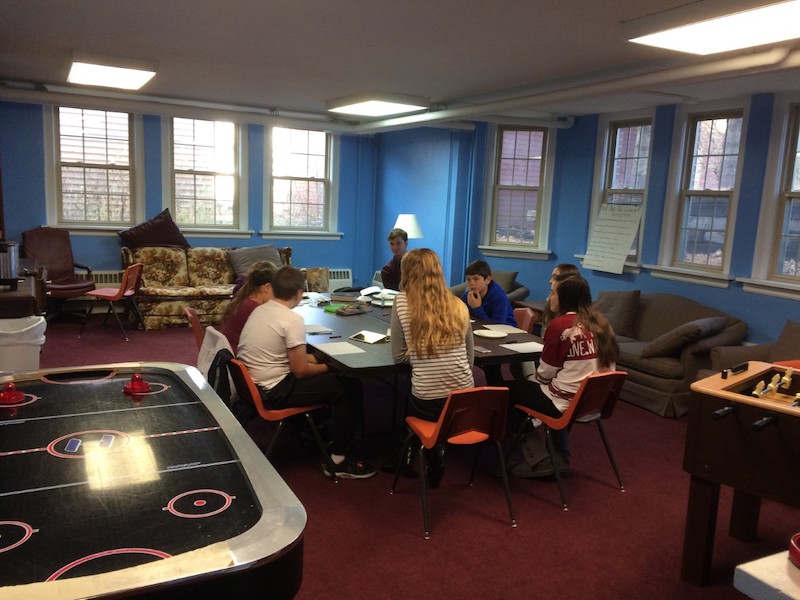 Members of the Alpha Tau Omega Fraternity taking care of Terry's leaves and gutters after church on Nov 20. Great group of guys who made quick work of the job.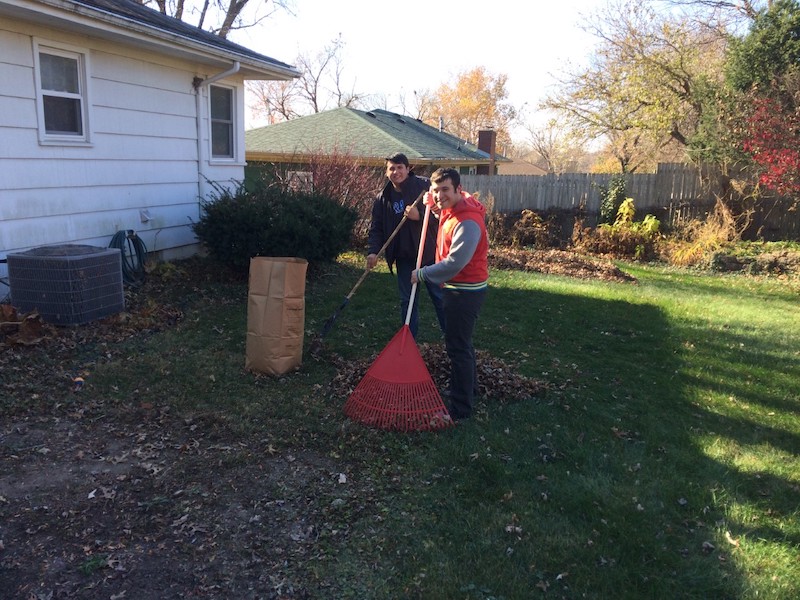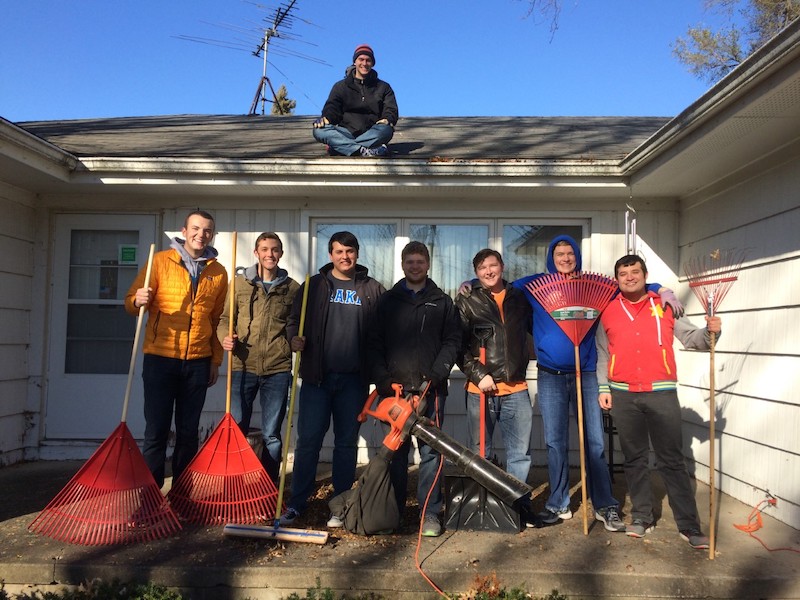 St Luke's congregation gathered together on November 13 to celebrate the end of the stewardship campaign with fellowship and the Vestry's famous potato bar!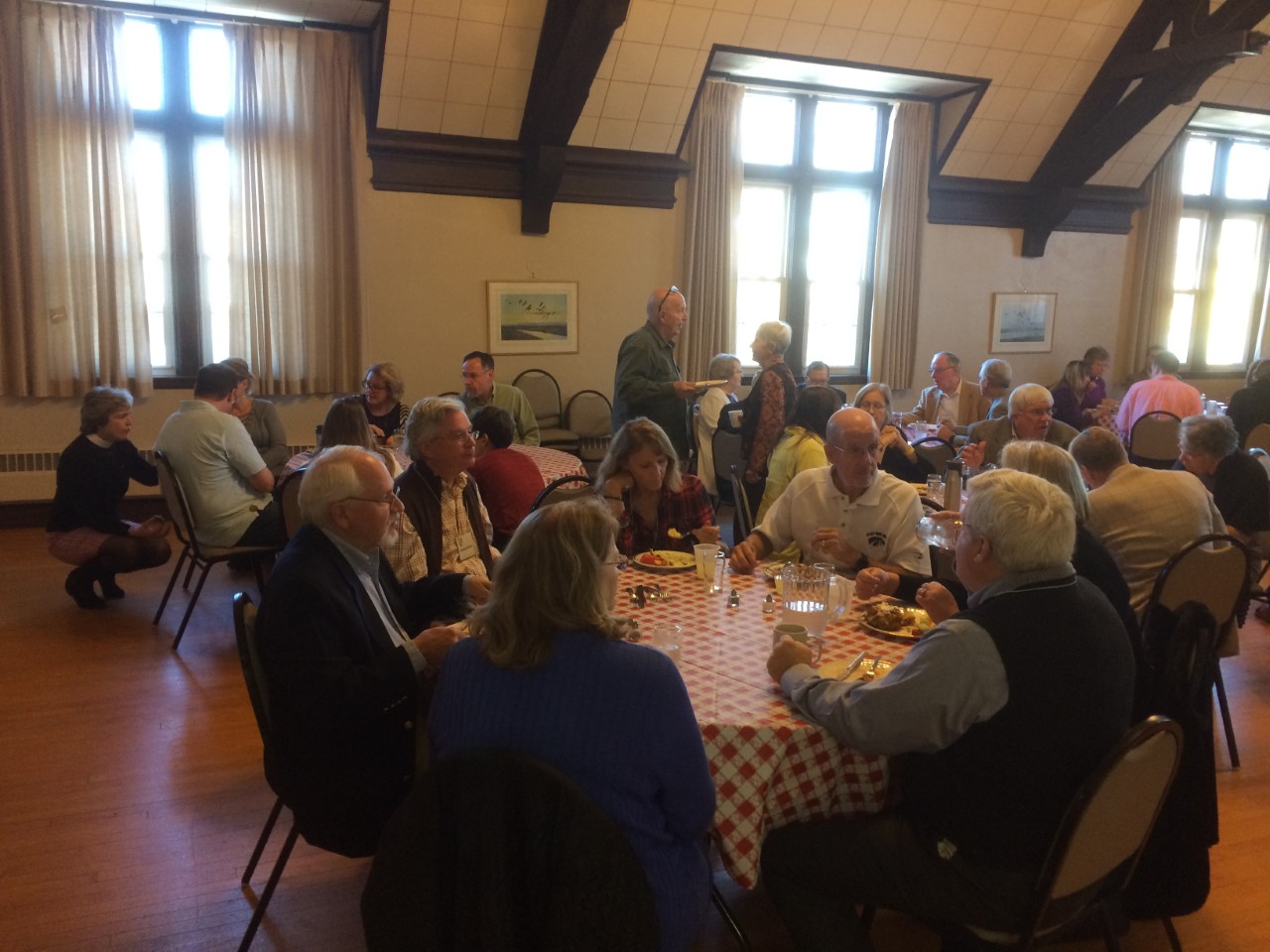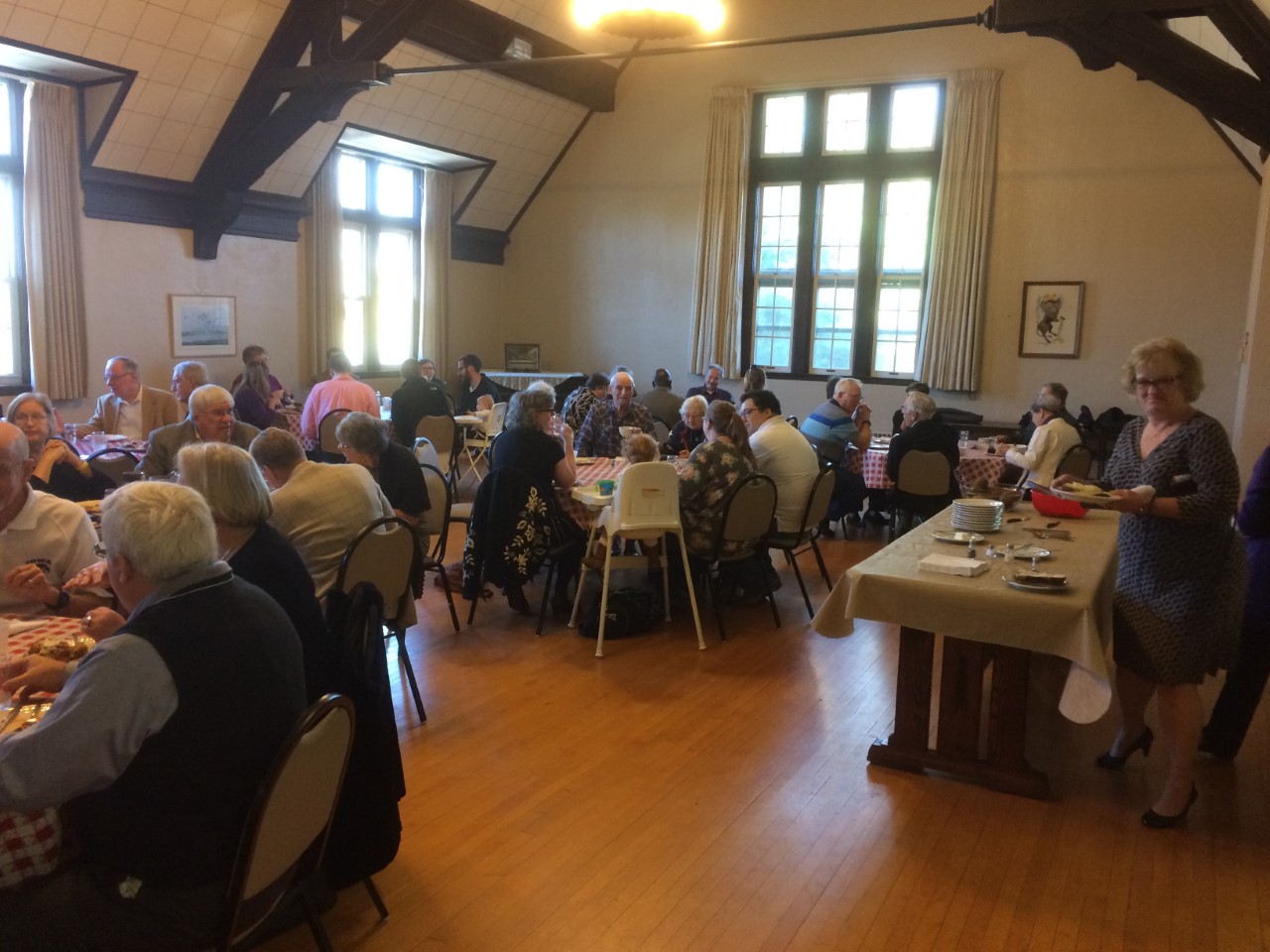 A big crowd came in support of the EFOGE spaghetti dinner fund raiser on November 4. The silky smooth music by the Drake Jazz Combo made it a memorable evening!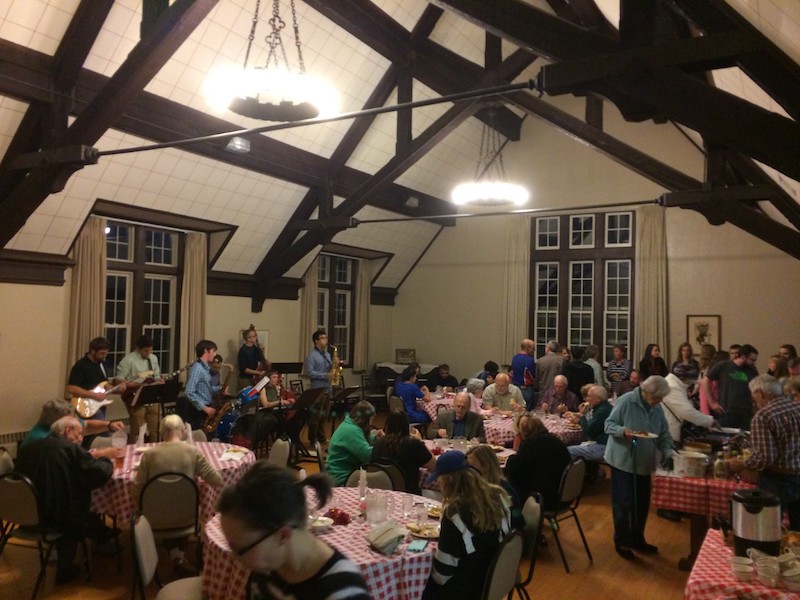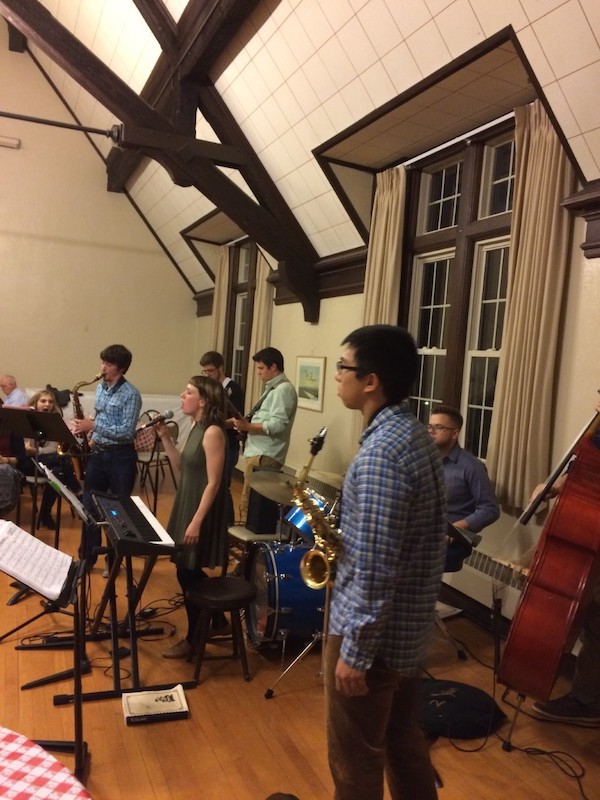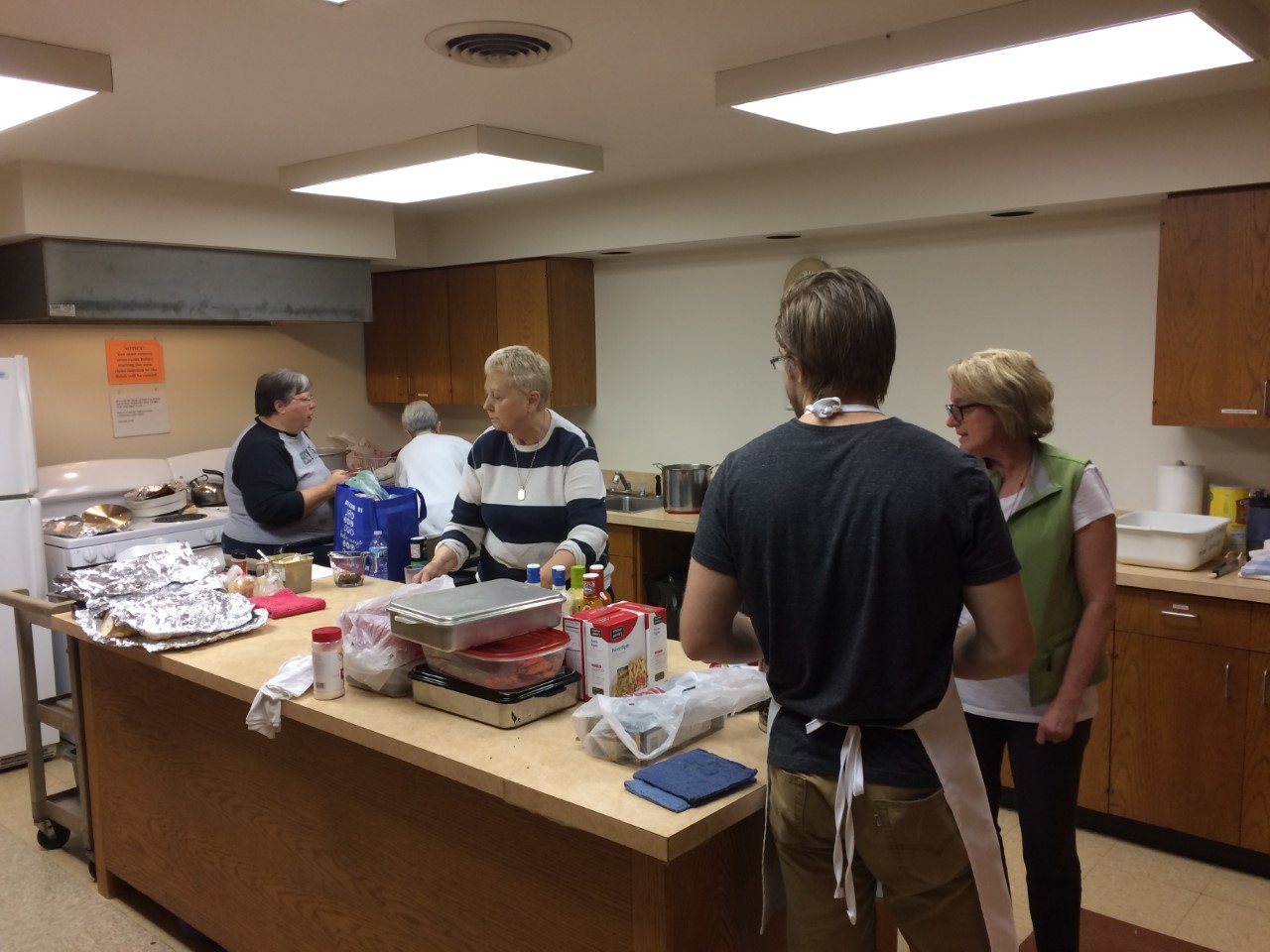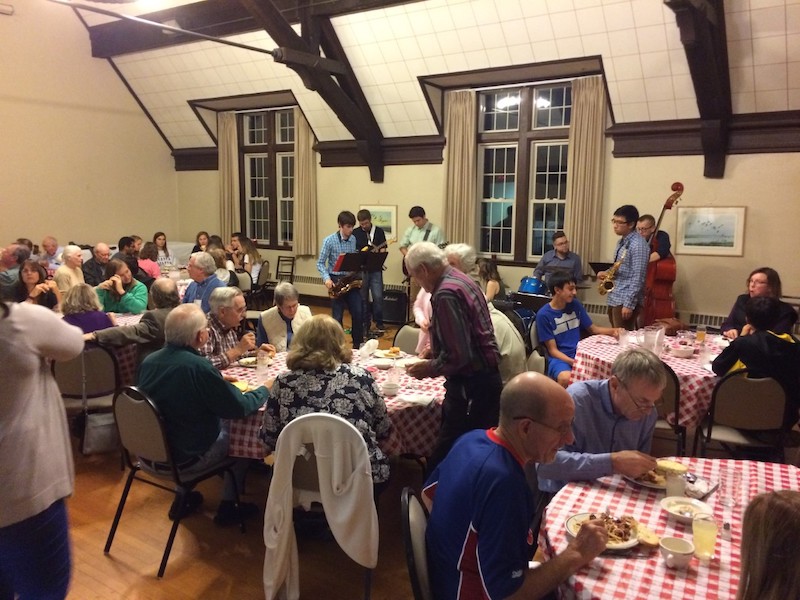 Fall cleanup at St. Luke's was a cinch with the amazing help of Drake student volunteers and St. Luke parishioners young and old!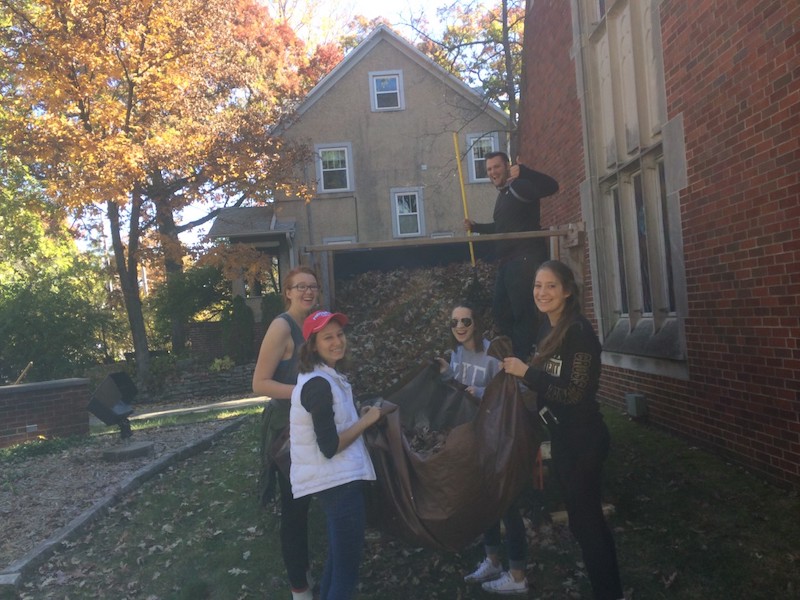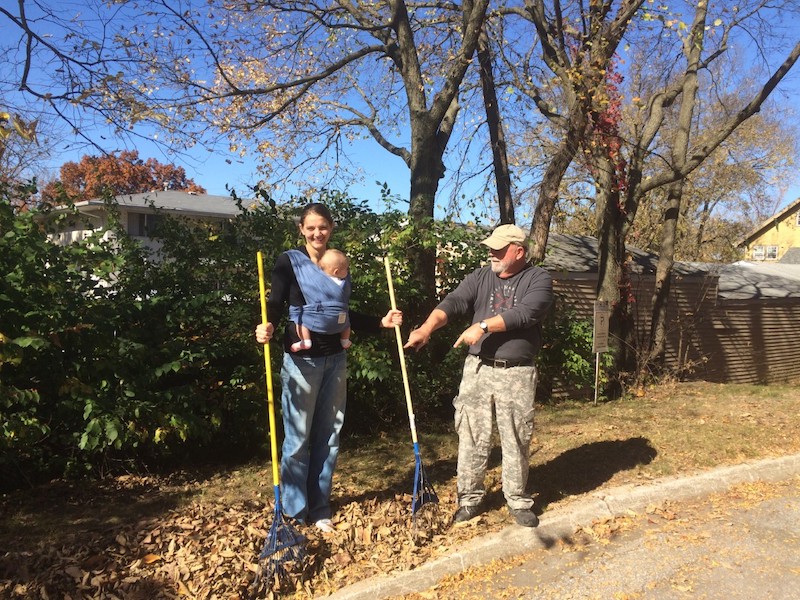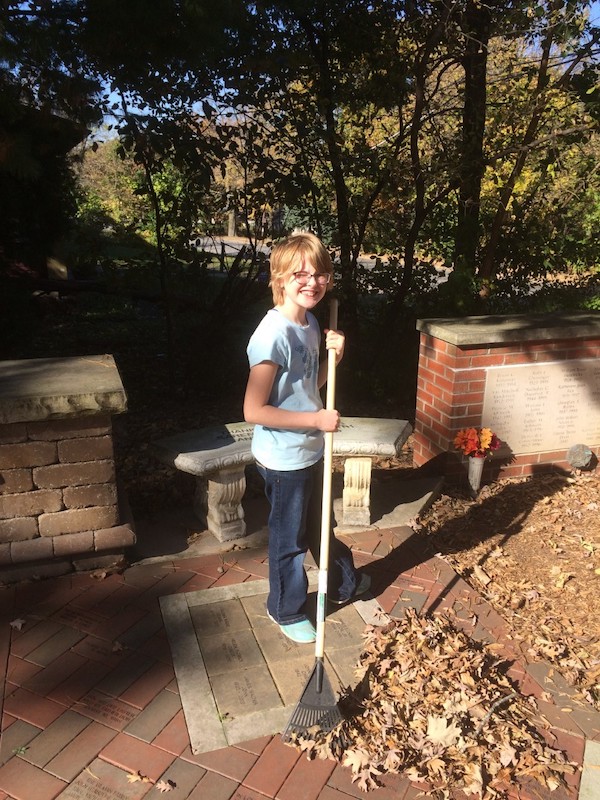 Episcopal youth at the Diocese convention filled sack lunches at St. Paul's Episcopal Church in Des Moines on October 29 and delivered them to Central Iowa Shelter.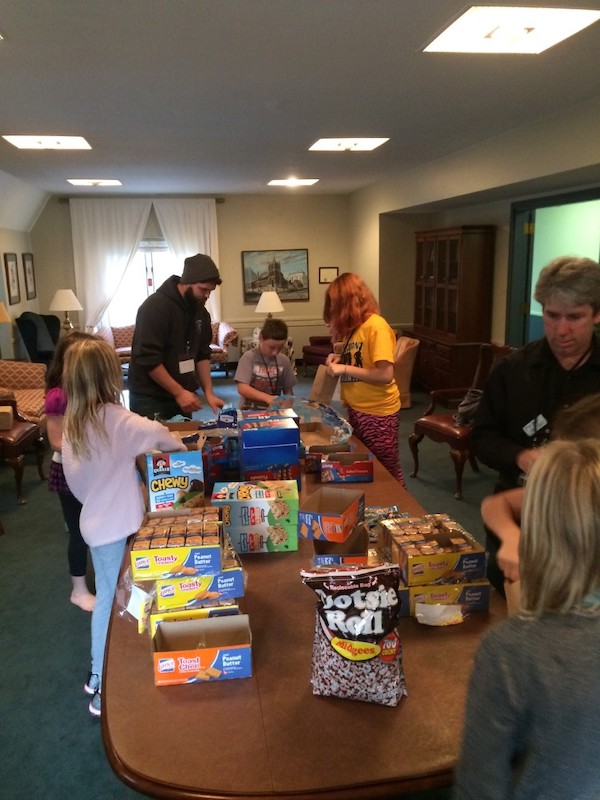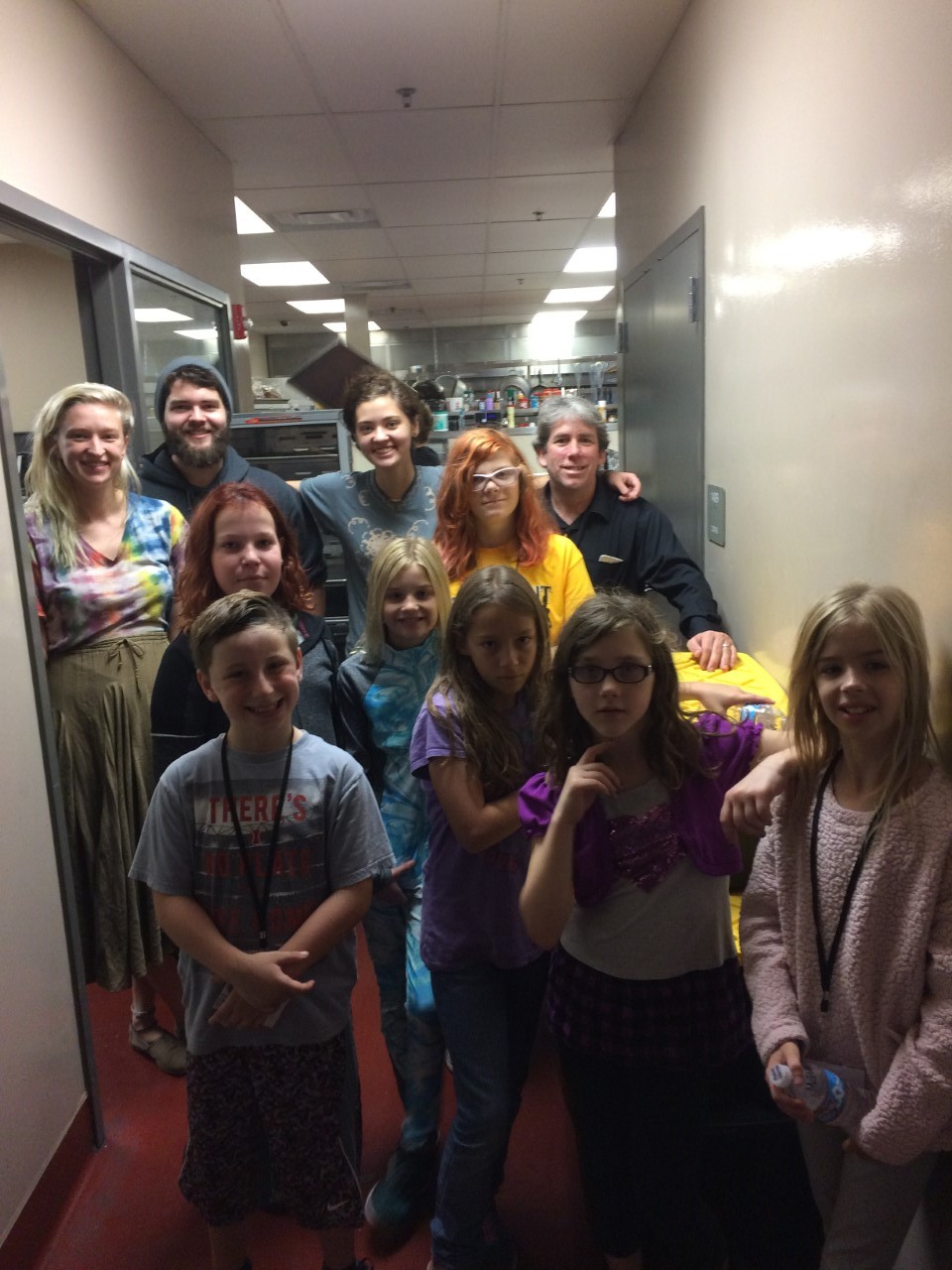 The St. Luke's Deadeyes enjoying some time on the range.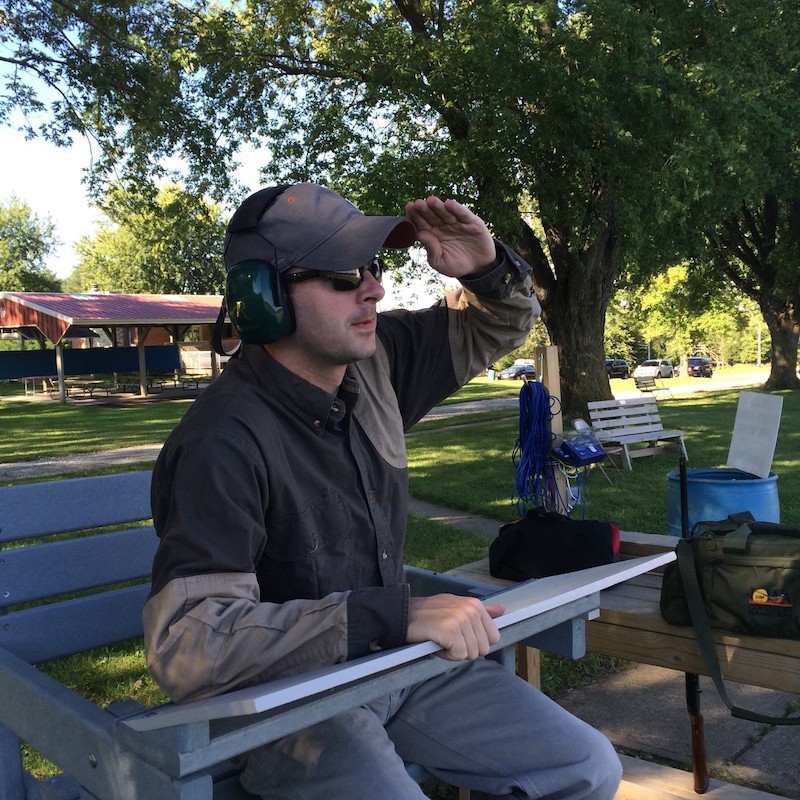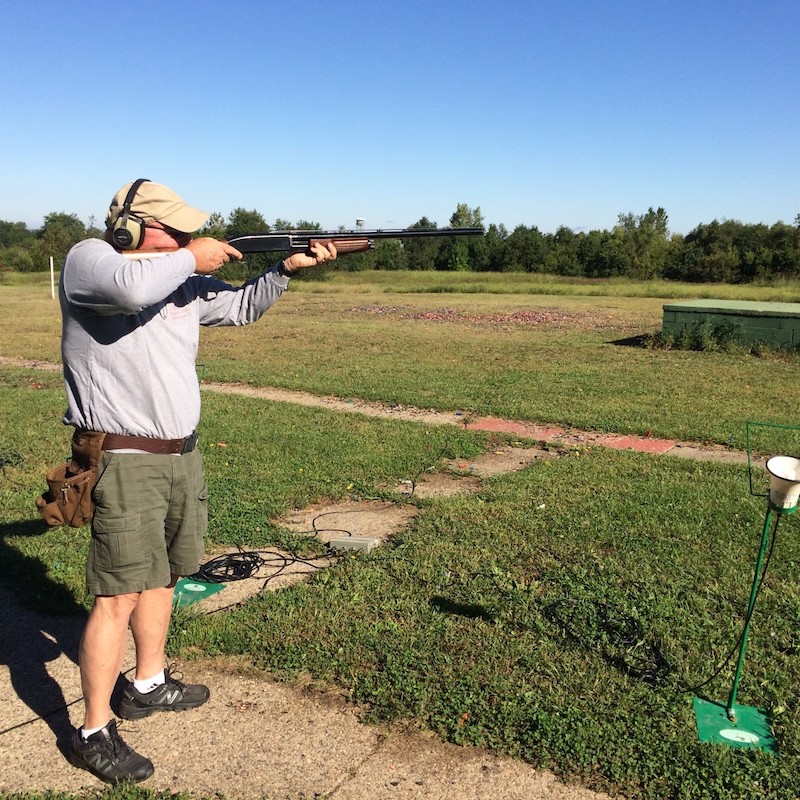 The St. Luke's Annual Parish picnic also celebrated Grandparents' Day on a perfect late summer day. The kids of all ages enjoyed the bounce slide in particular!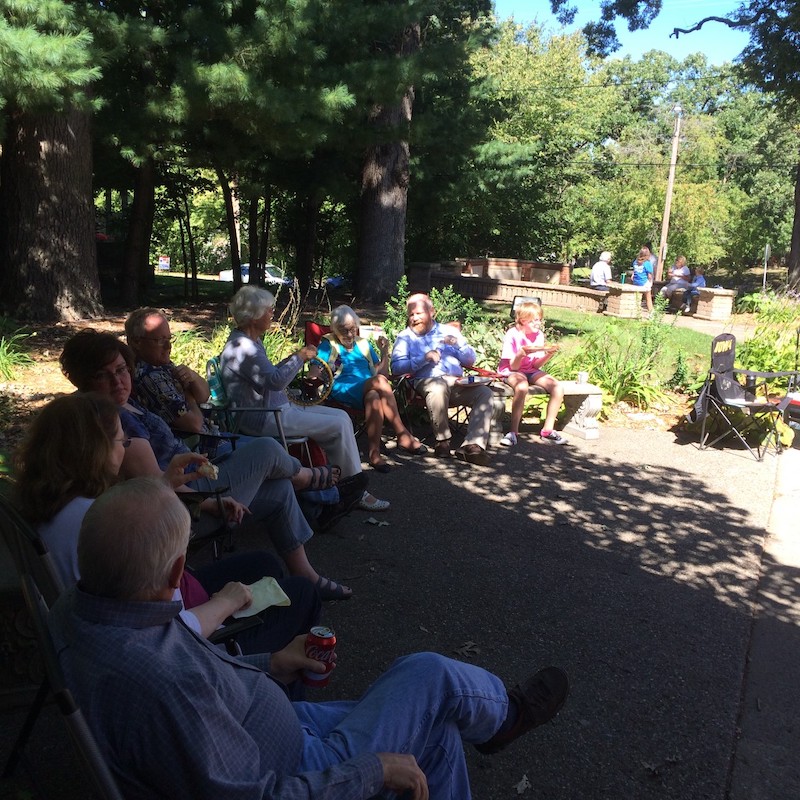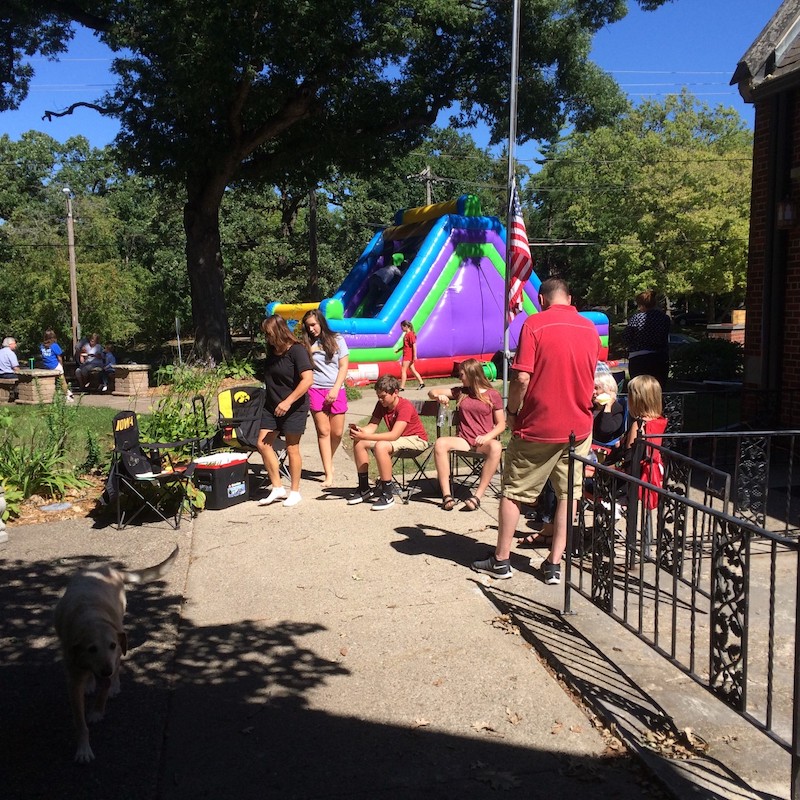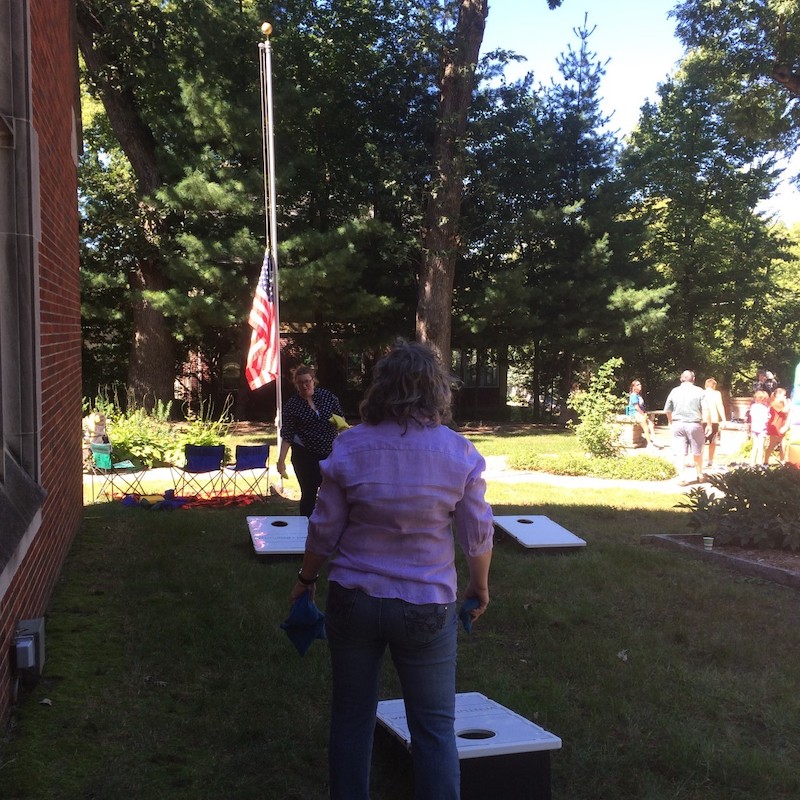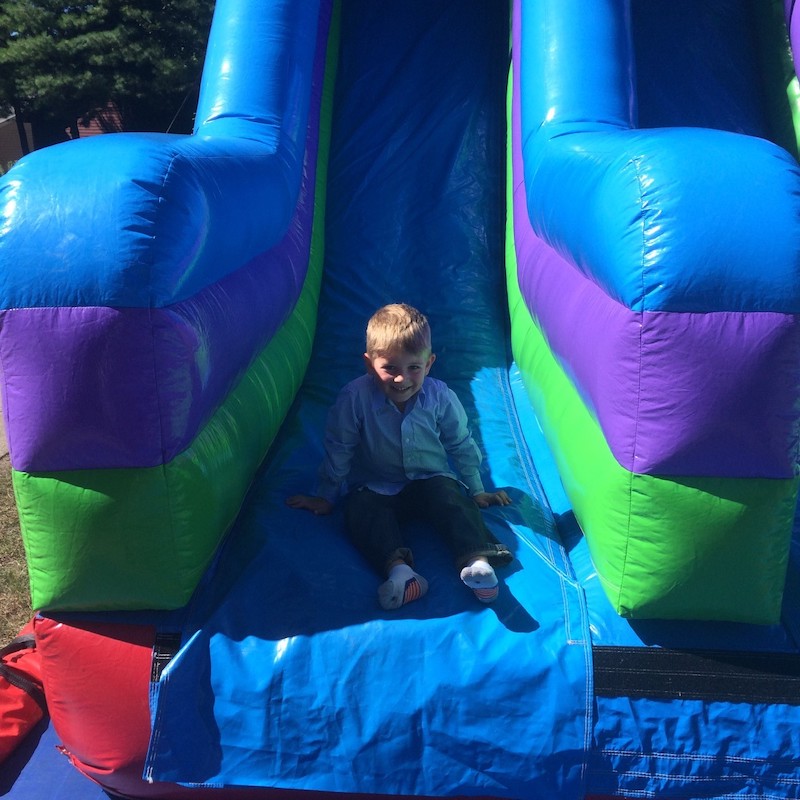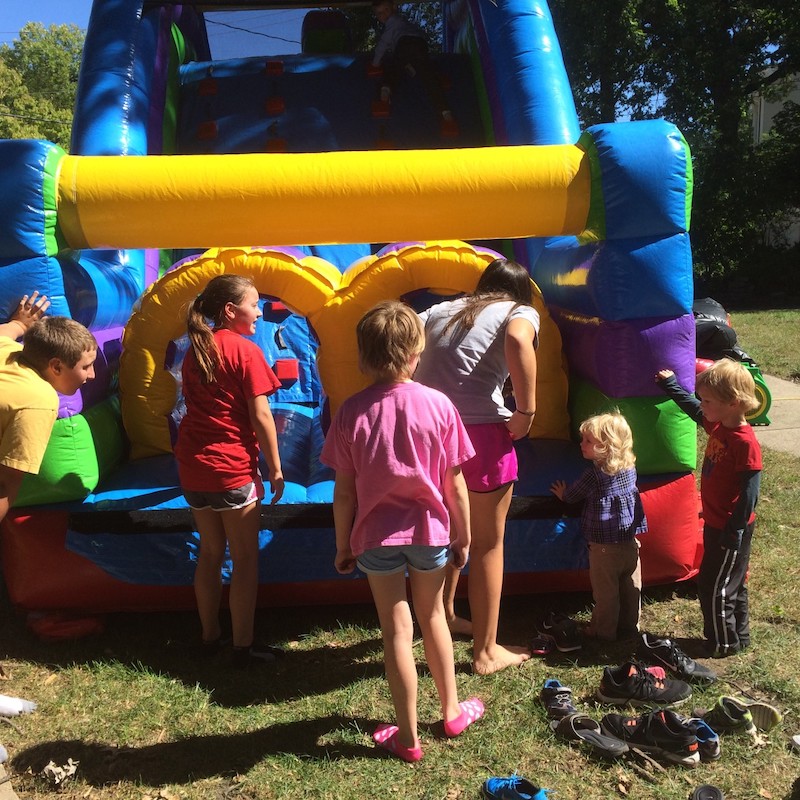 St. Luke's parishioners and volunteers join area churches in taking a turn several times a year to prepare and serve a hot meal to people using the services at Central Iowa Shelter and Services for the homeless.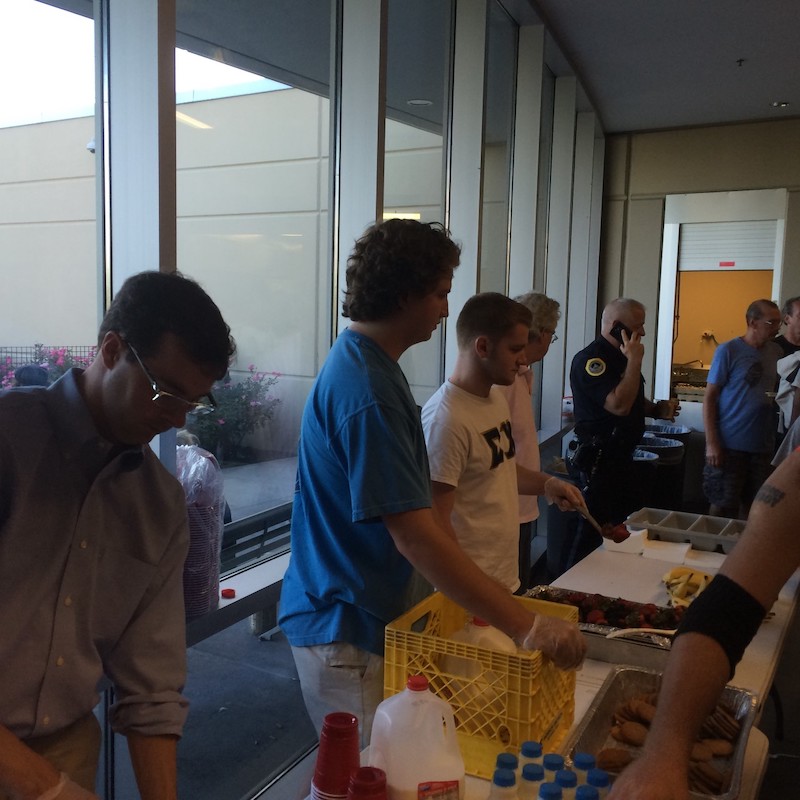 The STL "Terry Project" nears completion by the talented craftsmen from Aronson Woodworks and O2 Remodeling!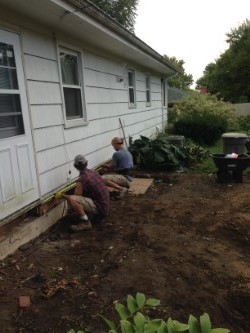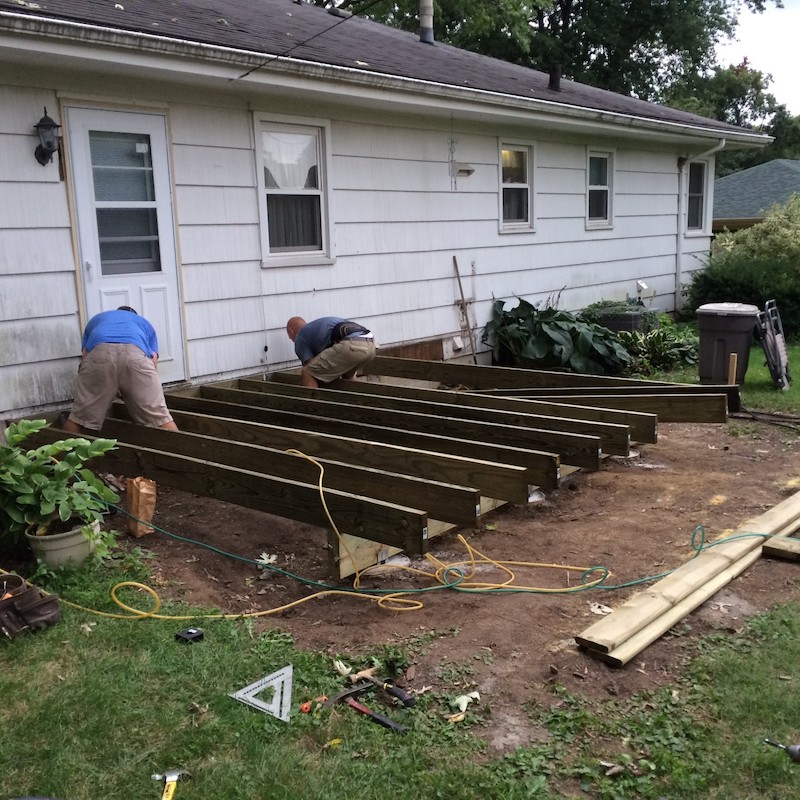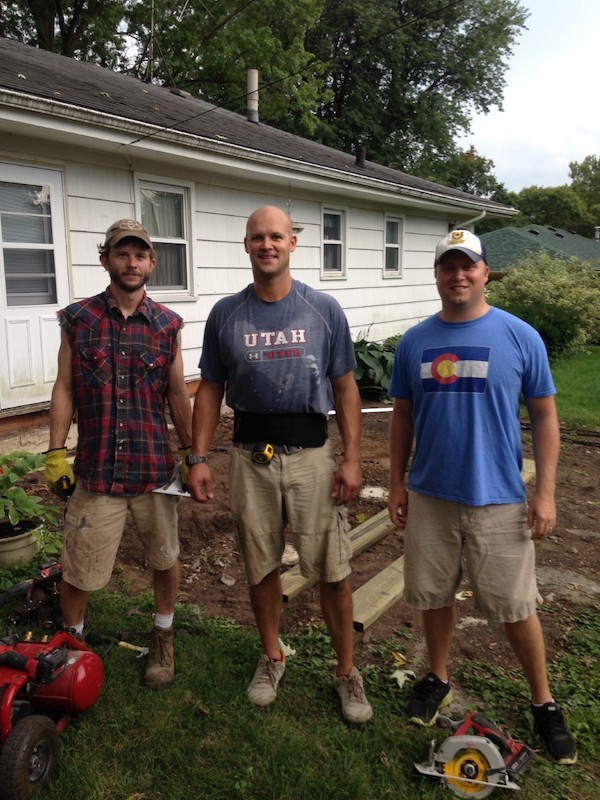 St. Luke's parishioners gathered for a "Just For Fun" dinner at Noah's Ark restaurant (on Ingersoll) and enjoyed wonderful Italian cuisine and had--well, just a lot of Fun!! We definitely may have to put more of this on the calendar!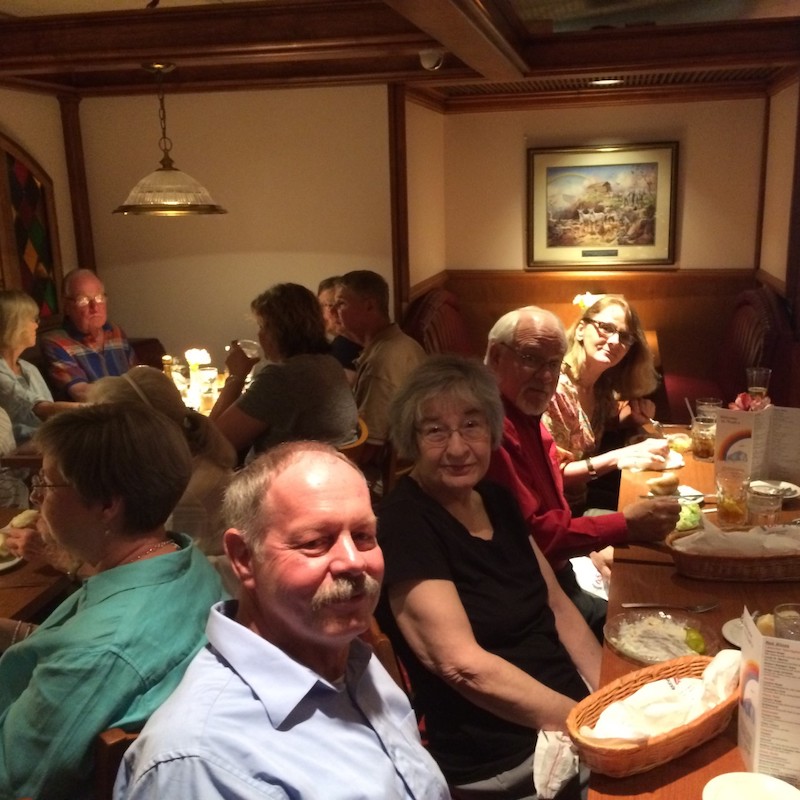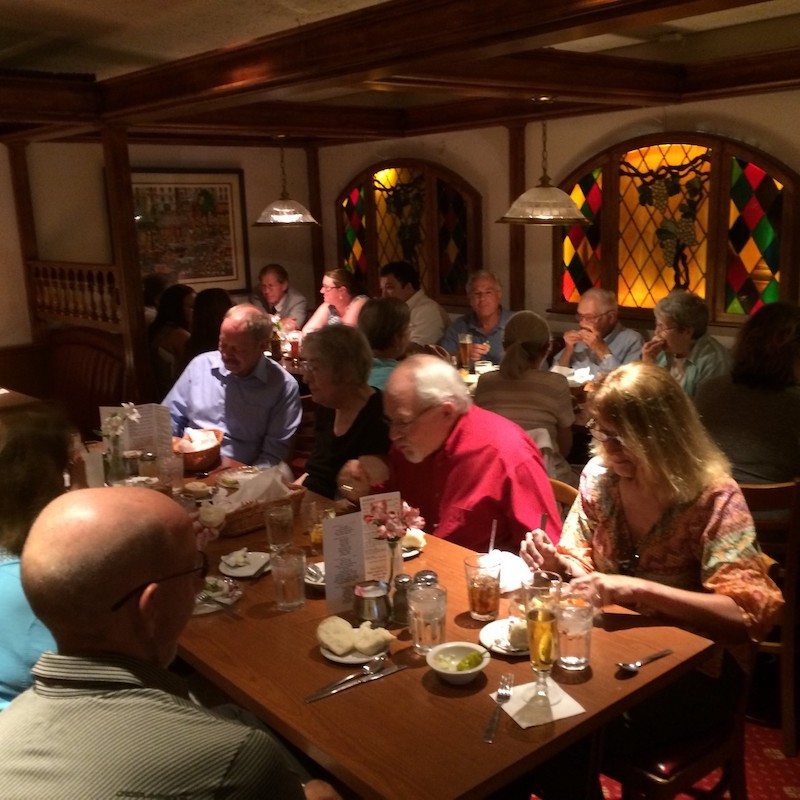 This is evidence of what a group of men with power tools and wrecking bars can do in 90 minutes! (And many thanks to ECW for providing lunch to fuel the effort!) The Terry Project is off to a great start!!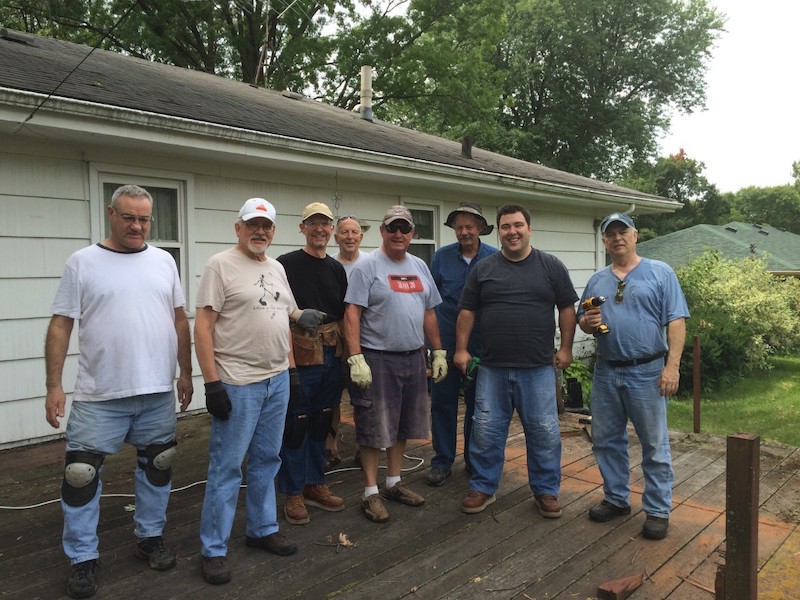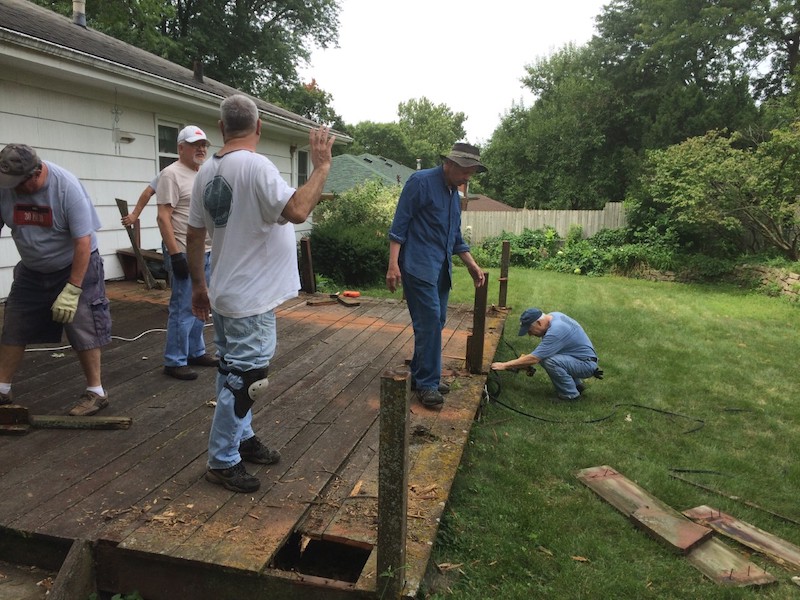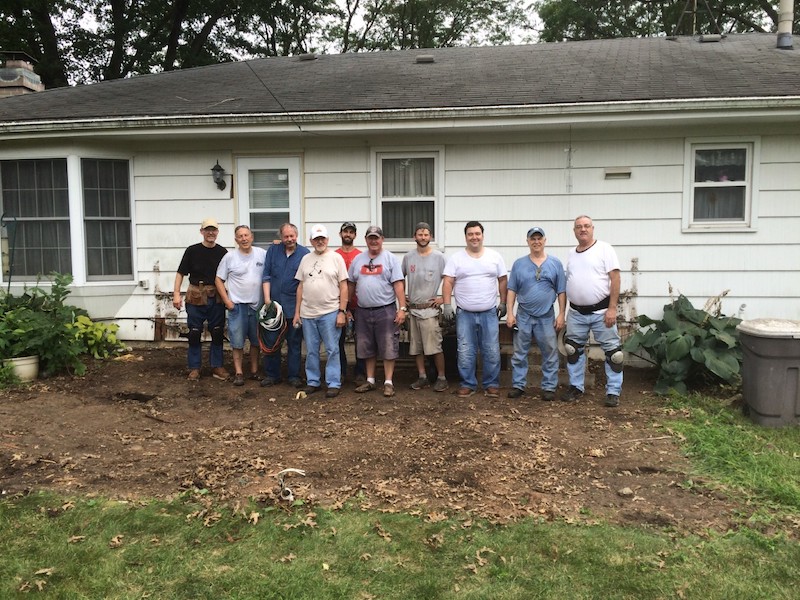 The head chef at CISS, DJ, stands next to some of the 8 totes delivered on Saturday, July 23rd. 400 sack lunches were filled at St. Luke's with the generous support from the local Sam's Club and the Walmart Foundation. Many thanks go out to all who helped!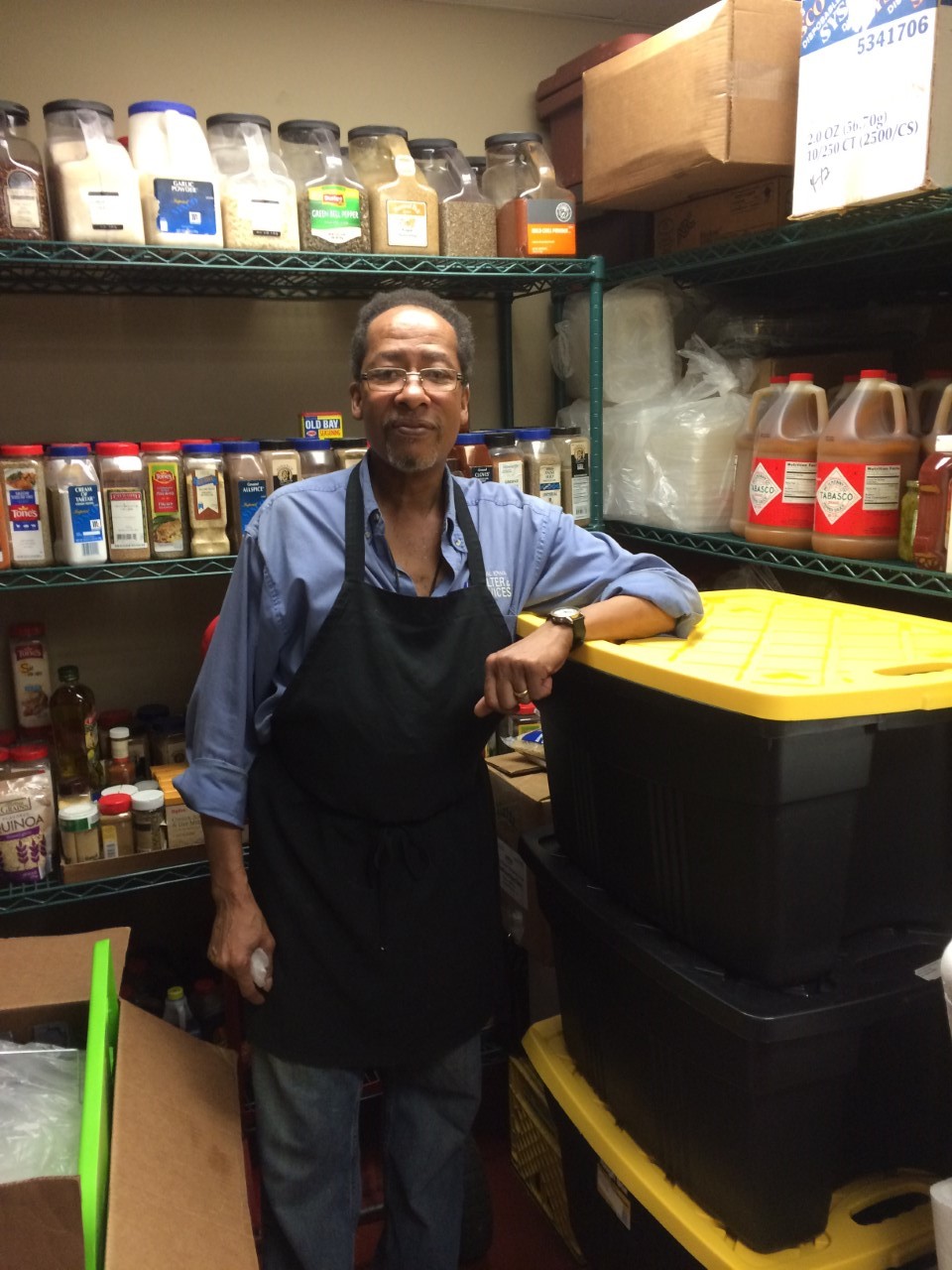 Members of the military and St. Luke's parishioners alike enjoyed coffee and conversation after the 8:00 a.m. service in the chapel at Camp Dodge.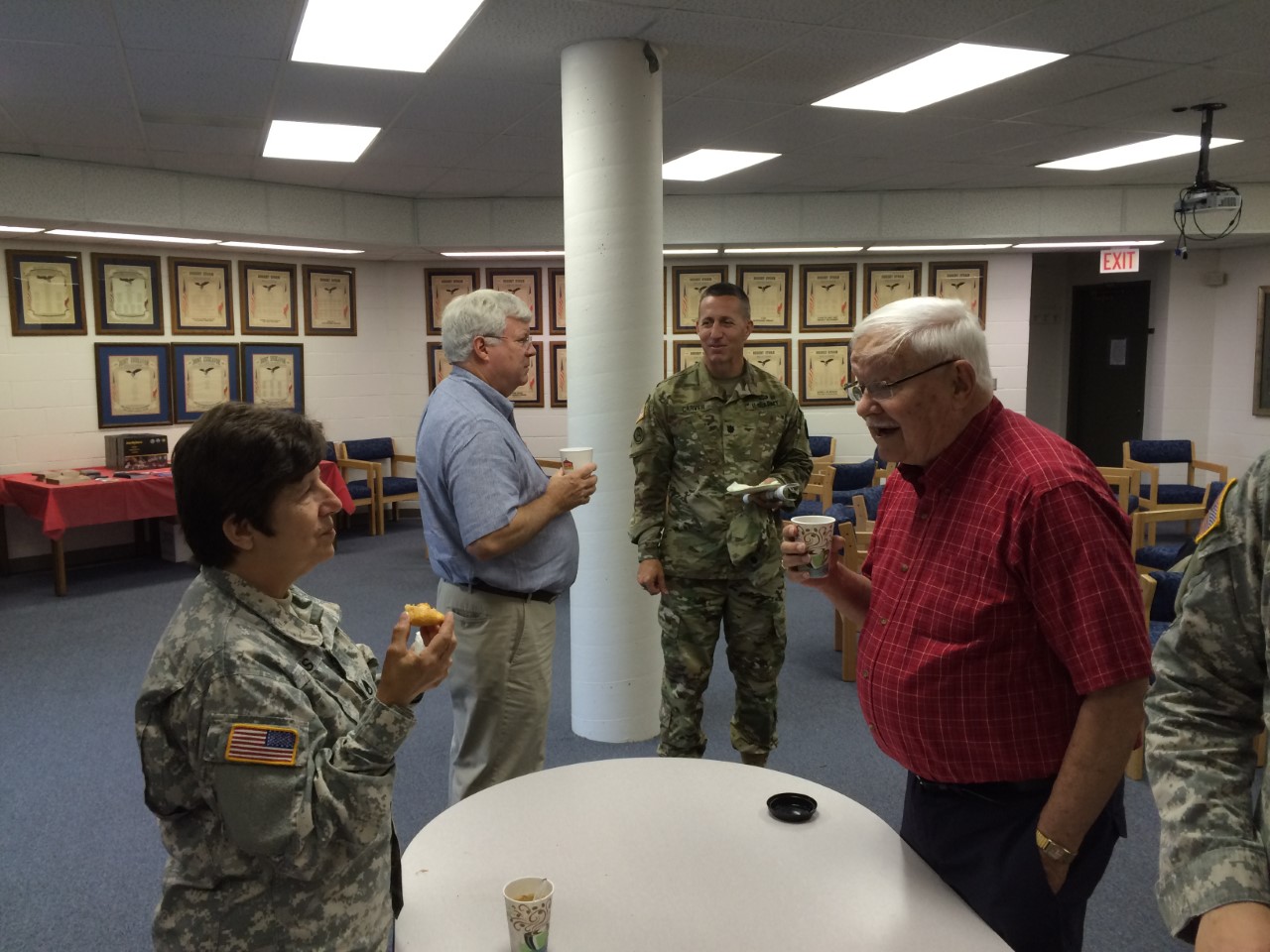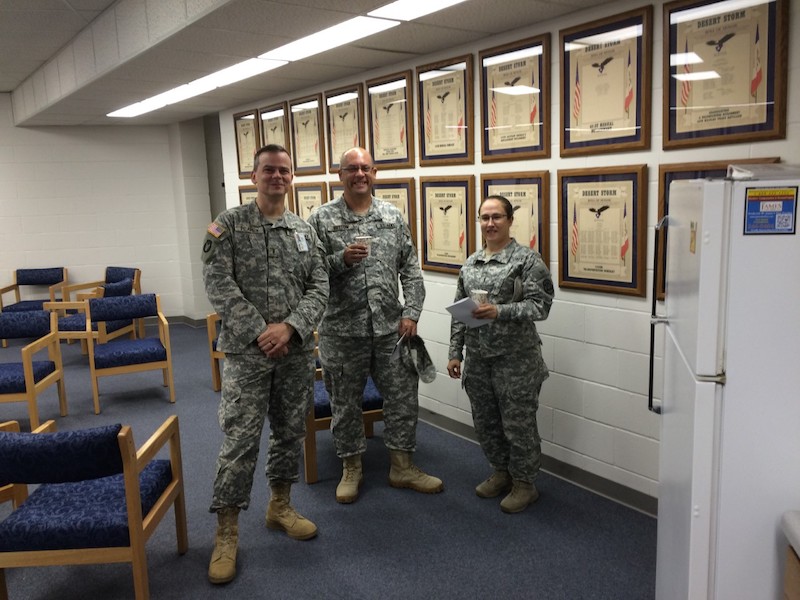 Had a great time burning powder today for a wonderful cause--Shoot for the Cure to benefit the Cystic Fibrosis Foundation of Iowa. It was a sporting clays format which was new to most of us, but our team hit 246/500 targets. Pretty good until you realize we had a last minute sub for Val Smith, who was badly battered when he came off his bicycle. Our sub, Frank DeMarco, was a member of the gun club,and he accounted for 70 of our 246!! A good time for a good cause.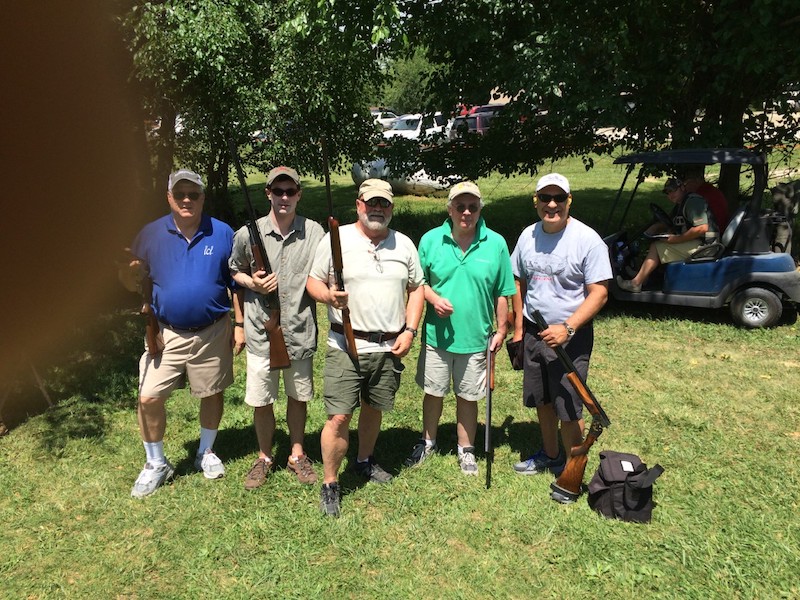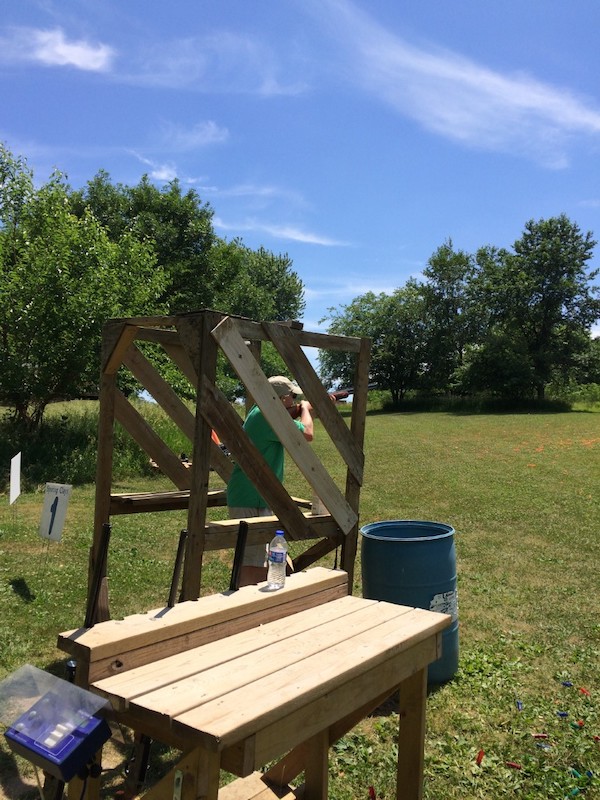 Phi Mu Alpha Sinfonia, Drake's male music fraternity, held a swing dance festival at St Luke's to benefit arts programs at Moulton Elementary School on May 7. Great space and fun, dance filled night.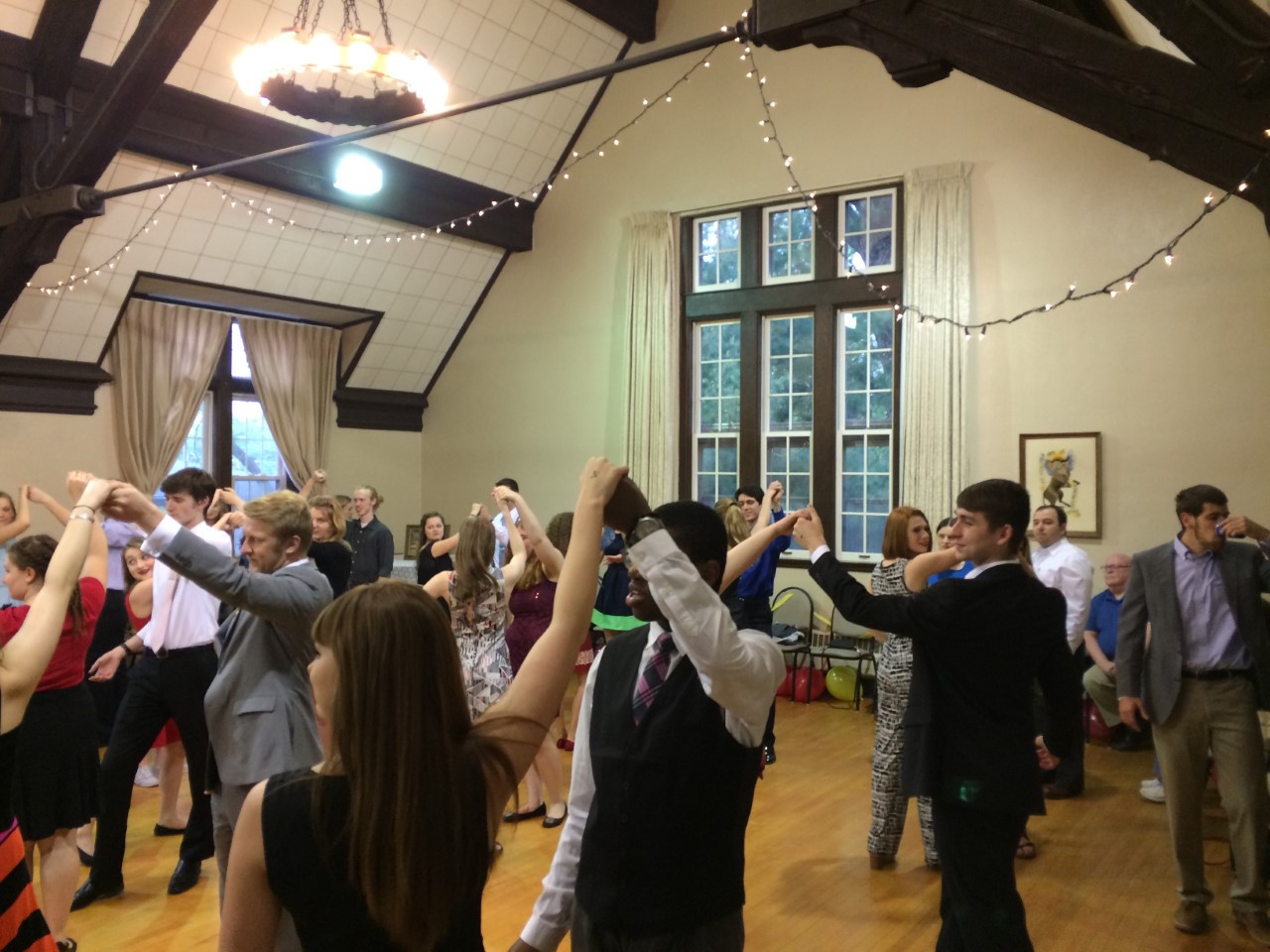 Scenes from Alpha Tau Omega Fraternity fund raising event for the Muscular Dystrophy Association held at St Luke's on April 6. A great success!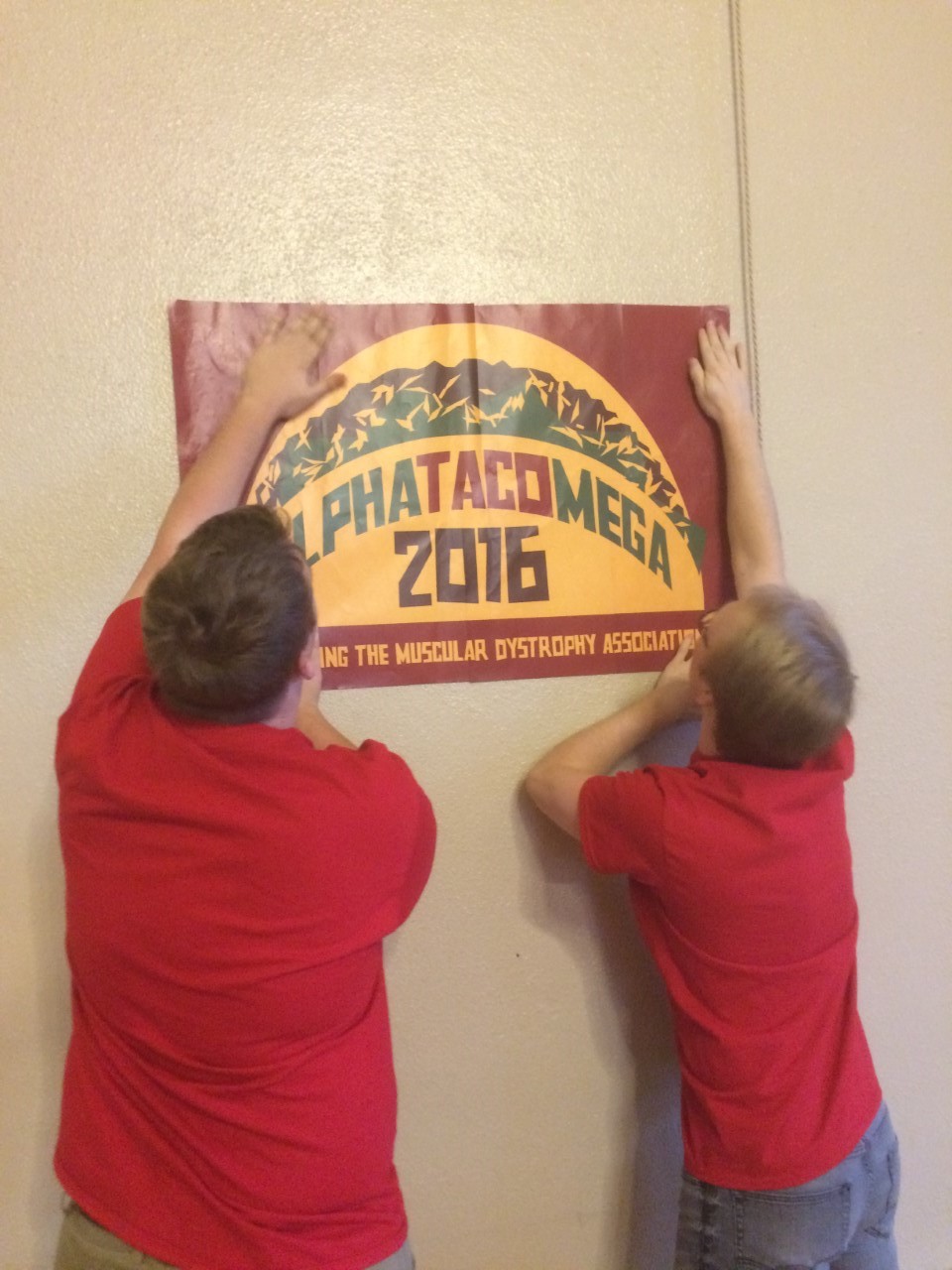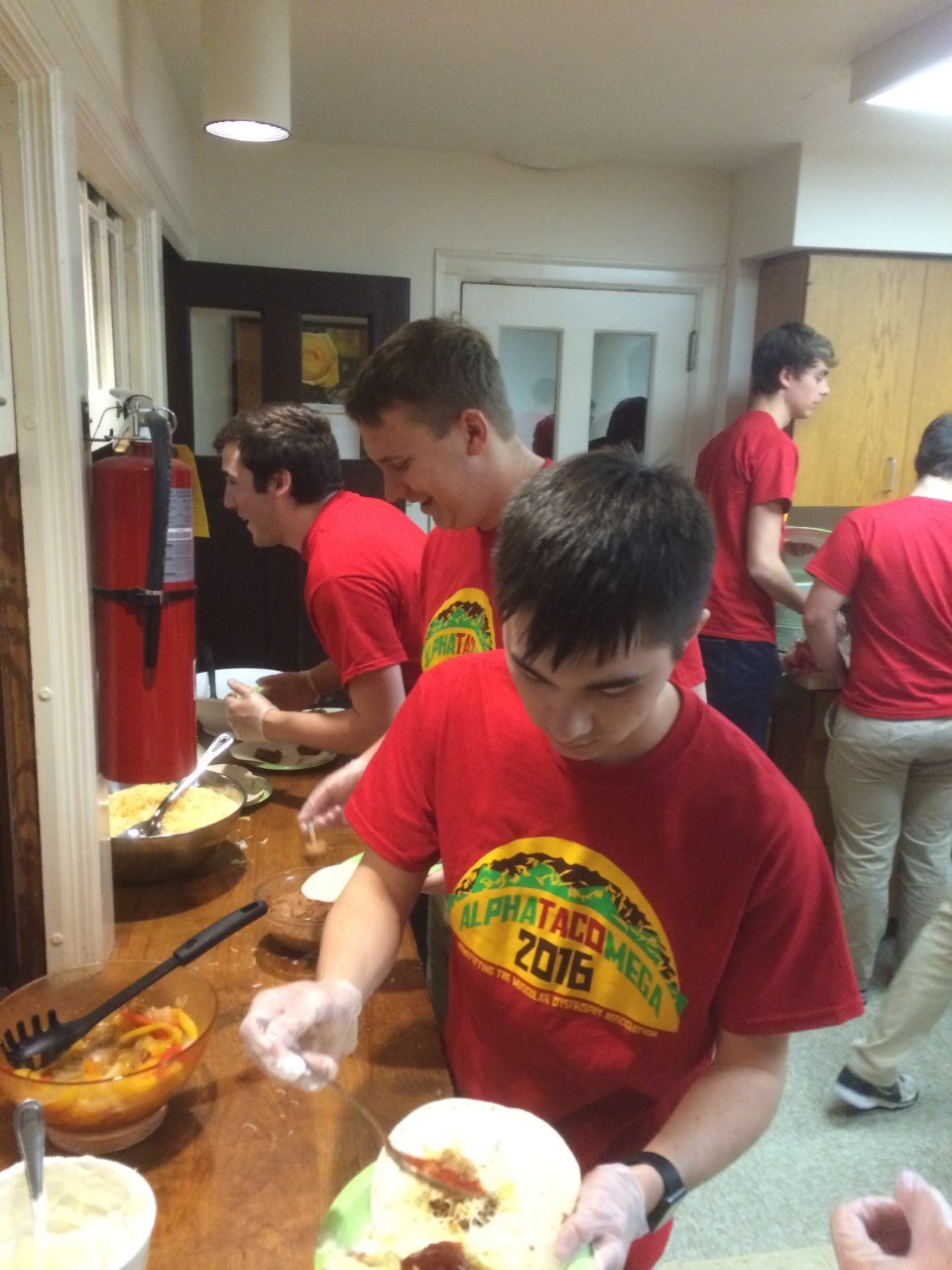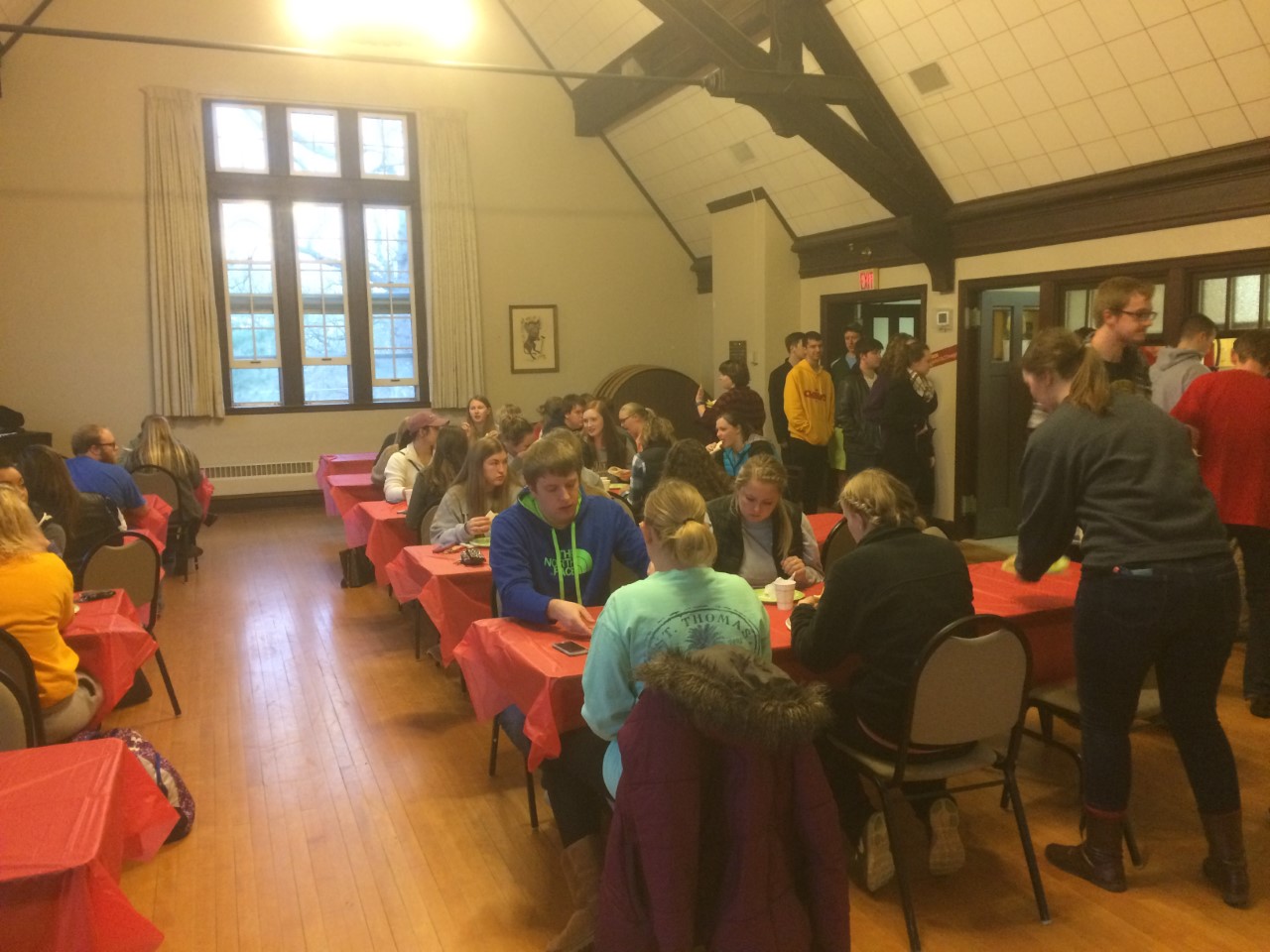 The young people of Faith Sound, whose purpose is to spread God's Word through the ministry of music, performed for St. Luke's parishioners and was thoroughly enjoyed by all!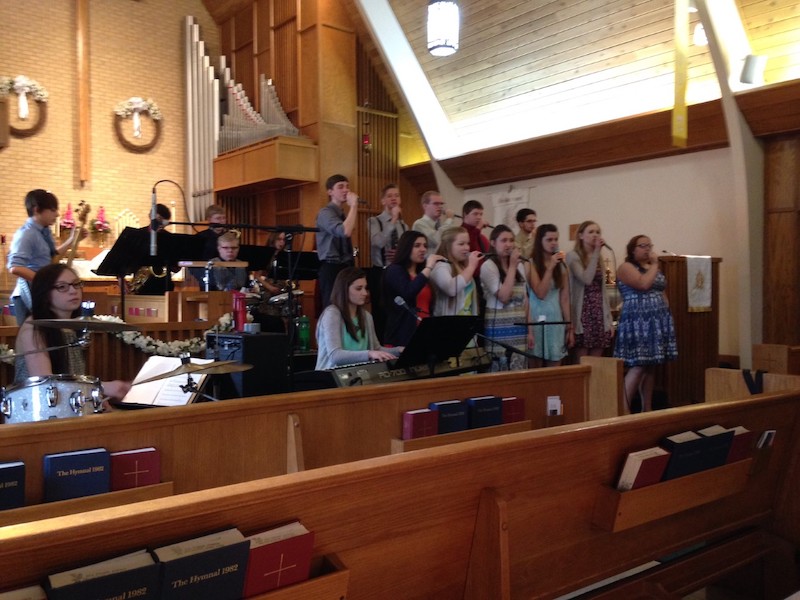 Volunteers preparing and serving a meal for the Homeless Shelter find it rewarding to lend a hand to those less fortunate among us.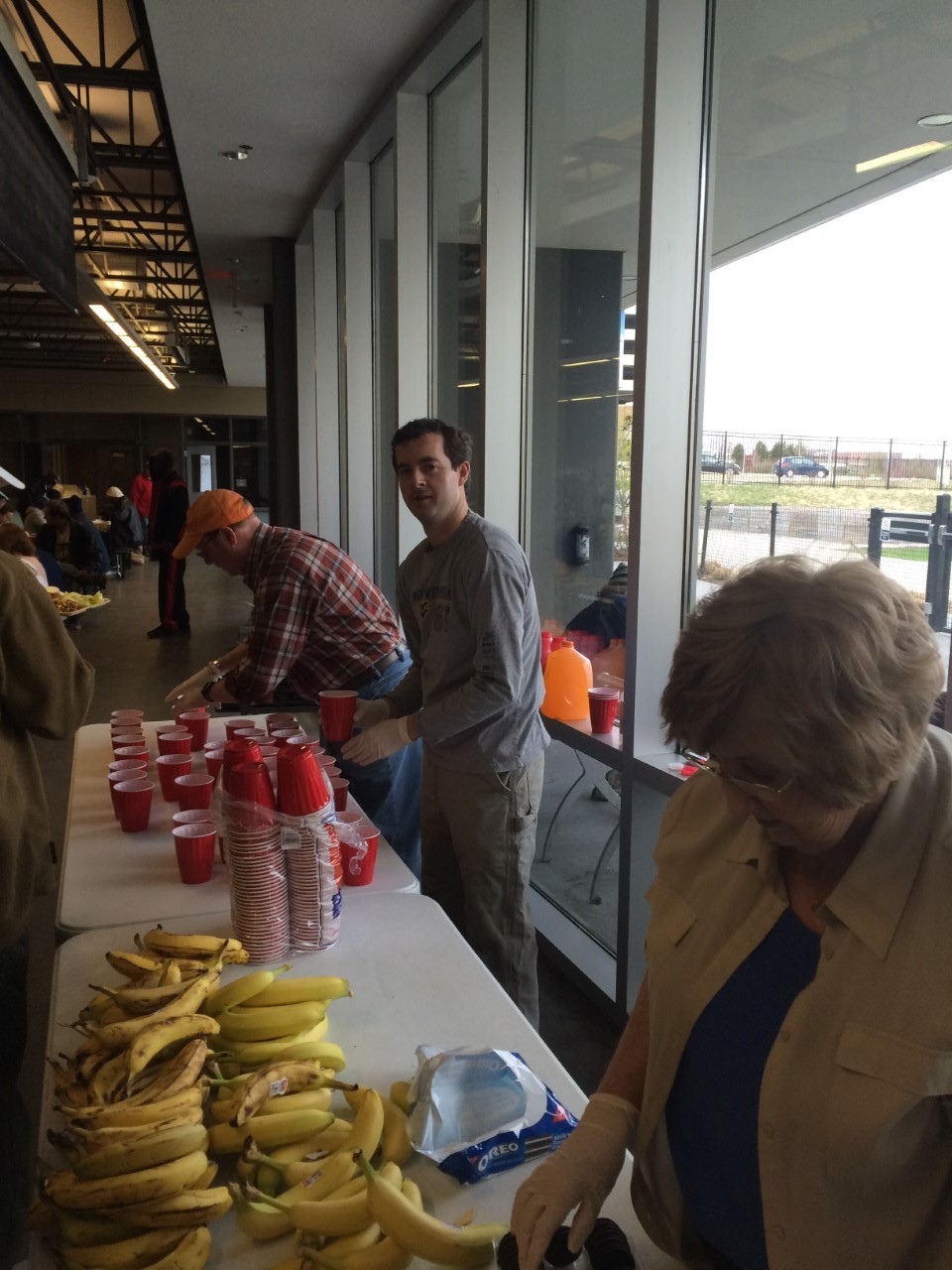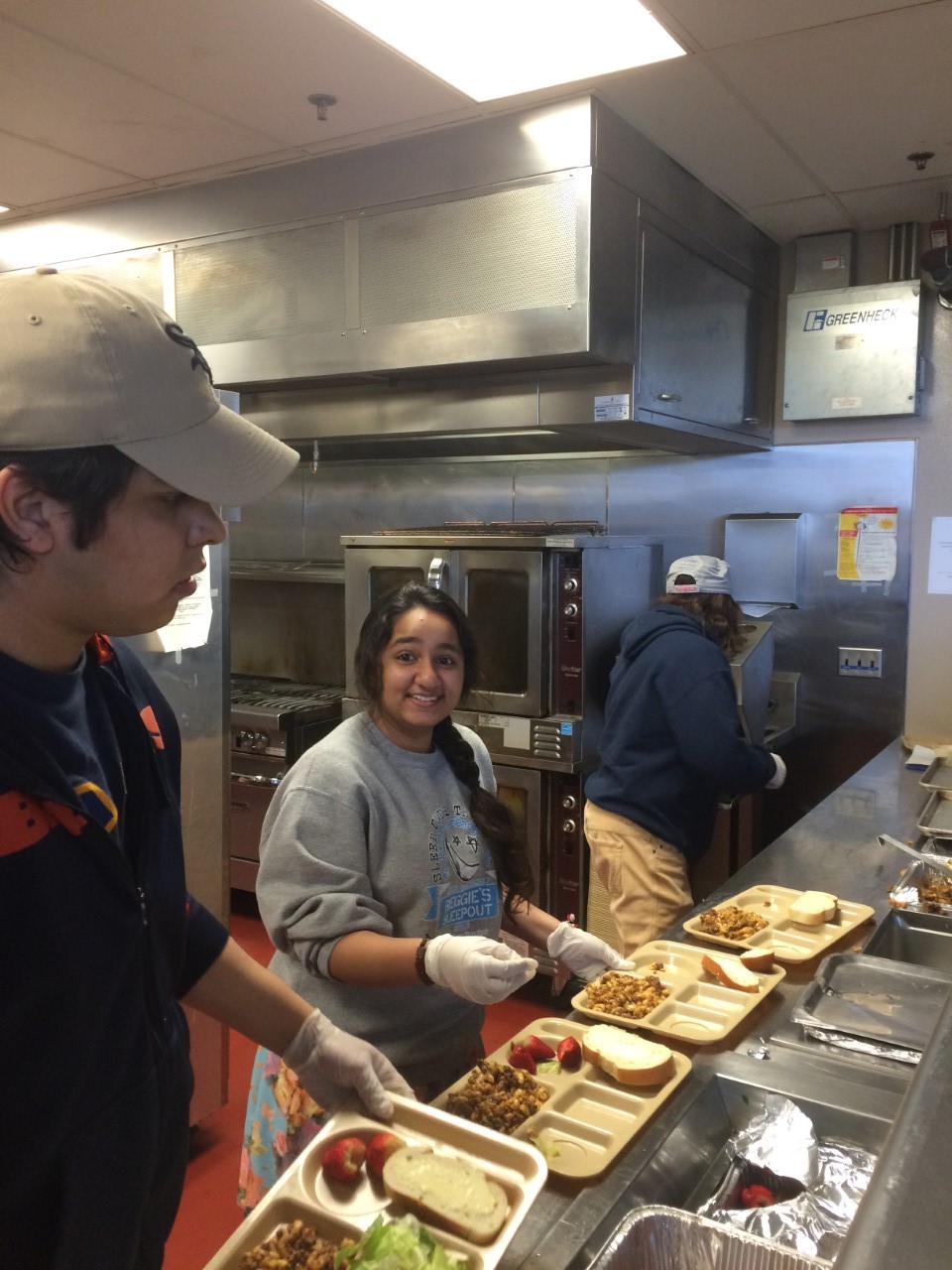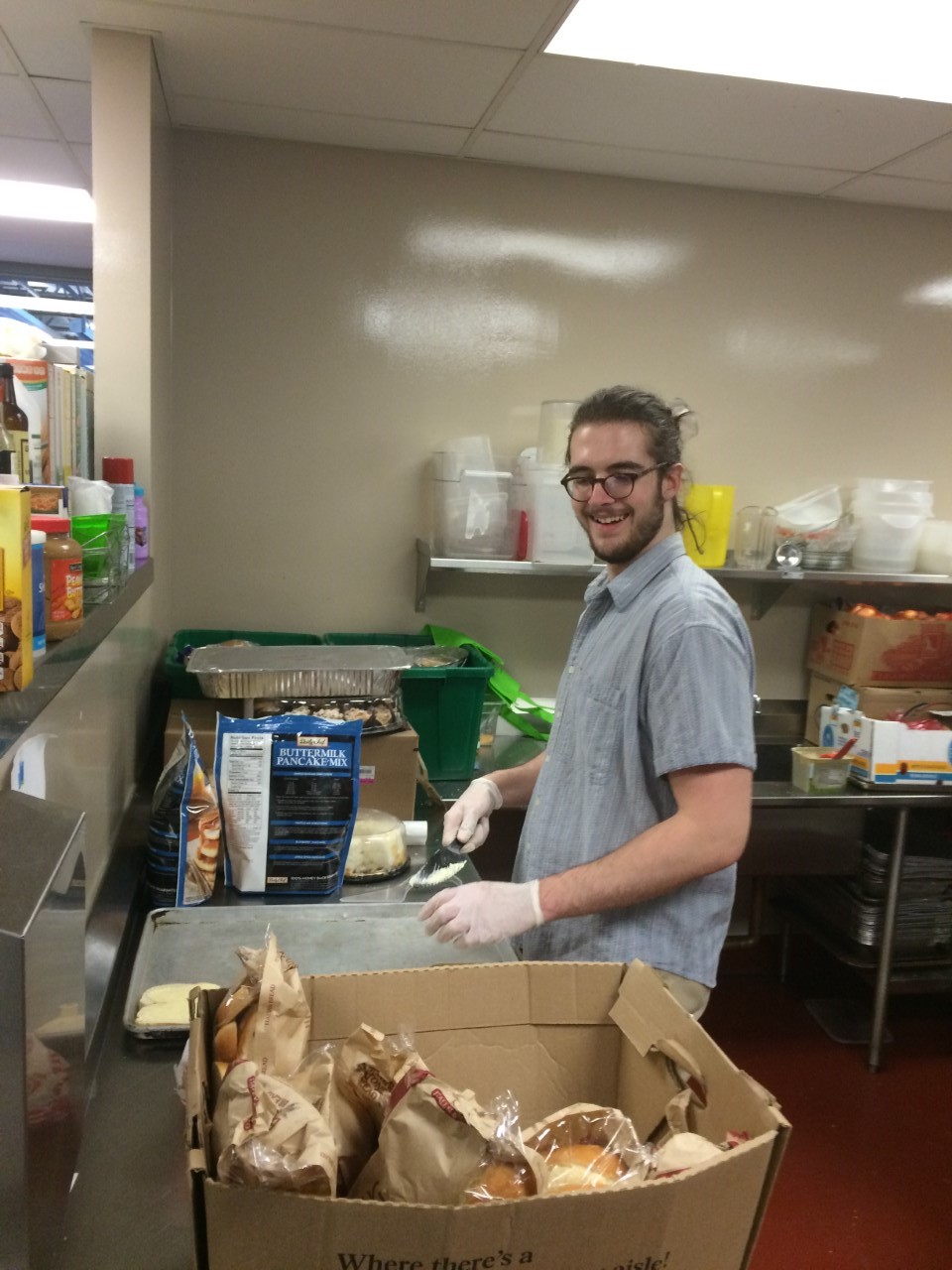 Volunteers for Sack Lunch Buddies fill 600 sack lunches for Shelter in short order!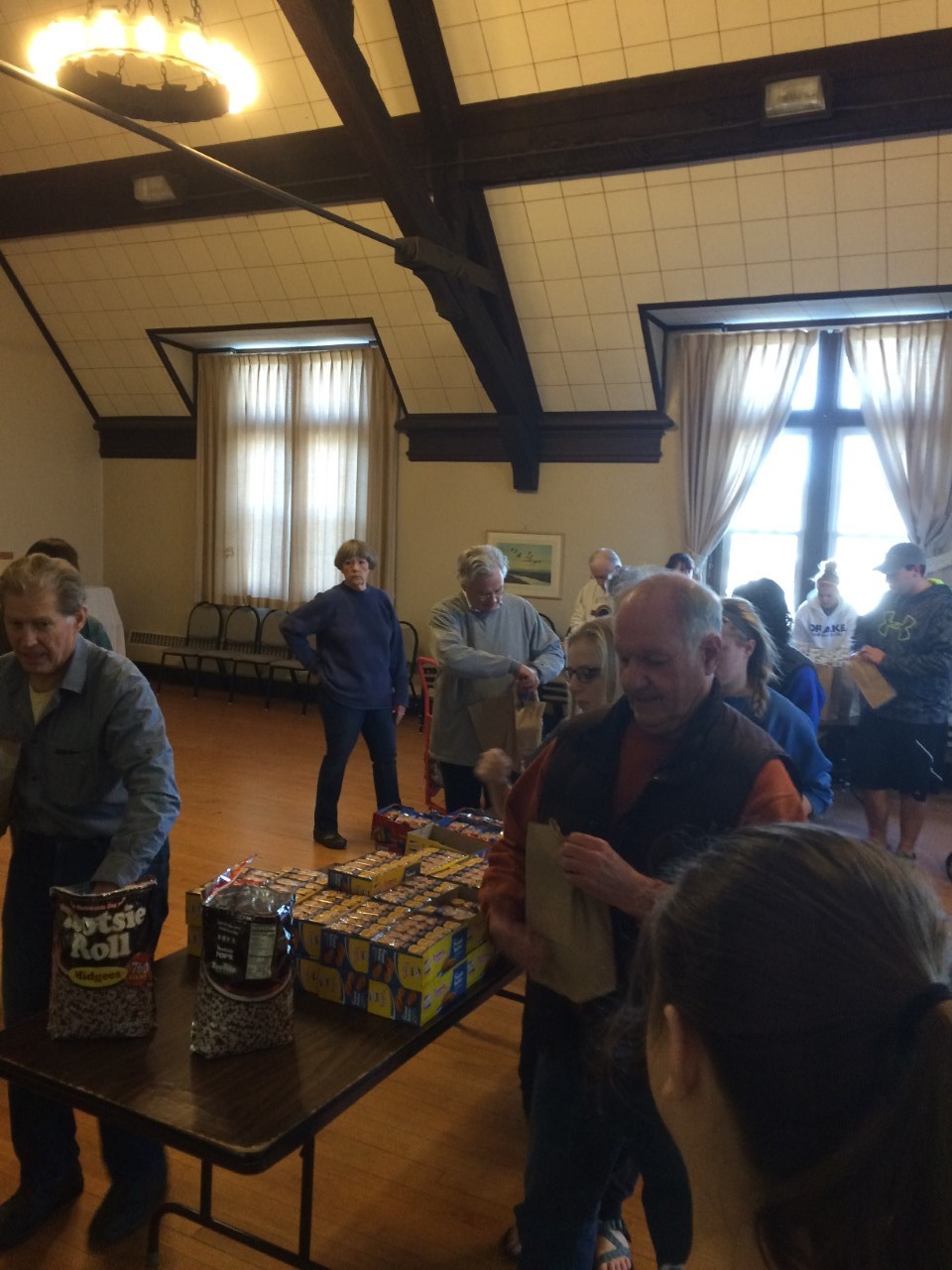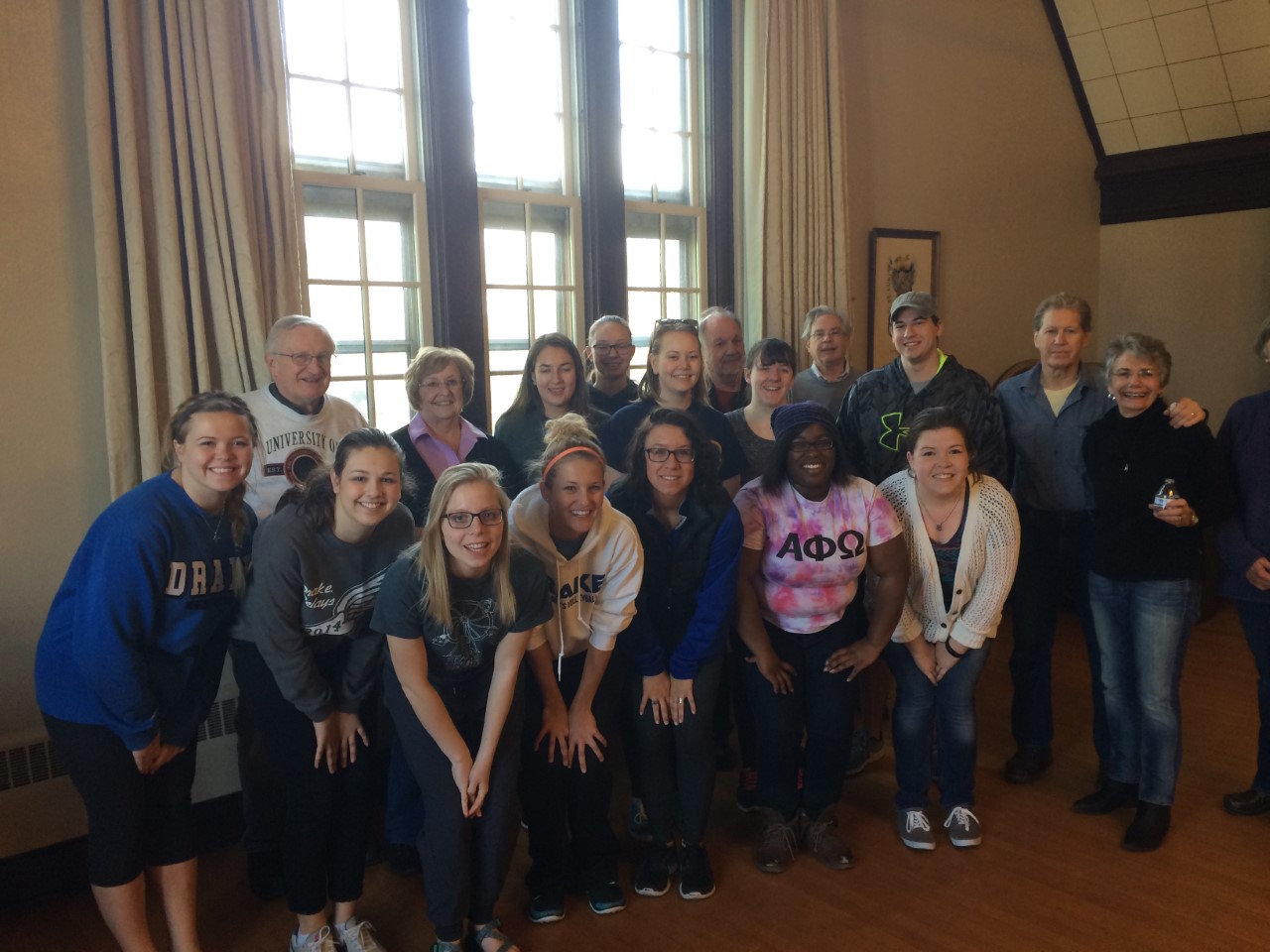 After wonderful Easter services, chilly weather encouraged the Easter Bunny to hide her eggs inside for the annual Easter egg hunt!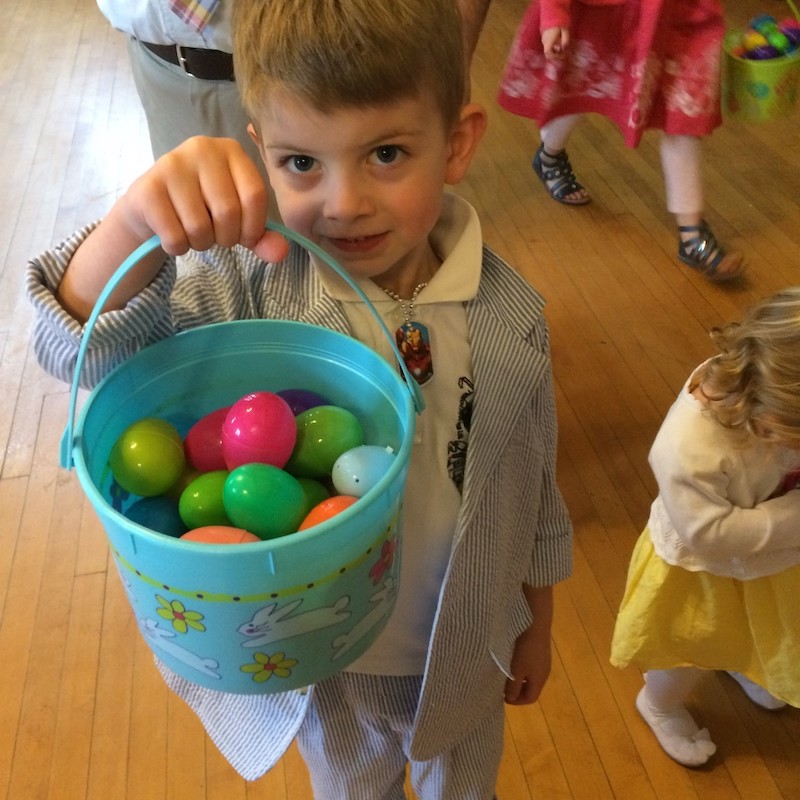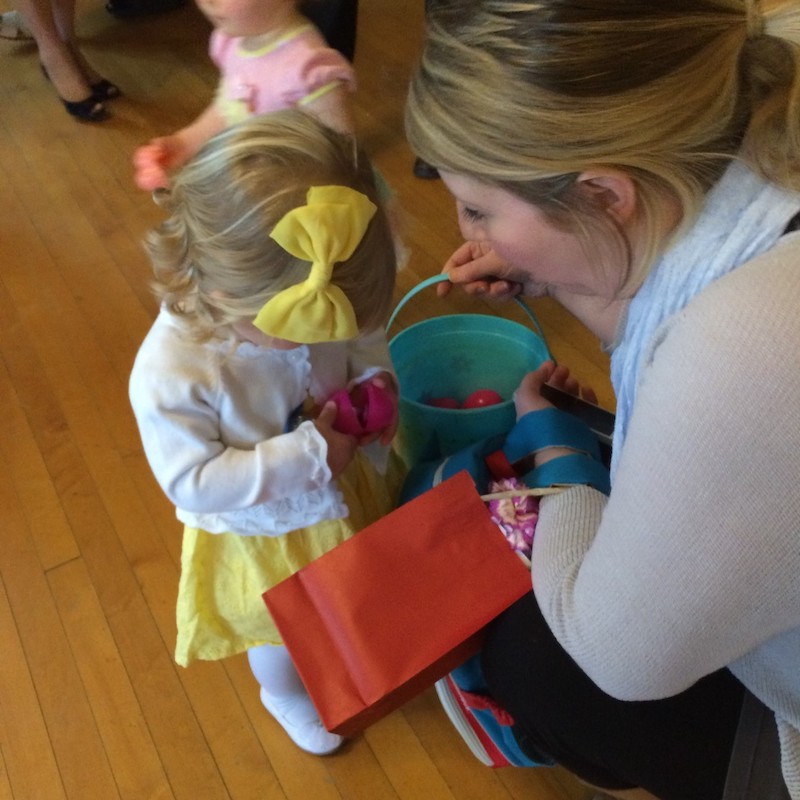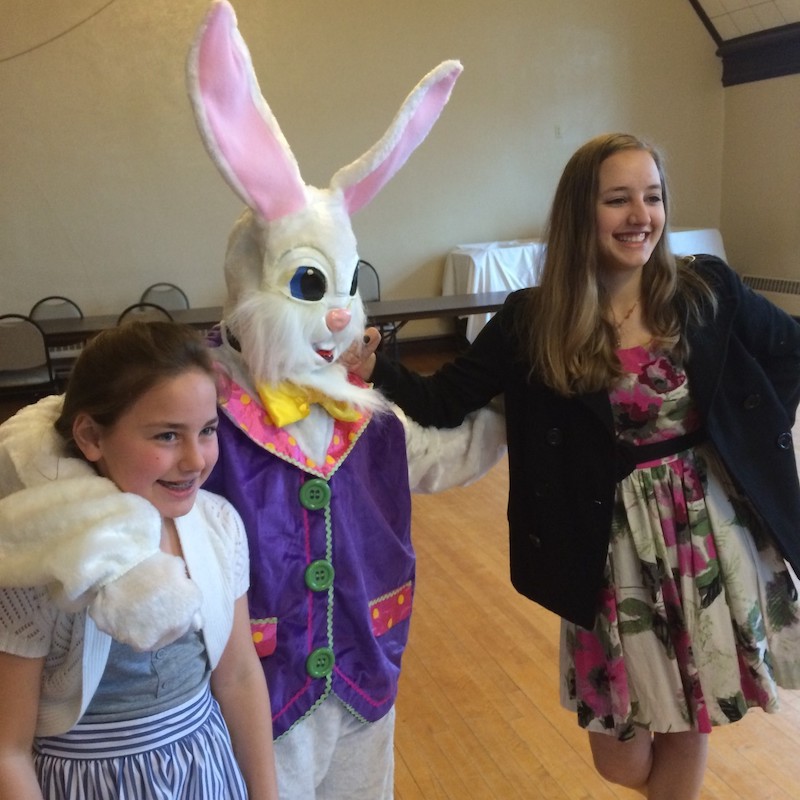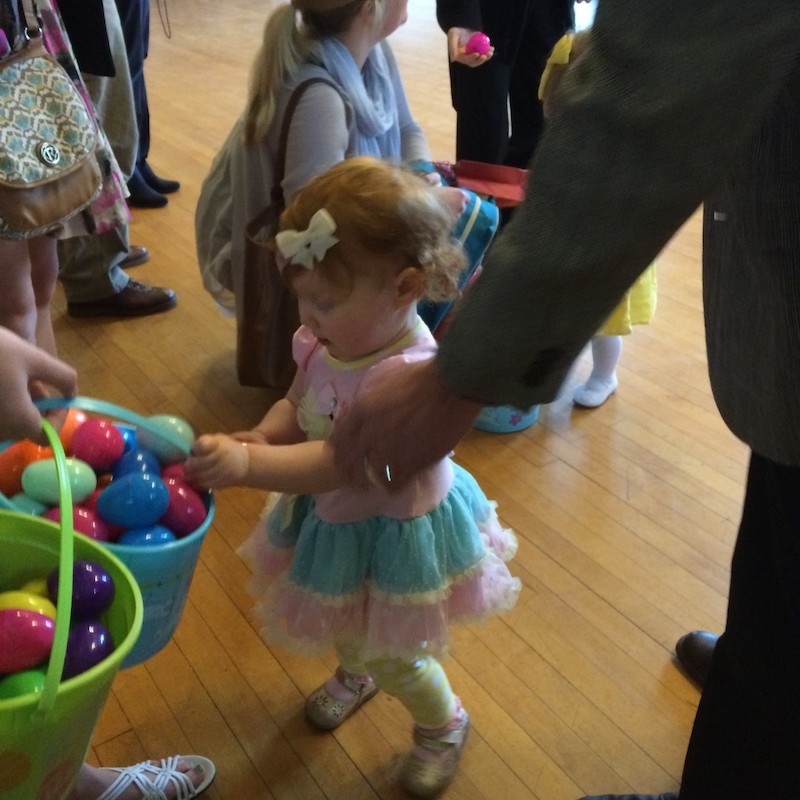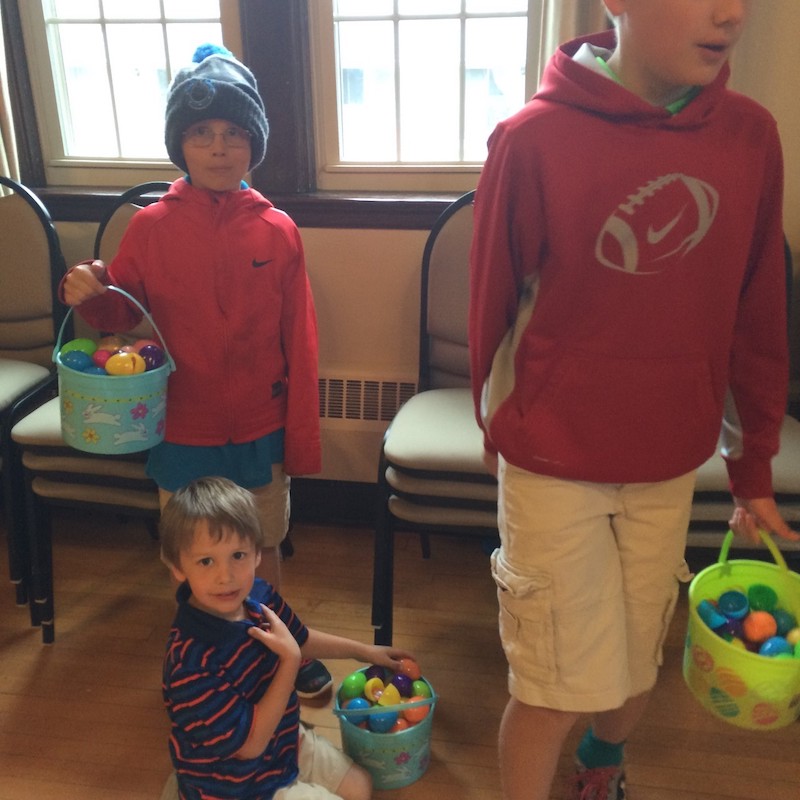 A GREAT turnout of volunteers to prepare over 600 sack lunches to be delivered to CISS!!!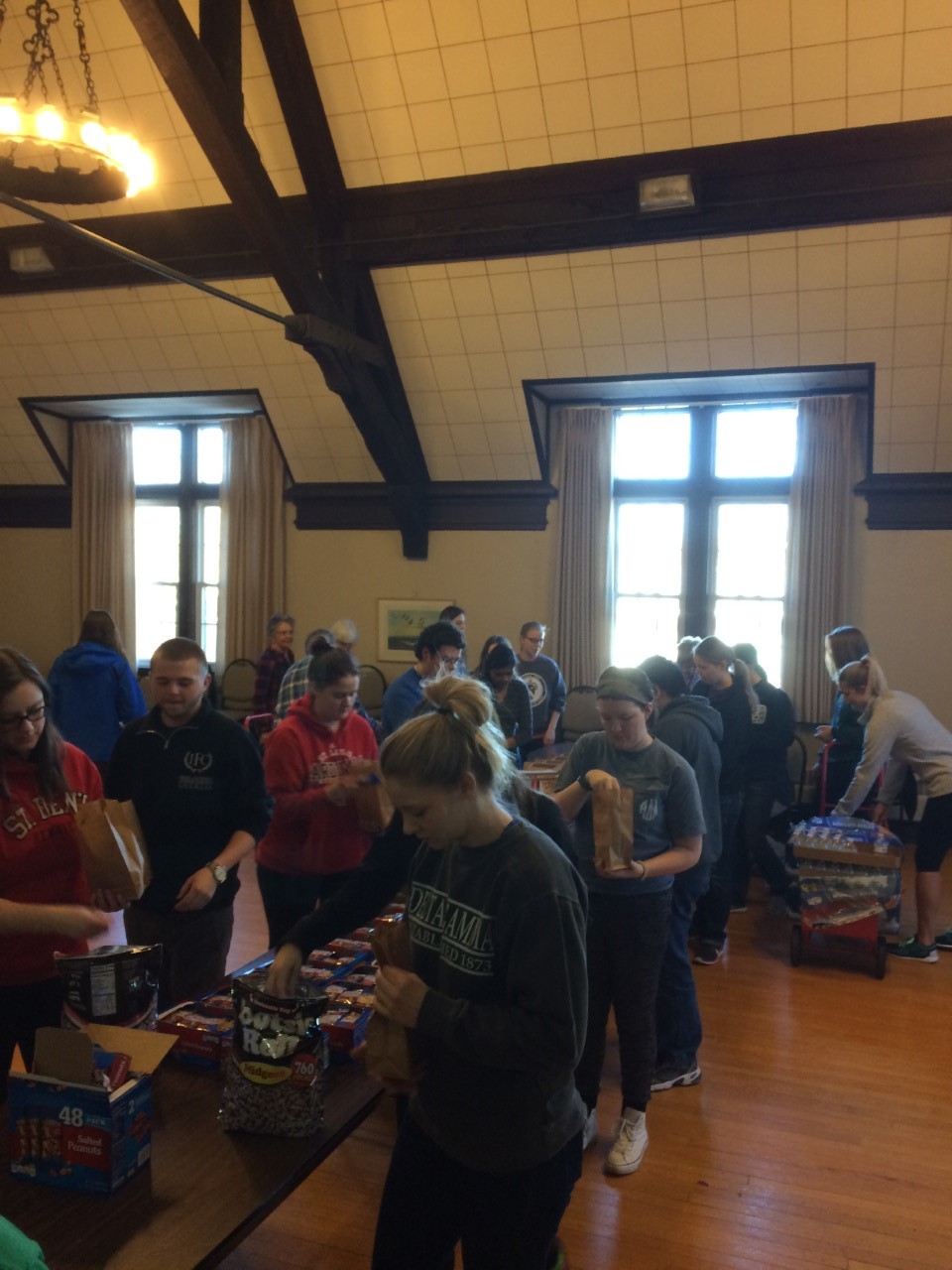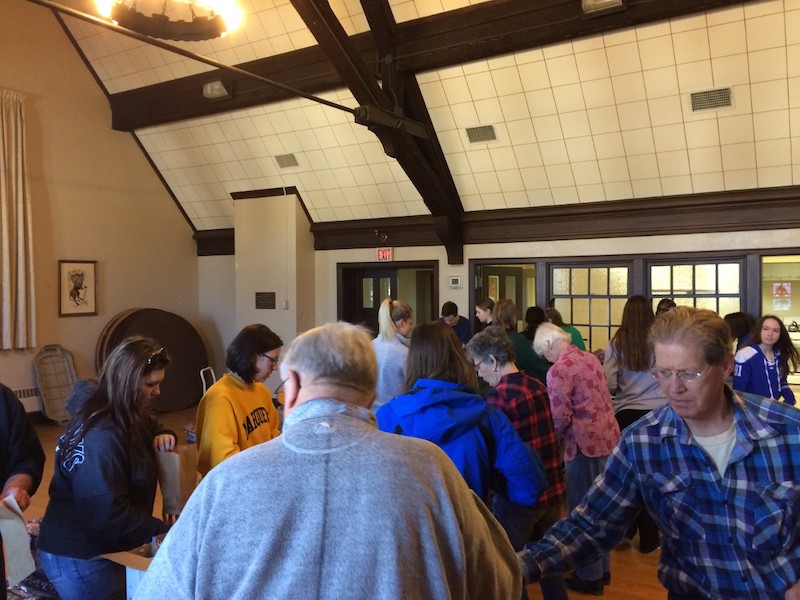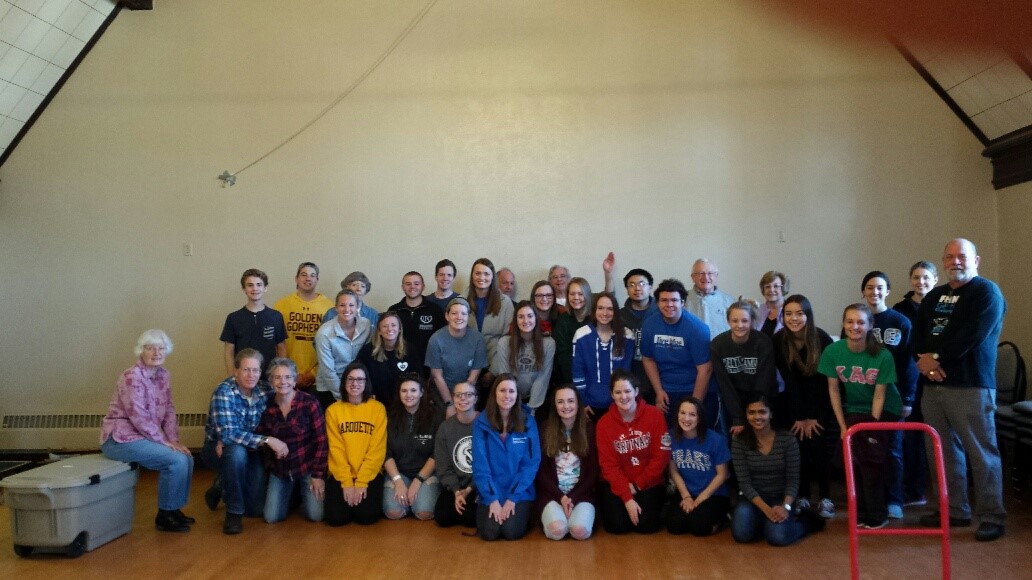 Shrove Tuesday Pancake Supper 2016 raised funds to feed the less fortunate in our community.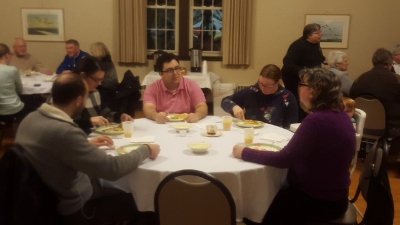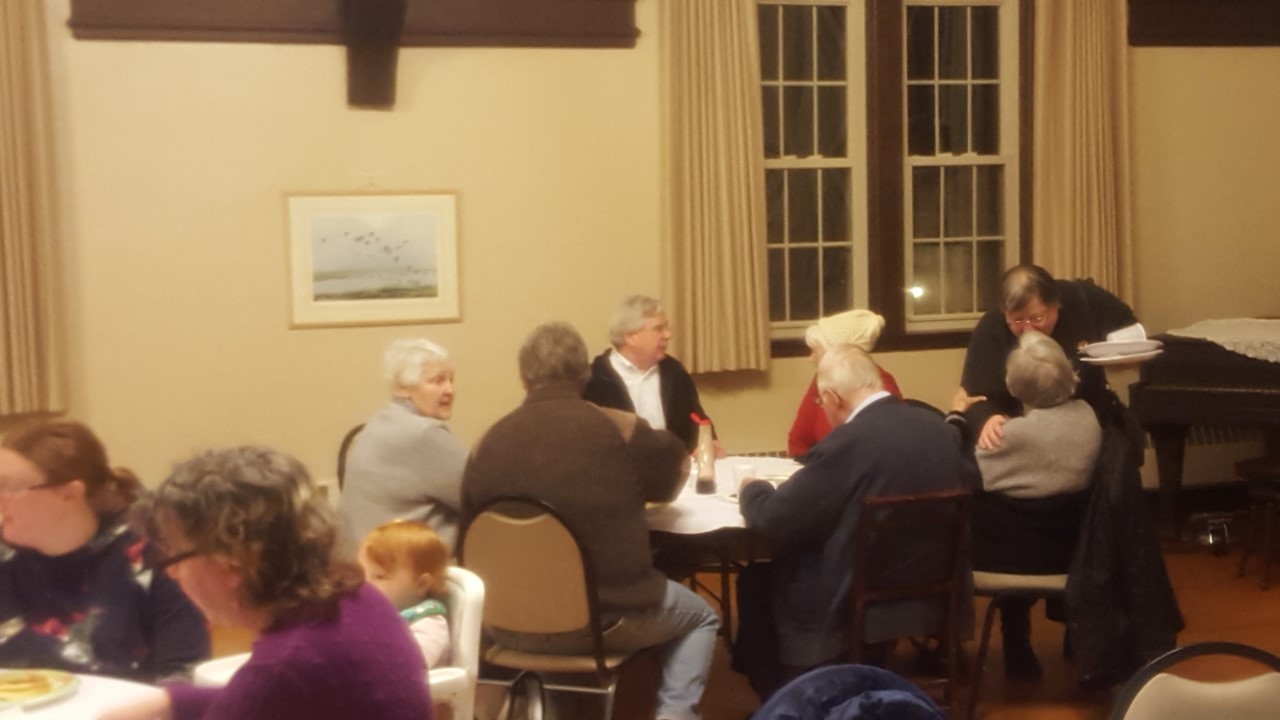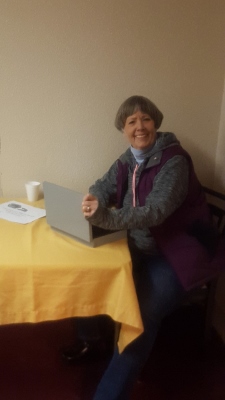 Annual Parish Meeting 2016 complete with a great ECW lunch, dancing, and positive committee and administrative reports!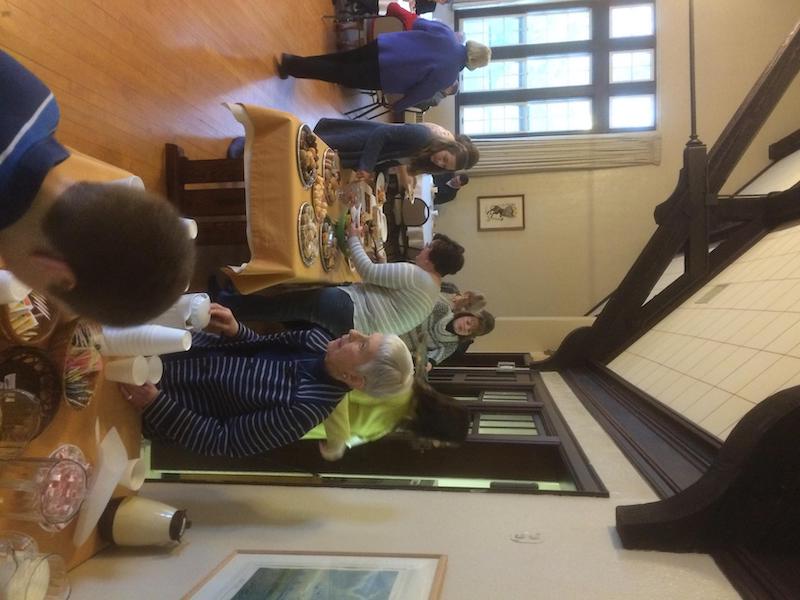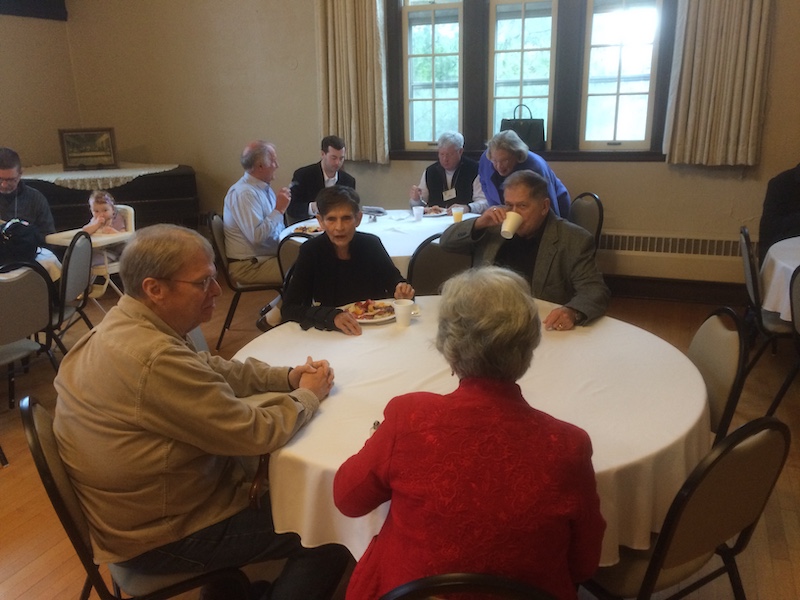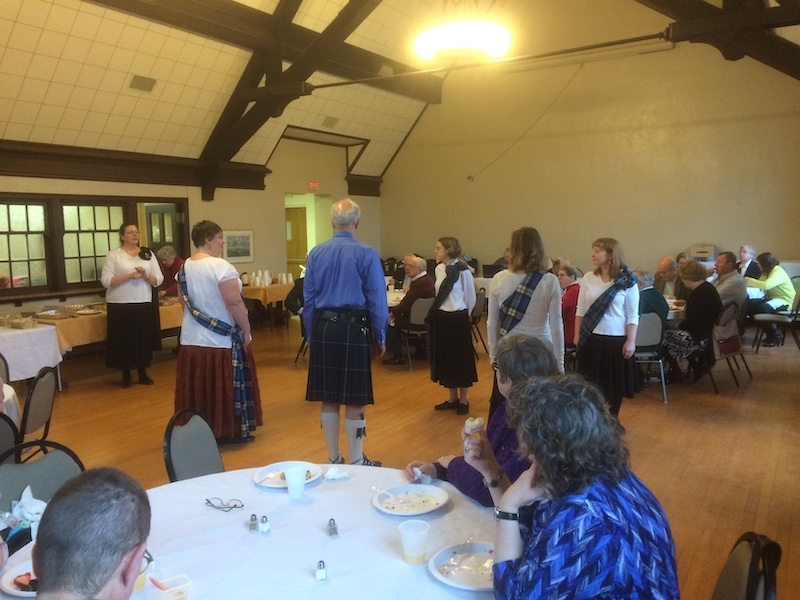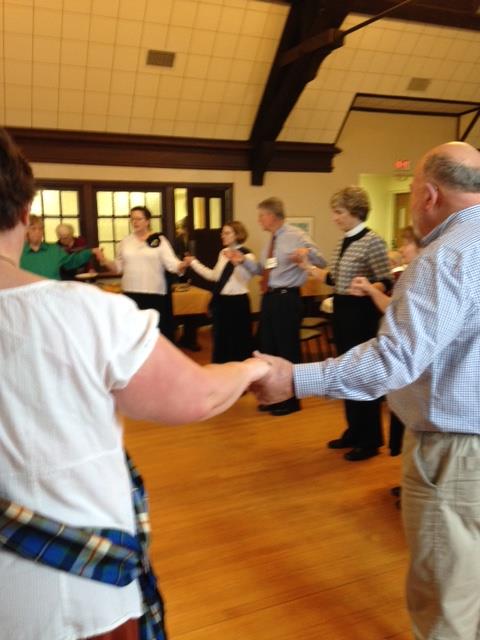 Coffee after service at Camp Dodge on a very cold Sunday morning in January!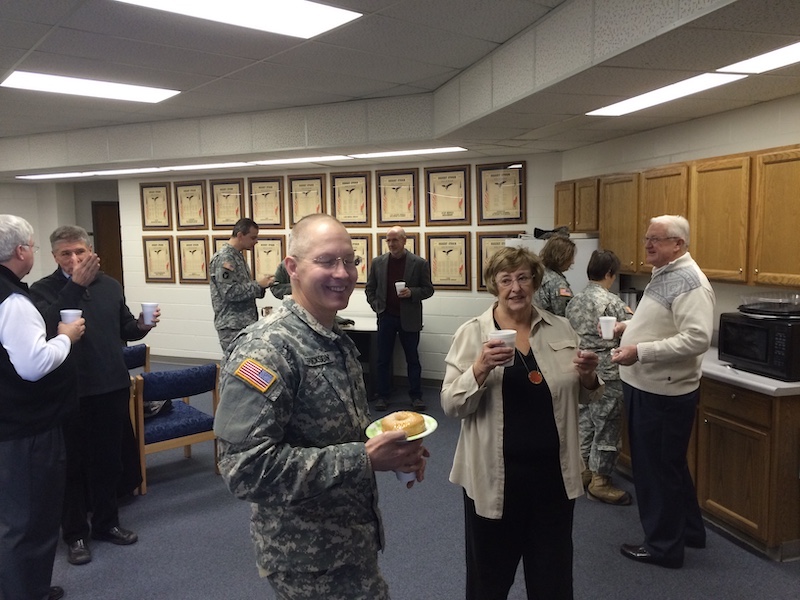 Santa came to visit and then it was Jesus' Birthday and it was a most wonderful Christmas!!!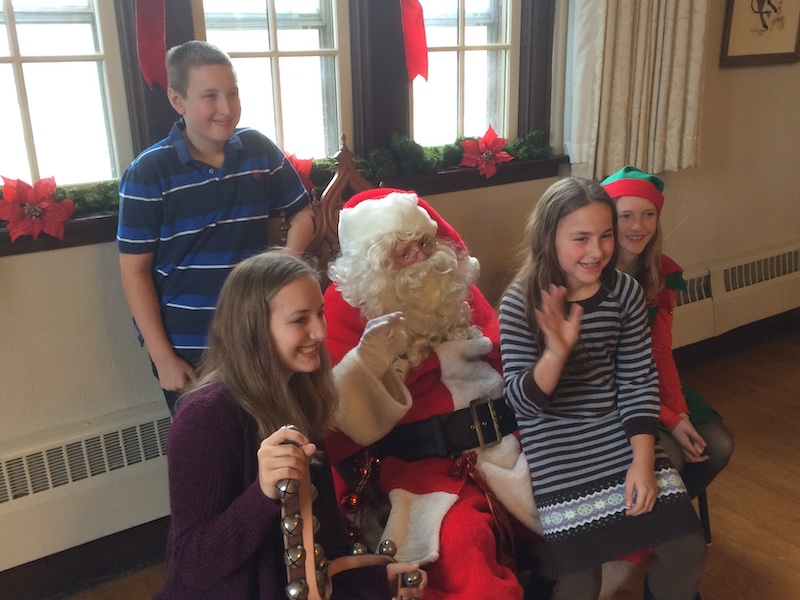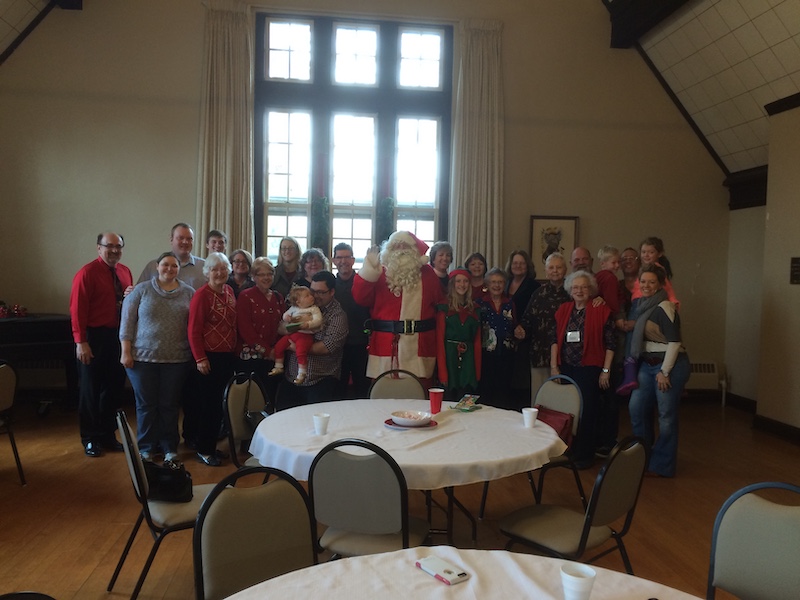 Last Backpack Buddies as we've known it for the last 4 years!! New packaging and procedures coming in 2016 from Food Bank of Iowa.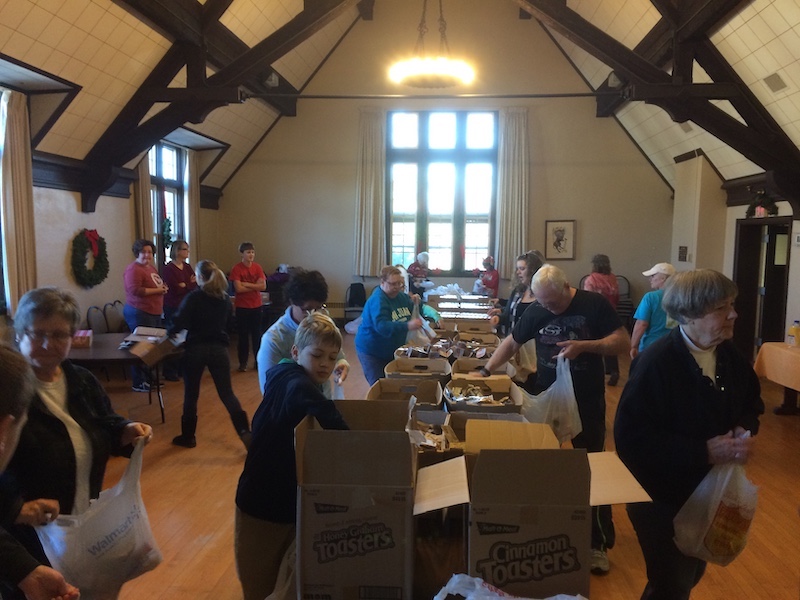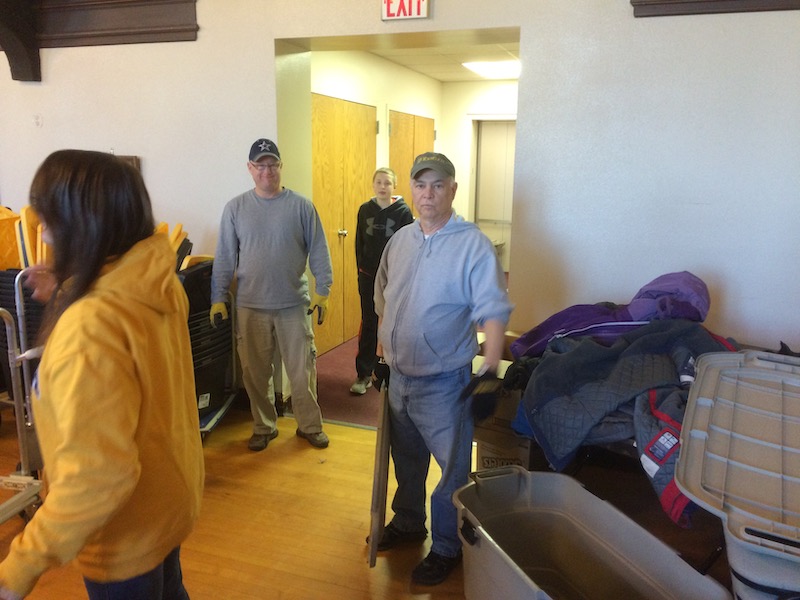 St. Luke's opens doors to lend a helping hand to Drake students in need of a quiet place to study for finals! Good luck all!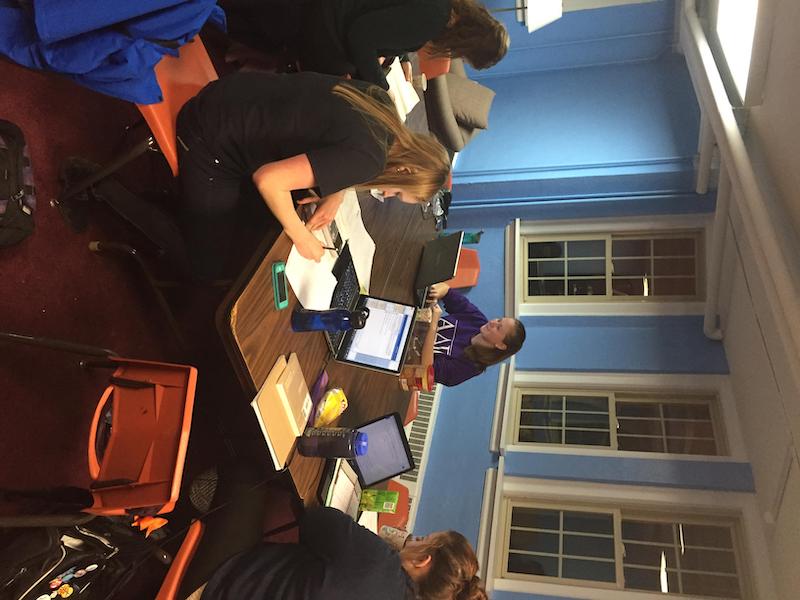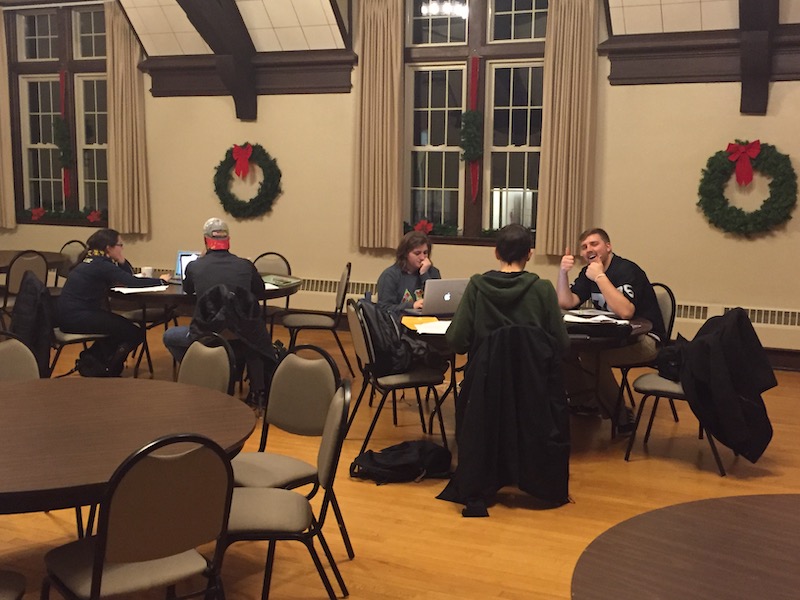 What is better than a Christmas story read around a (alas, fake) fireplace among family and friends? This is the first of a lovely tradition at St. Lukes! Thanks Holly!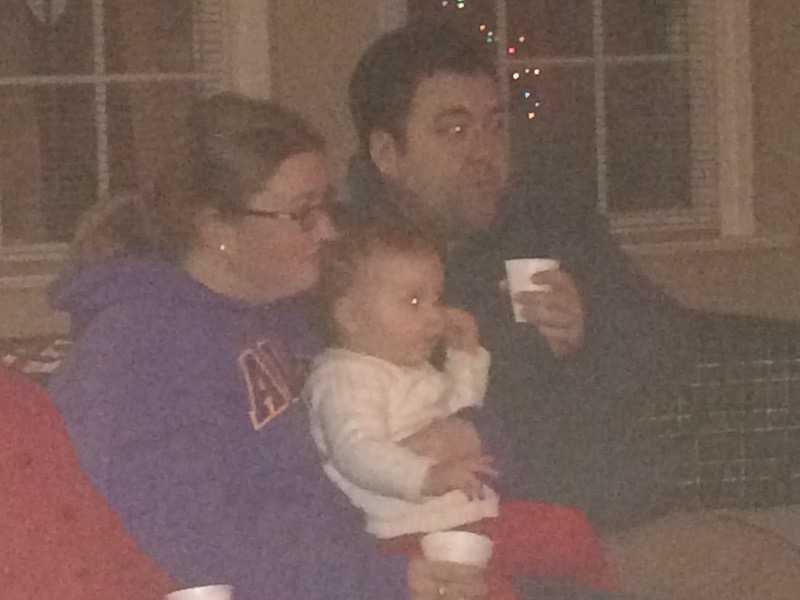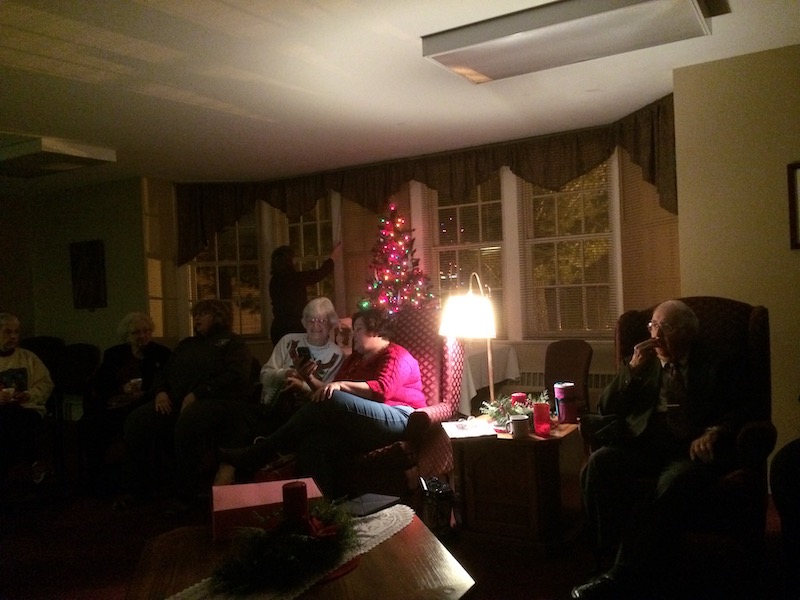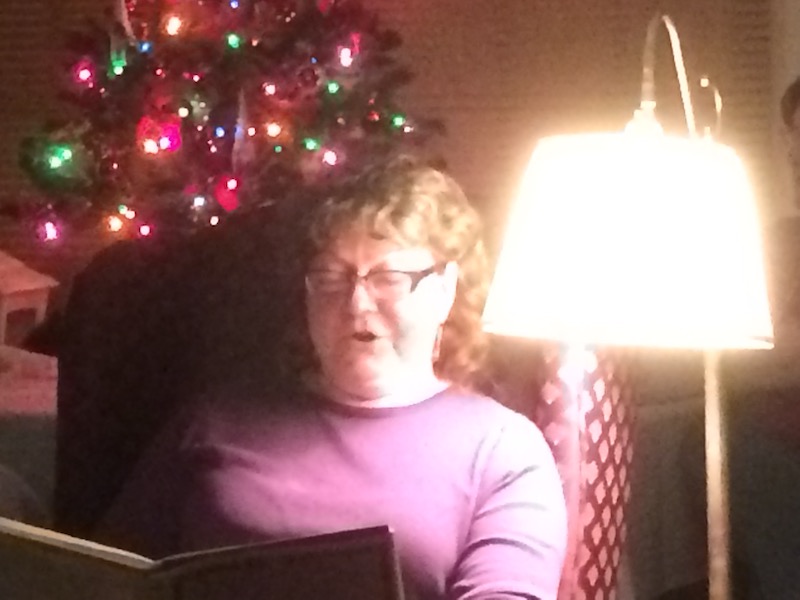 Spaghetti dinner fundraiser for EFOGE is a success! (EFOGE is an organization in Western Kenya working to help girls stay in school by paying for their education)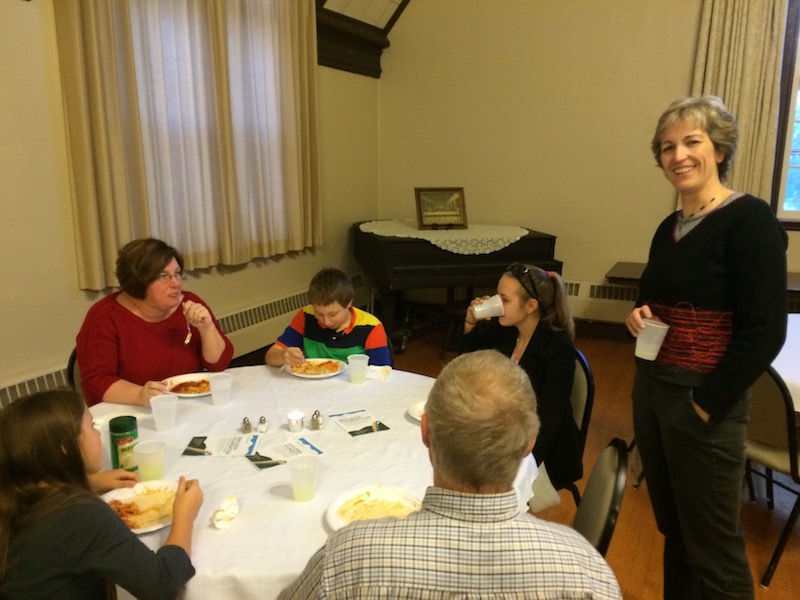 A great turnout for Backpack Buddies from Drake students early on a snowy Saturday morning! Thanks to them for making quick work of getting our food packets ready to deliver to the schools!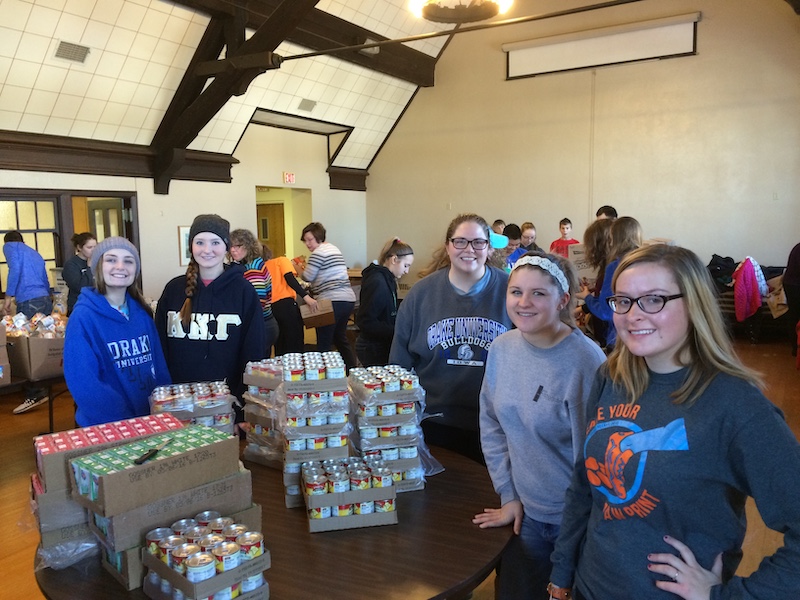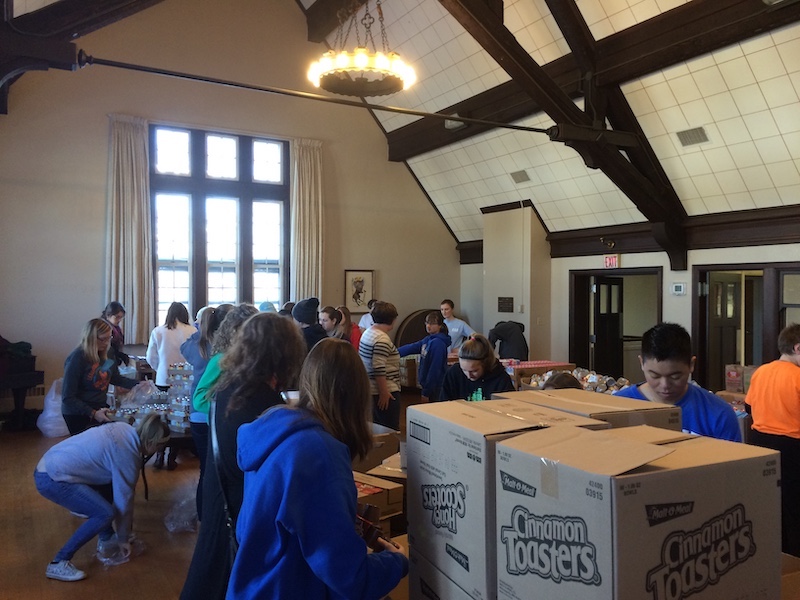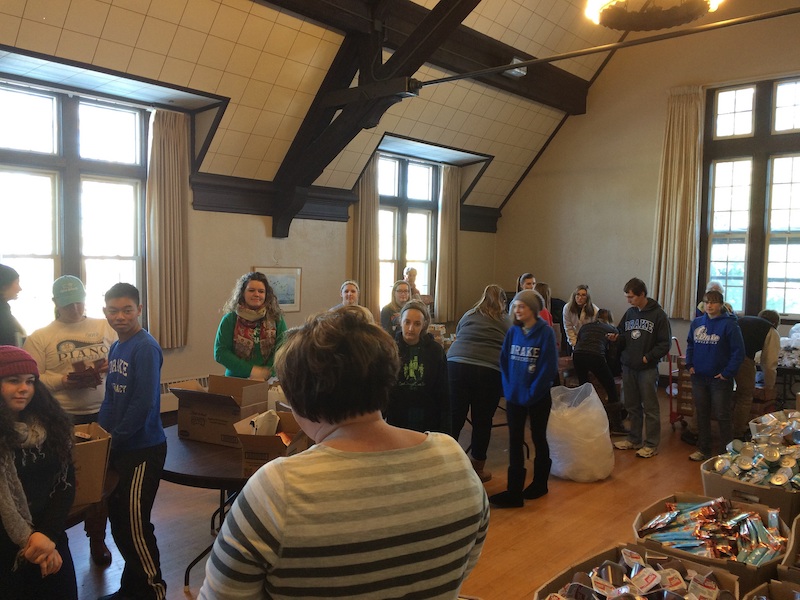 Parishioners enjoy potato bar provided by Vestry on Commitment Sunday to thank those members pledging to St. Lukes.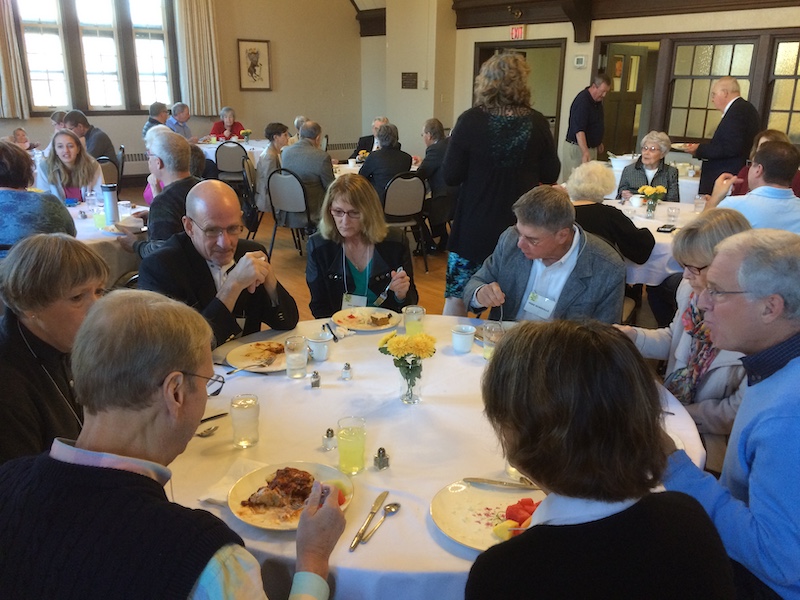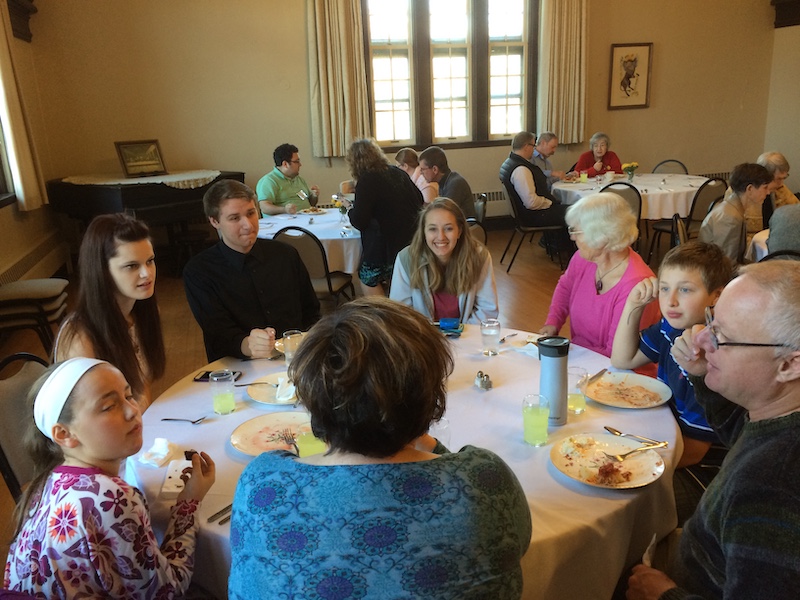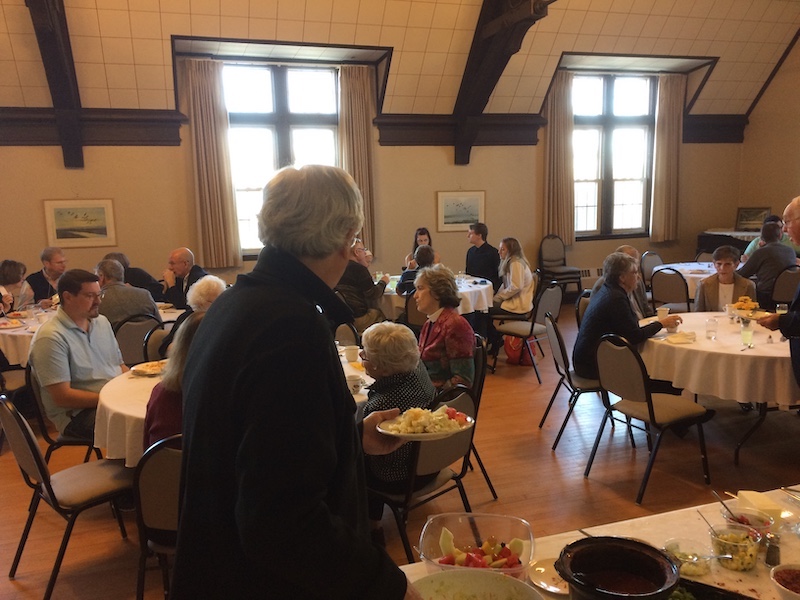 Partnering with nearbyTheta Chi members from Drake University, Jim McLallen from St. Luke's appears on KCWI TV to promote spaghetti dinner fundraiser for USO and Puppy Jake Foundation to support U.S. armed services personnel.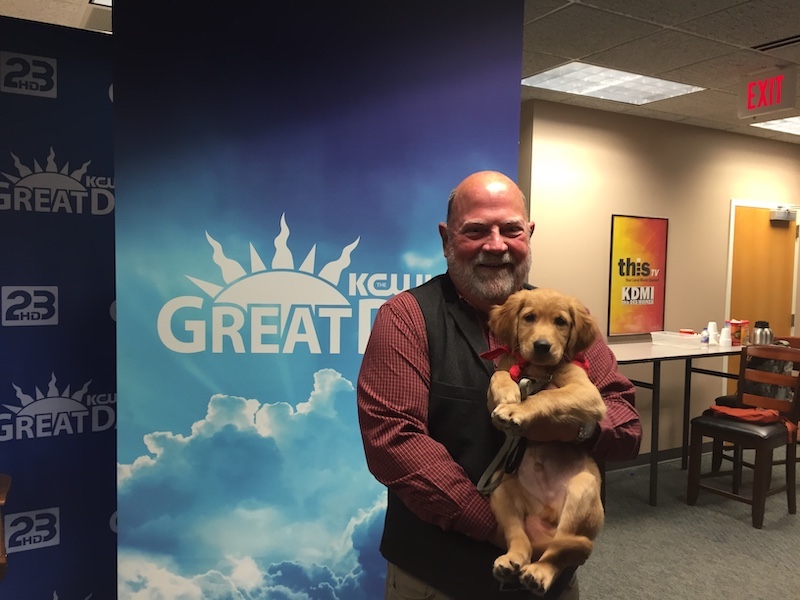 Fun in the leaves at St. Lukes's Fall cleanup.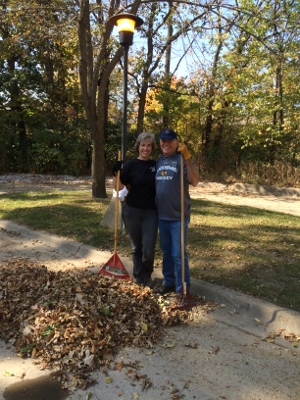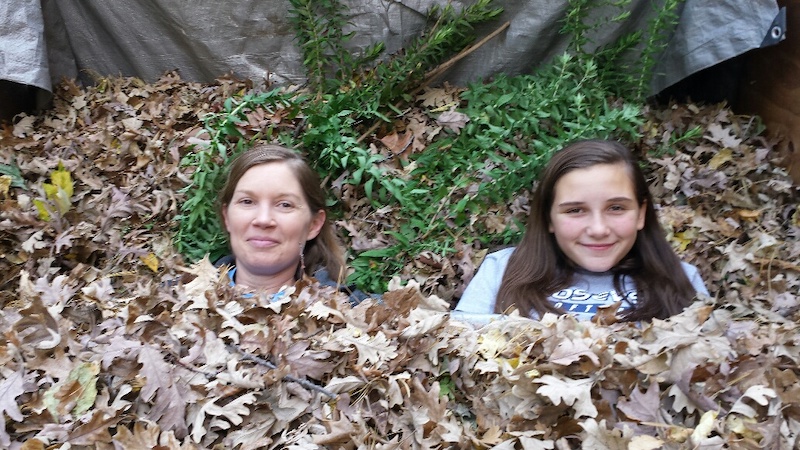 Pastor Martha at Camp Dodge church service provided to soldiers and parishioners once every quarter.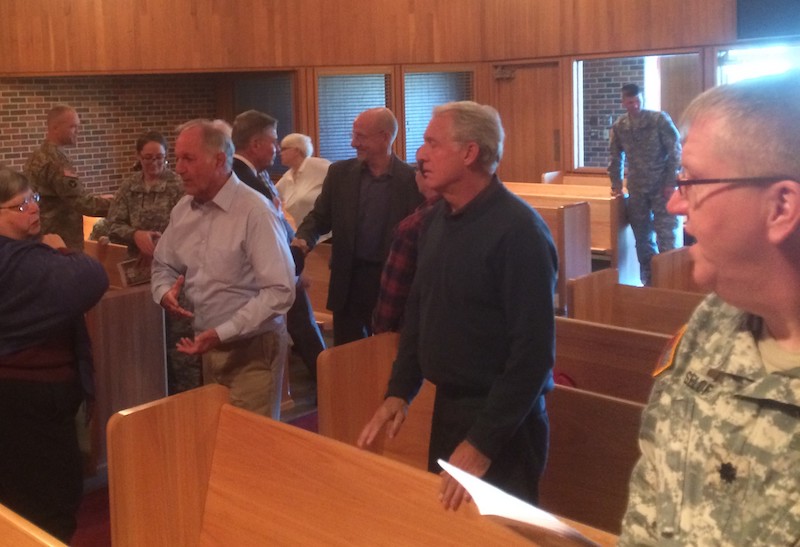 The St. Luke's Bell Choir chimes in a beautiful fall Sunday!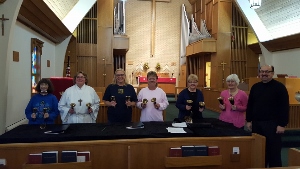 Rev. Misolo and his family visit Des Moines to update and thank St. Luke's parishioners for their continuing support of EFOGE in Kenya.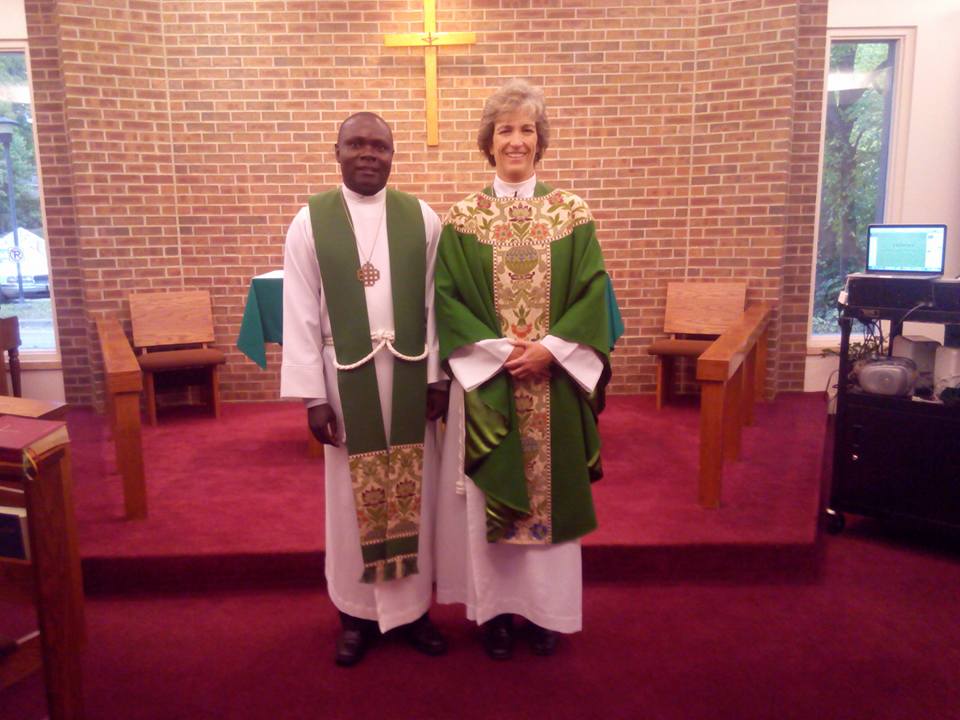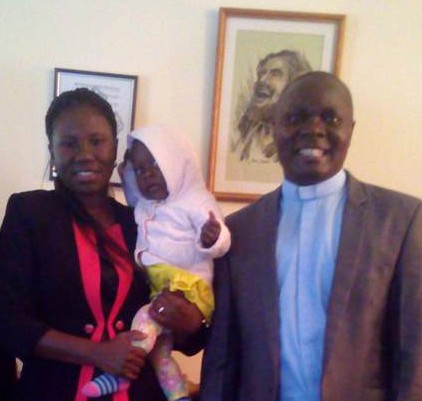 This year's parish picnic was super fun!!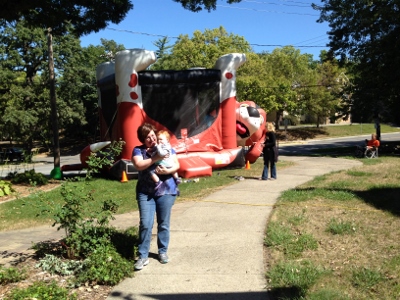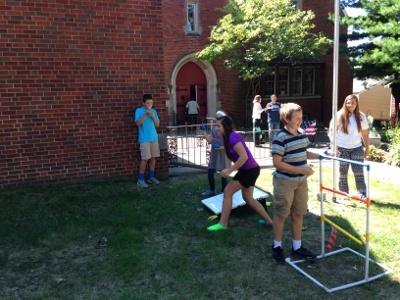 Free Hugs for (and by) all from St. Luke's at annual Open Streets Event in September 2015.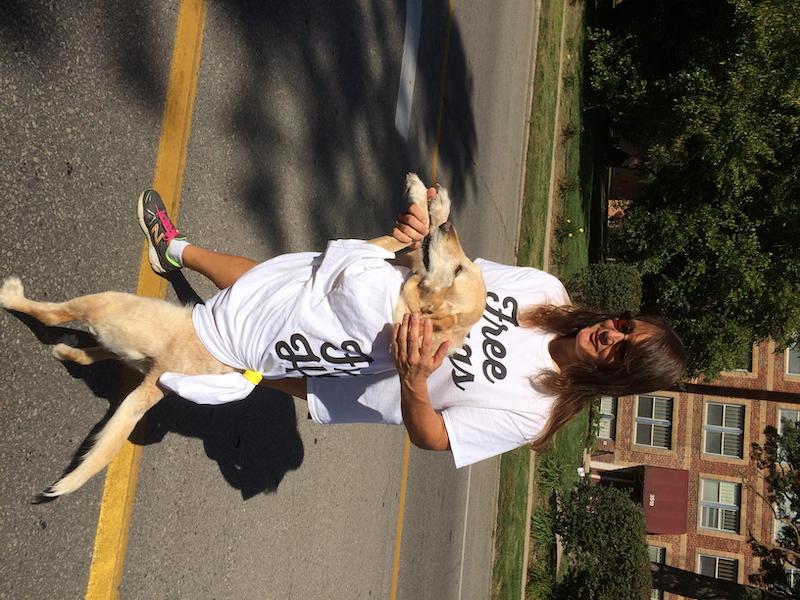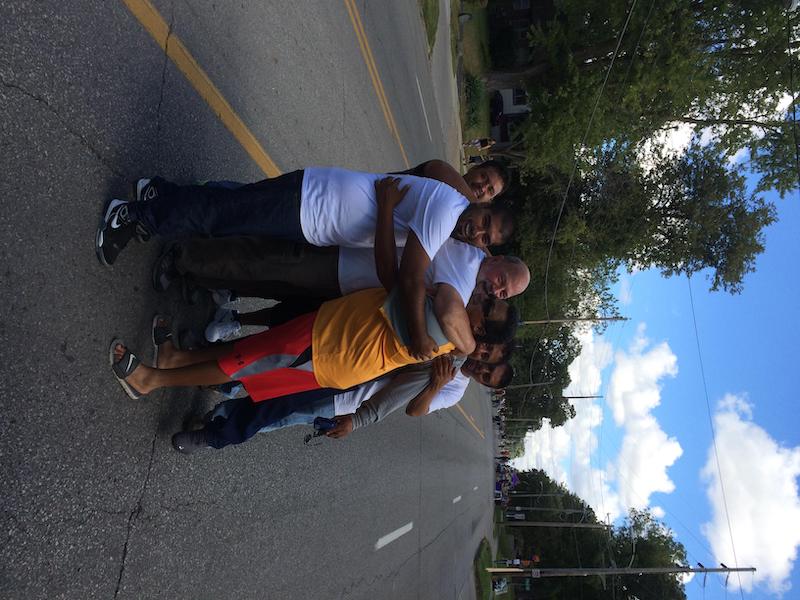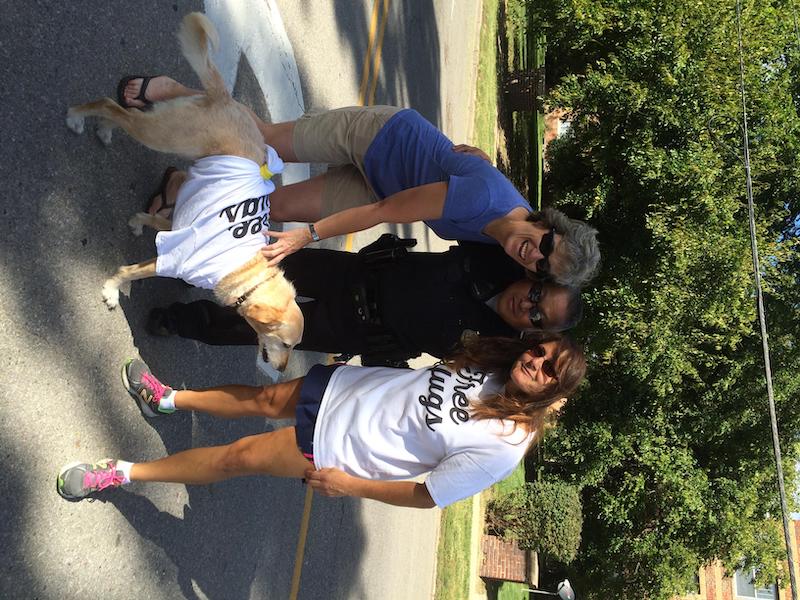 A small but mighty Backpack Buddies group opens 2015 school year on Saturday in August.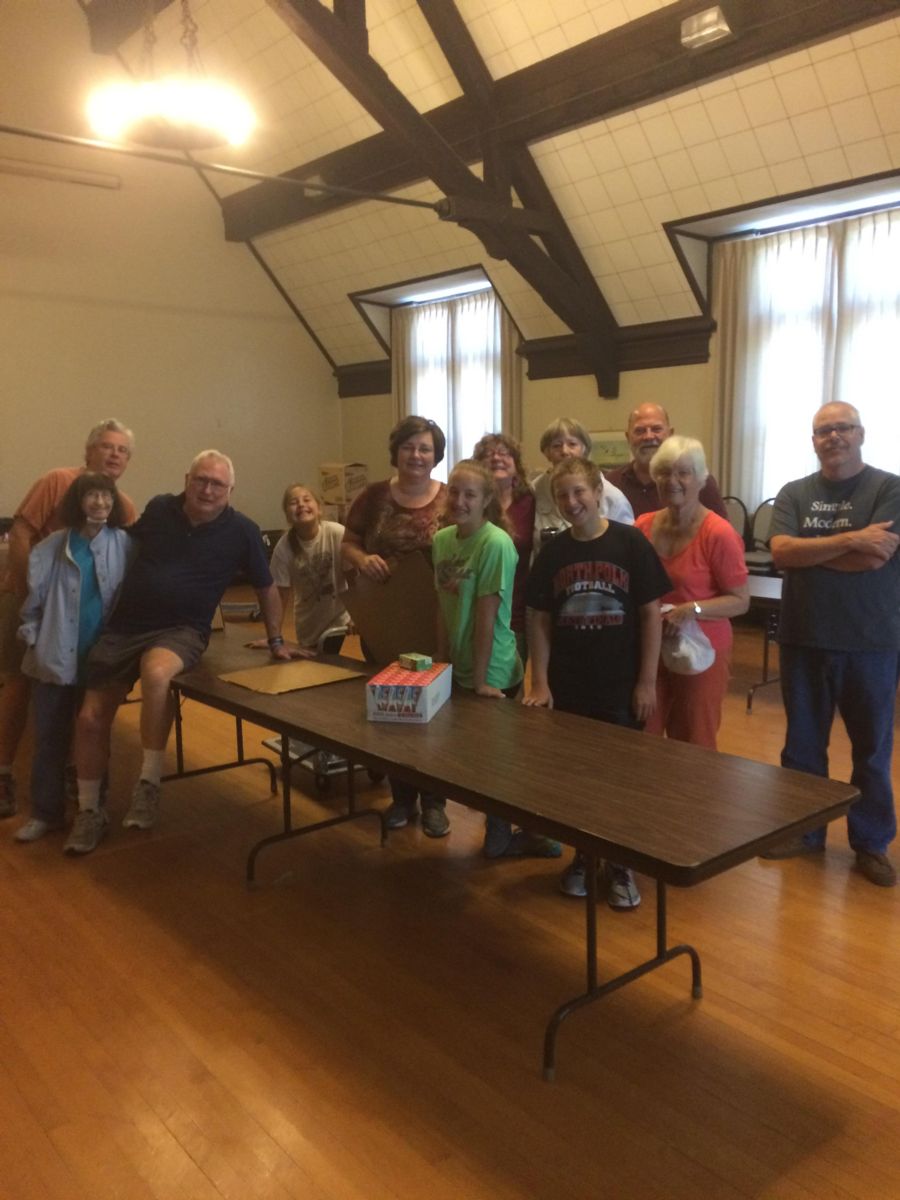 St. Luke's Chorus under direction of Rich Dewein opens Barnstormer game with National Anthem. At half time St. Luke's was recognized as one of the Des Moines area businesses who employ veterans. Fun was had by all!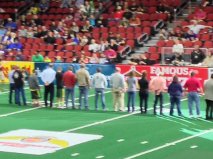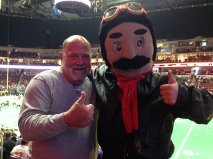 St. Luke's Parishioners tackle Spring Clean UP on May 17th!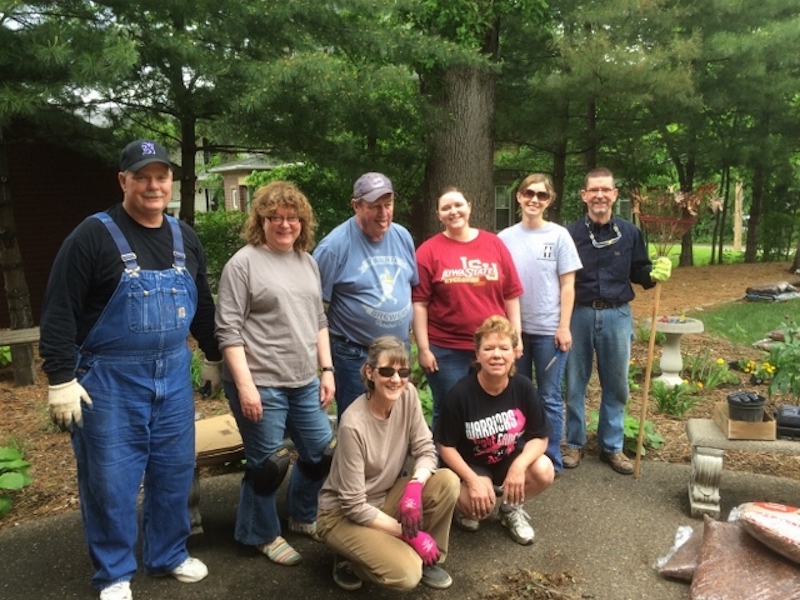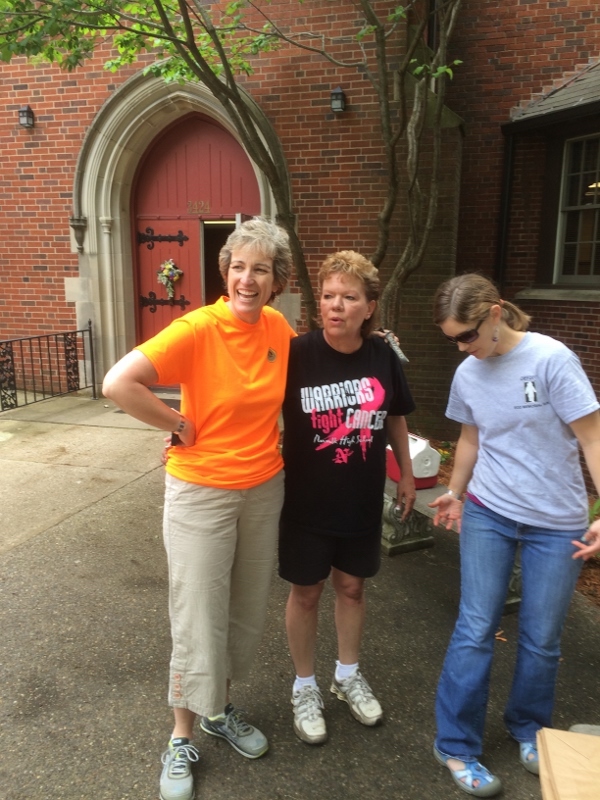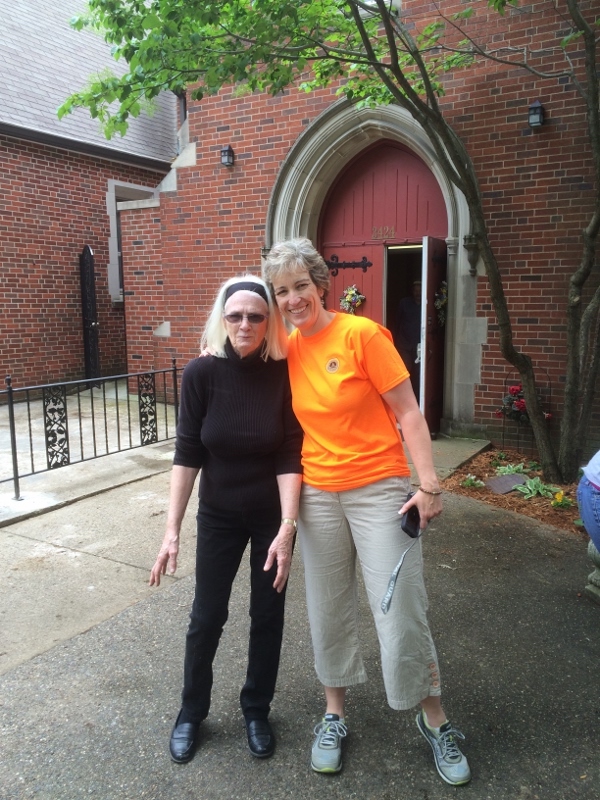 Easter celebration at St. Luke's included visit from the Easter Bunny!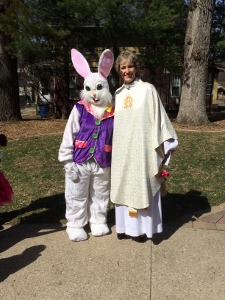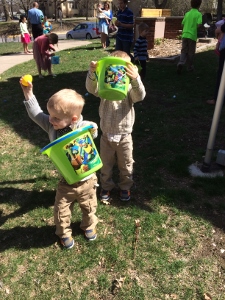 Gaby Baker leads class on making palm crosses for Palm Sunday.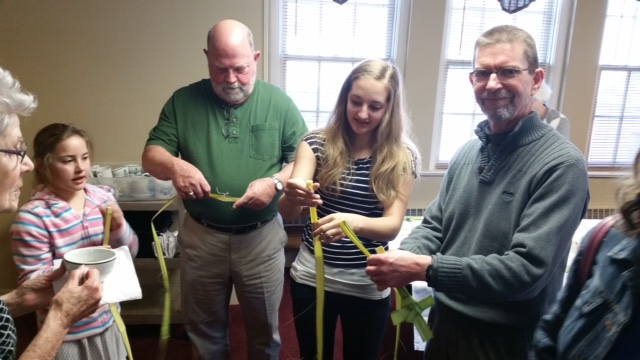 Commander of the 67th Troop Command, Colonel Todd Jacobus, conducted ceremony at St. Luke's promoting Pastor Martha Kester to Major in the Iowa National Guard. Senior warden Jim McLallen pins Pastor Martha's new rank and many parishioners joined in celebrating this honor with Pastor Martha.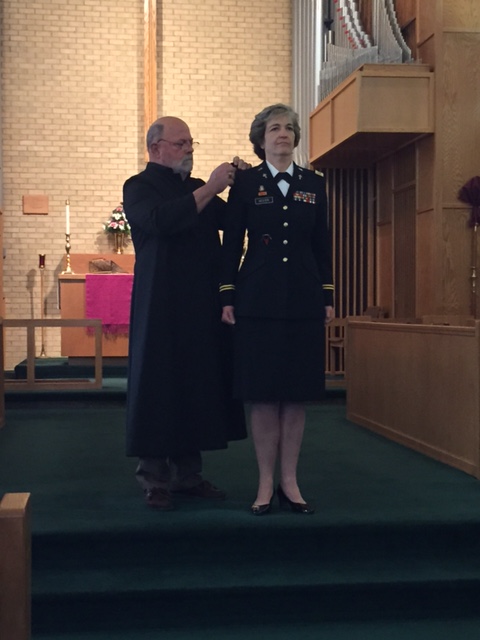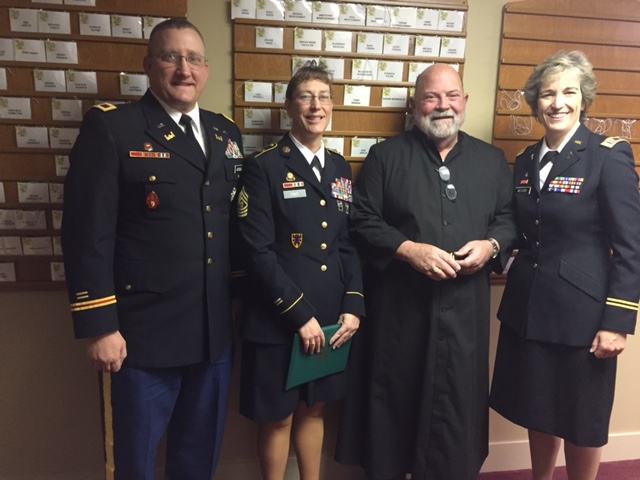 The Scottish Heritage Society held annual celebration of Scotland's poet Robert Byrne which included performances by the Highland Dancers.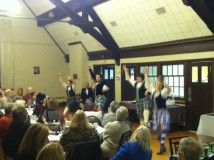 Santa's visit was fun for all!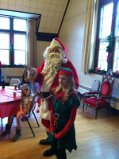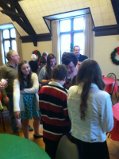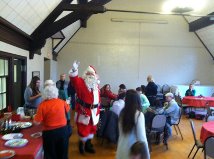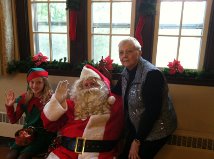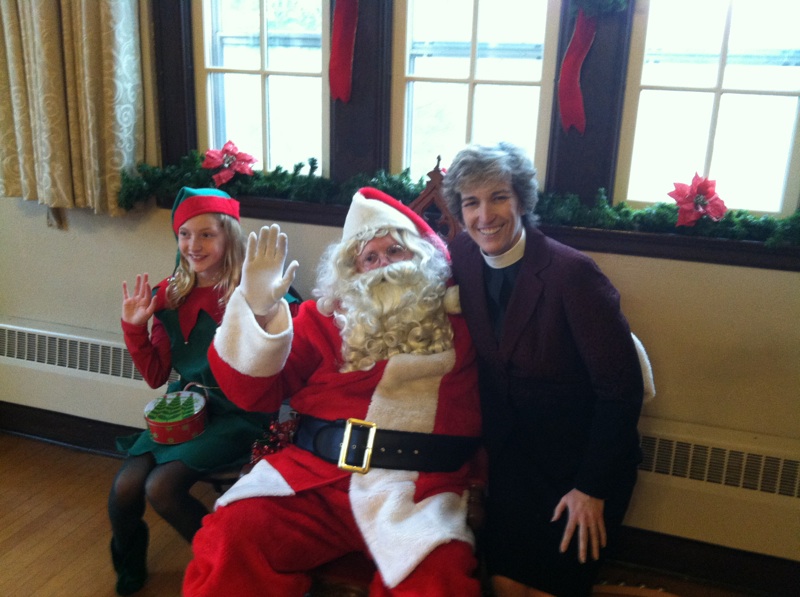 Many thanks to the Vestry members for providing delicious potato buffet in honor of Commitment Sunday!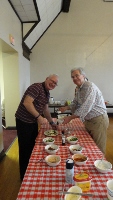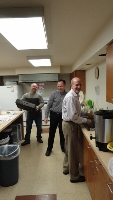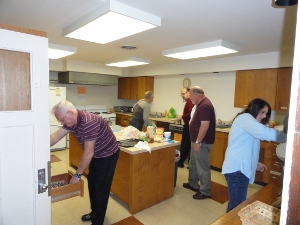 Pastor Martha Kester at Fort Des Moines, Veterans Day, 2014. Thank you for your service!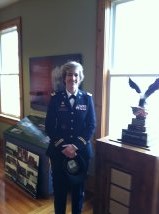 Volunteers from Drake University's Alpha Phi Omega & Sigma Chi fraternities turned out on Oct. 18 to make quick work of Back Pack Buddies Project! Thanks to everyone who helped!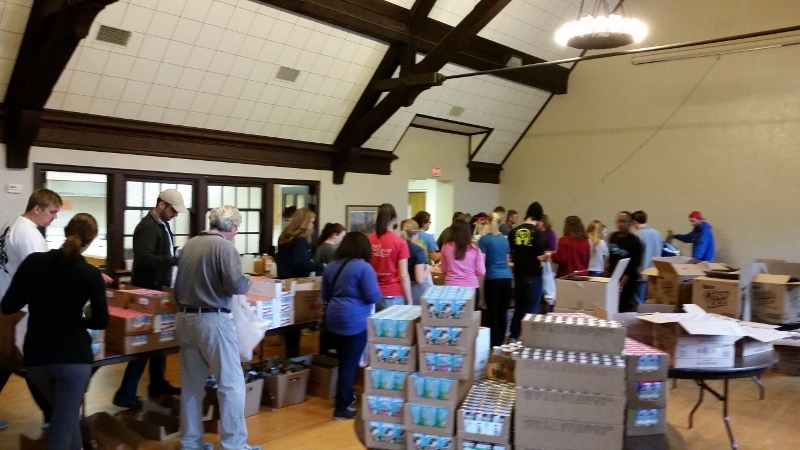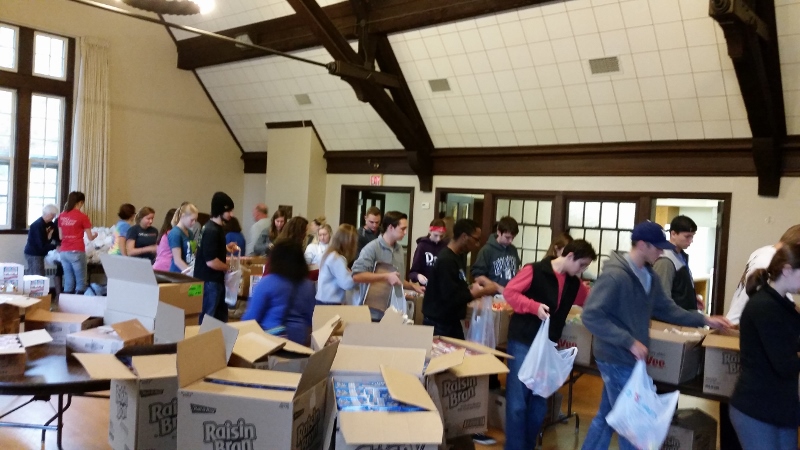 Fall Cleanup Sunday (Oct. 19) - Moved a lot of leaves!!!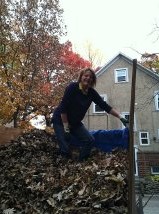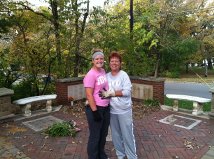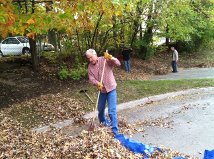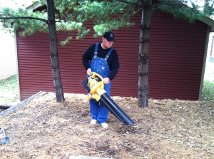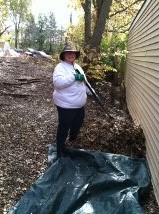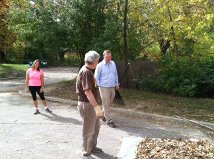 Free Hugs & Fun Shared By Many at Open Street Festival!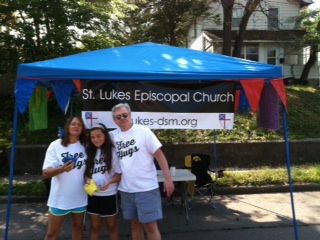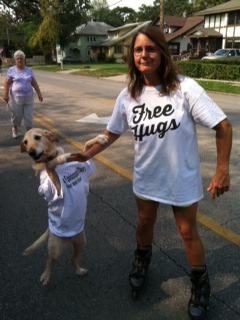 Many helping hands made Spring Cleanup Day at St. Lukes a breeze!!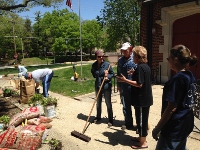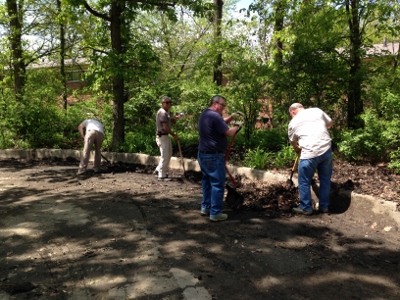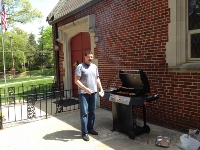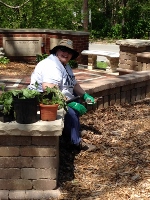 We had a wonderful Easter Celebration and a lovely day for the kids to enjoy an Easter egg hunt after the services!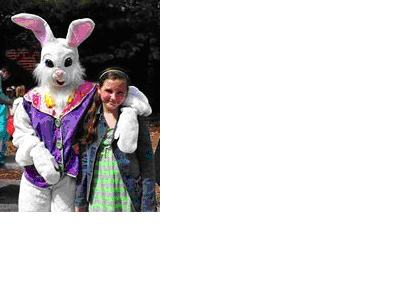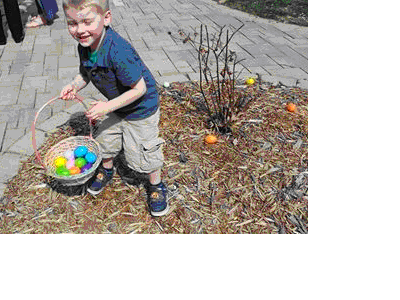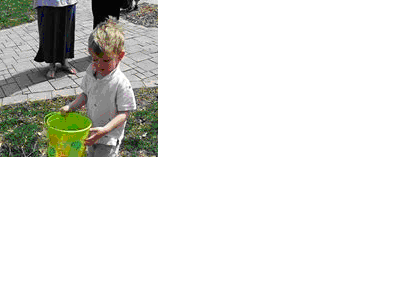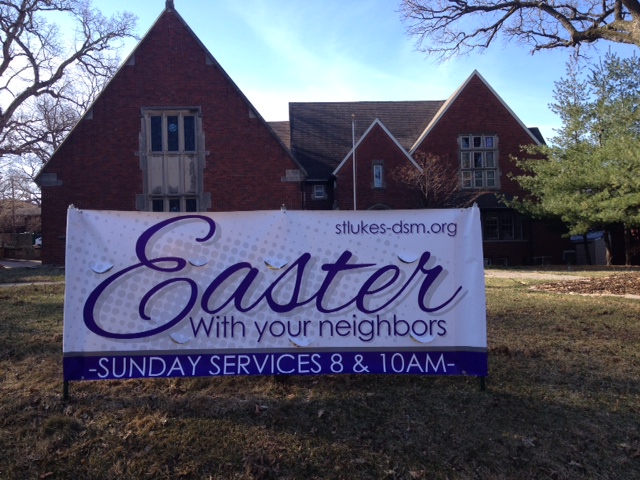 Please join us for Easter services on April 20, 2014.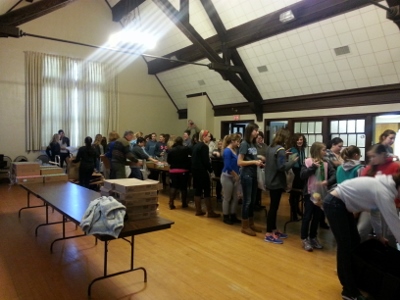 Our February Backpack Buddies packing was finished in record time with help from a group of Drake students from Alpha Phi Omega!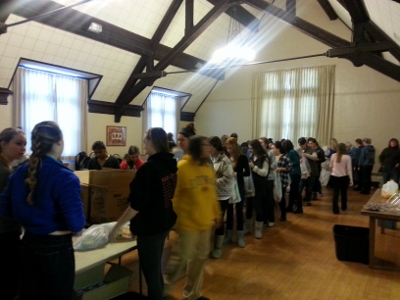 Pastor Martha Kester honorary Hero of the Game at the Iowa Wild January 17, 2014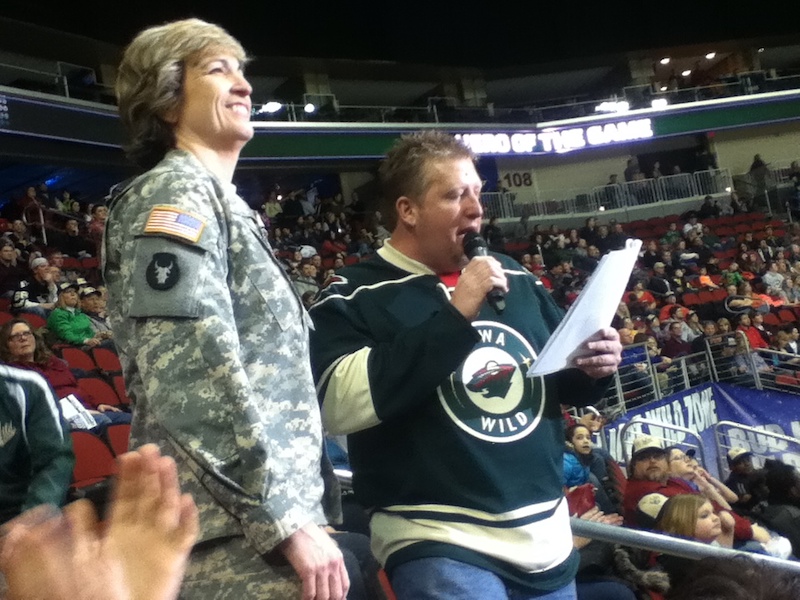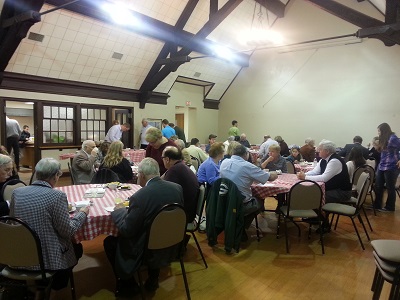 Spaghetti Dinner fundraiser for Well Project. We raised enough money with this and other methods to enable a community in Haiti to build a well. With a matching grant the community is able to build 2 wells! This project was in cooperation with Food for the Poor.